Let Your Food Do The Talking was the very intriguing concept behind the challenge brought to us by Tangled Noodle and Savor The Thyme. So I made a video where the food speaks and sings and dances!
Food has been speaking to me for years.
Pretty much as far back as I can remember. I just did not know other folks could hear those voices as well. Imagine how relieved I am to find out that other people can hear a pretty potato, or a nice arugula, loud and clear. Other people who seem otherwise perfectly sane! Phew...
Trees and goats talk to me too, but we'll save that for another challenge.
In true SippitySup form I decided to do a video entry entitled Because A Can, Can Can-Can. This way I can really let the food do the talking. It seems the most direct way to let you hear what I hear as I am chopping up carrots, celery, and onions for a mirepoix. Just like the one you'll need for this video recipe. Italian Sausage with White Beans and Radicchio.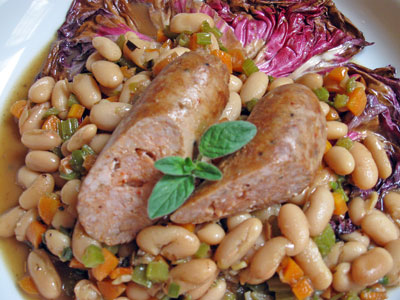 It is a re-interpretation of a Nancy Silverton recipe I found in her book A Twist Of The Wrist. The idea is that you can make delicious meals from store-bought, prepared foods. The kinds that come in jars and cans. But, don't worry Nancy's philosophy has nothing in common with the woman from Semi-Homemade. First of all not one recipe is Nancy's book calls for pink food dye.
But there is one small area in this cookbook that kinda bugs. A lot of these prepared ingredients are IMPOSSIBLE to find. It takes more time to hunt down her brand of gigante beans than it does to build up flavor the old-fashioned way. By cooking it into the dish.
So I am replacing the jarred onions packed in water (not the much easier to find vinegar packed cocktail onions) with a mirepoix.
That decided all I needed to do was write a script and turn my camera on the star ingredients. But if you have worked with celebrities as much as I have, then there is one thing you know. They can be temperamental. I mean I wrote all this really great dialogue for the food and everything. But nooooo, they had to get their message across in their own way!
So feel free to leave a message and tell me what you think. If it seems I am having trouble understanding what you are saying, why don't you send a nice end of loin porterhouse steak over here to whisper in my ear.
SERIOUS FUN FOOD
Greg Henry
SippitySup