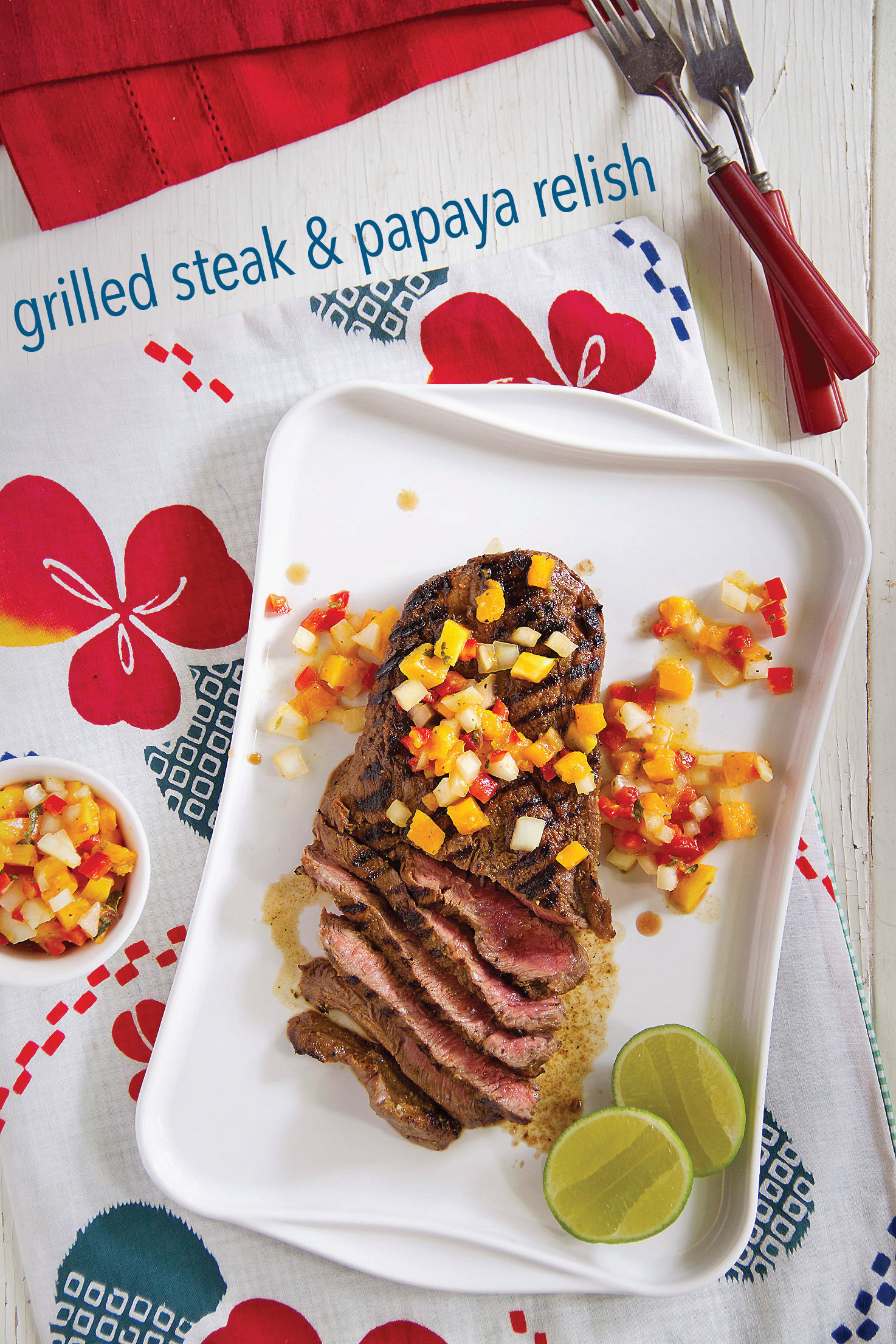 Look up! Does Grilled Steak and Papaya give you a hint about what's going on my life? I hope so because I can't seem to muster the concentration to say much more than yummy. That's partly because I'm in vacation anticipation mode. The next time you hear from me I'll be in Tahiti. Or Moorea. Or maybe you won't hear from me at all while I'm away. I can't promise much with a snorkel in my mouth and a cold beer in my hand. Tahiti. Moorea. Snorkeling. Beer. Obviously, this is a tropical vacation. In that regard, I suppose this post is at least timely even if it's not comprehensive. Grilled Steak and Papaya sets a tropical tone at any latitude.
If it sounds like I'm apologizing in advance for a series of upcoming slip-shod posts I'm sorry. Oh wait, is that me apologizing for apologizing?
You see, when it comes to this blog I'm a planner. I can even be a pre-planner. Especially when I have a vacation on the horizon. To prepare this little blog for a trip I typically plan way, way ahead. I've been known to write a dozen posts in advance then set my blog on auto-publish while I'm gone. I may get a break, but to my way of thinking the blog NEVER gets a break.
Which is why I'm a little surprised the only adjective coming from my fingertips is "yummy". But the truth is this Grilled Steak and Papaya is indeed yummy. Maybe I don't need to say anything else.
Of course, there are plenty of other reasons for my loss of initiative. Like all of us, I have bread to "win" and bacon to "bring home". Why do vacations require so much bread and bacon? Plus, this past year or so has been more hectic than usual. My MIL moved in with us just about 18 months ago. It's been an all-consuming lifestyle change.
Though I realize the changes around here have affected how I approach this blog, I've still tried to keep a lot of the details to myself. It's easy to sound whiny in 500 pithy blog words. So I'll just try to say it as simply as I can.
There are many challenges to living with an elderly person with dementia. There are absolute rewards too. However, mentioning the rewards without talking about the challenges would ring hollow. Life's greatest rewards come with a lot of effort – to pretend otherwise is insincere. So rather than risk sounding glib I'll leave it with this all-too-true statement: in order to be an effective caregiver, you must first care for yourself.
So I'm taking a break, packing my sarong, and heading to the South Seas. My MIL will be well cared for. We've got a team of family and caregivers in place. It may sound like I'm apologizing for going to Tahiti and Moorea where there will be snorkeling and beer. A place where maybe I'll post and maybe I won't. But it doesn't feel like an apology to me because if I do post it will because I really want to. Because getting away helps me appreciate all the things I love about my lucky life. And one of those things is this little blog. Isn't that the point of a vacation? GREG
Grilled Steak and Papaya
Save
Save
Save
Save
Save
Save
Save
Save
Save
Save
Save
Save
Save
Save
Save
Save
Save
Save
Save
Save
Save
Save