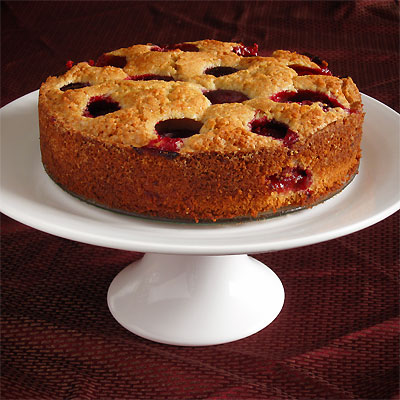 This torte may have a rustic appearance, but it is sheer elegance in its terrific balance of not too sweet and just rich enough.
Print This Recipe
Total time
Yield
12
Source Adapted from New York Times Food Section Sept 21, 2005
Published
If you prefer to make it ahead of time the torte may be reheated in a 300 degree for about 10 minutes.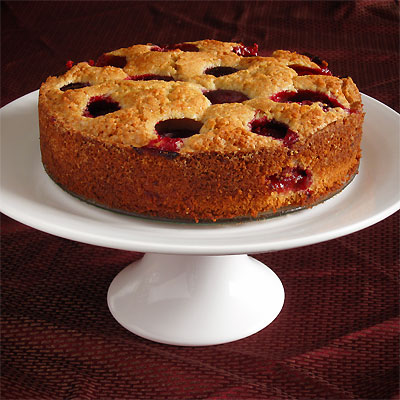 Ingredients
2 cup

whipping cream

2 tablespoon

extra-fine sugar

2 teaspoon

ground cardamom

turbinado sugar, to taste for sprinkling

6

plums, halved & pitted

4

large eggs

½ teaspoon

kosher salt

2 teaspoon

fresh baking powder

2 cup

unbleached flour

1½ cup

granulated sugar

1 cup

butter, at room temperature
---
Directions
Make the cardamon cream: Whip the cream together with the extra-fine sugar and cardamom until cream just barely holds soft peaks. Refrigerate until ready to serve.
Preheat oven to 350 degrees F. Using an electric mixer cream the butter and sugar until light and fluffy. Add the flour, baking powder, salt and eggs, then beat until well incorporated.
Using a rubber spatula spread the batter (it will be quite thick, into an ungreased 10-inch spring form pan. Place the plum halves, skin side up, on top of the batter as closely together as possible. Press them in to the batter just a bit. Sprinkle lightly with the turbinado sugar.
Bake for one hour ten minutes until a sharp knife inserted in the center comes out clean. Let cool slightly (about 20 minutes) then run a sharp knife around the edges and release the spring form. Serve warm, with the cardamom cream.