Marc Dym's Award Winning Crab Cakes took 1st Place Professional Choice Award and 1st Place People's Choice Award for best Dungeness crab cakes at the annual Mendocino Crab and Wine Day festival in 2011.
Print This Recipe
Total time
Yield
12
Source Adapted from Little River Inn, Mendocino,

CA
Published
I never did get the courage up to speak to the chef! Luckily his crab cake recipe was available online. I adapted this version from that source. The photos you see here are the results of my efforts.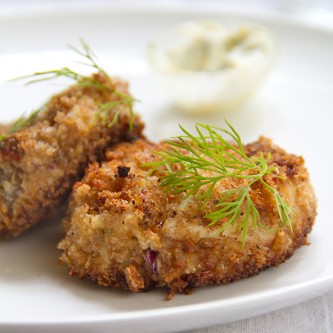 Ingredients
1 cup

mayonnaise

1 tablespoon

minced fresh dill

1 teaspoon

mustard powder

1 ½ pound

cleaned and drained Dungeness crab meat

(about 2 whole crabs)

½ cup

fresh corn breadcrumbs

1

large egg

(lightly beaten)

¼ cup

crème fraiche

¼ cup

sour cream

1 teaspoon

lime juice

1 teaspoon

lime zest

1 teaspoon

orange juice

1 teaspoon

orange zest

¼ cup

finely diced red bell pepper

¼ cup

finely diced red onion

1 tablespoon

minced chives

2 teaspoon

ground coriander

2 teaspoon

Old Bay seasoning

sea salt and white pepper

(for seasoning, as needed)

2/3 cup

Panko bread crumbs

(for coating only)

¼ cup

butter

(or more as needed to sauté crab cakes)

fresh dill sprigs

(as garnish)
---
Directions
Make the mustard dill aioli: In a medium bowl beat mayonnaise, dill and mustard powder until well-combined. Ideally you should let it rest at least an hour before using. Though this is optional.
Make the crab cakes: In a large mixing bowl combine all the ingredients except the panko breadcrumbs. Season lightly with salt and white pepper. Gently fold the mixture until well-combined, but still loose in texture. Do not over mix and do not compact. Try to keep the lumps of crab intact.
Pour the panko into a shallow bowl and season lightly with salt and white pepper; set aside.
Shape the crab mixture into 12 cakes, about 1‑inch thick. Gently roll each cake in panko, carefully patting crumbs so that they adhere. Once they're well-covered set them aside on a large plate, spaced so that they do not touch. The cakes will be difficult to form and easily fall apart while you work. This is a good thing. Resist the temptation to compact them too much or add more binders. The results will be tough crab cakes.
Melt butter in a large cast iron or non-stick skillet set over medium heat. Once it's melted and foamy, but before it begins to brown, sauté the crab cakes rotating them in skillet as necessary, until lightly browned and crisp; about 5 minutes per side. Do not crowd the skillet, work in batches if necessary. Transfer each crab cakes once cooked to a paper towel lined plate to drain for a moment; serve hot garnished with dill sprigs and mustard dill aioli on the side or drizzled on top.