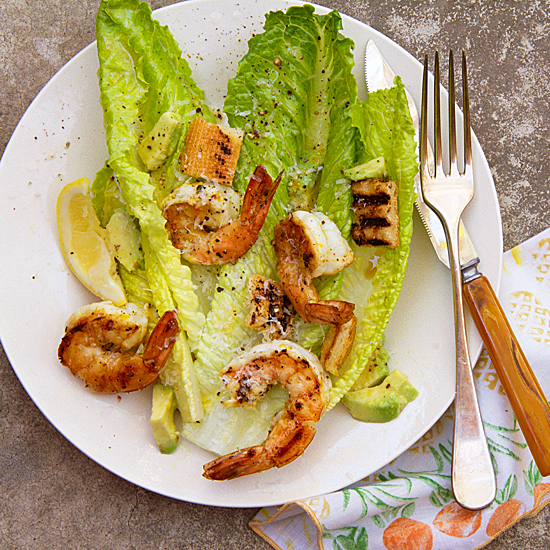 This Orange-Cirtus Grilled Shrimp Caesar Salad is full a big bold flavors, textures and even varying temperatures between the cool lettuce and warm shrimp.
Print This Recipe
Total time
Yield
4
Source Inspired by Martha Stewart Living
Published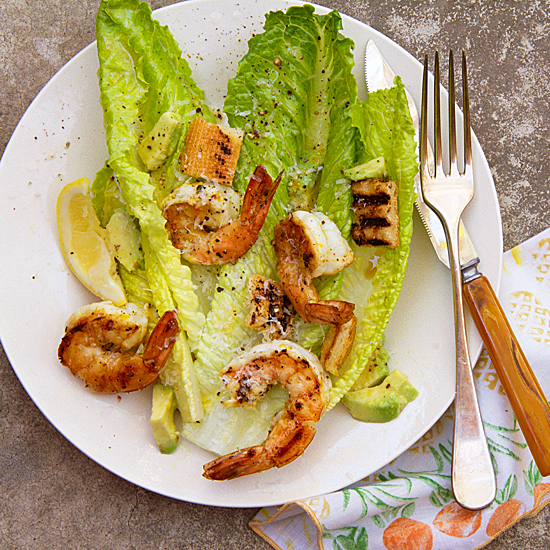 Ingredients
1 ¼ cup

fresh squeezed orange juice

(divided)

3 clove

garlic

(peeled and smashed)

1 pinch

crushed red pepper flakes

2 teaspoon

orange zest

2 teaspoon

granulated sugar

1 3/4 cup

extra-virgin olive oil

(divided, plus more for bread)

kosher salt and freshly cracked black pepper

(to taste)

1 ½ pound

large shrimp

(about 12 to 16 shrimps, shelled & deveined, tails on)

½

baguette

(sliced lengthwise)

1

large egg

(room temperature)

2 dash

Worcestershire sauce

¼ cup

finely grated Parmesan cheese

(plus more for serving)

1 clove

galic

(peeled and minced)

2

romaine lettuce

(interior leaves only, separted)

1

ripe avocado

(peeled seeded and cut into ½‑inch cubes)

4

lemon wedges
---
Directions
Make the marinade: In a small saucepan, combine 1 cup orange juice, smashed garlic cloves and a pinch of red pepper flakes. Simmer over medium heat until reduced by half; about 10 minutes. Strain into a heatproof bowl and let cool to room temperature, discarding solids. Whisk in orange zest, sugar, ¼ cup olive oil and a pinch each salt and pepper; set aside.
Prepare the shrimp: Place shrimp and ½ cup marinade in a medium bowl. Cover, and let stand 20 minutes; tossing once or twice. Set the rest of the marinade aside at room temperature.
Make the croutons: Meanwhile, heat a grill pan over high heat. Brush both sides of baguette with olive oil, and season with salt and pepper. Grill bread until lightly toasted but still chewy, about 3 minutes per side. Remove from heat, let cool, then cut into 1‑inch cubes; set aside. Keep the grill pan set on high heat.
Grill the shrimp: Cook the shrimp onto the heated grill pan, flipping once, until pink and barely cooked through; about 1 minute per side. Toss shrimp with remaining room temperature marinade; set aside on a plate lightly tented with foil.
Prepare the dressing: Plunge whole egg in boiling water for 1 minute. Remove from water, and let cool slightly in shell. Whisk remaining 1 ½ cup olive oil, remaining ¼ cup orange juice, and Worcestershire in a large bowl. Briskly whisk in egg, Parmesan and minced garlic. Season with salt and pepper. Toss dressing with romaine, then add baguette croutons and avocado cubes.
Plate the salad: Arrange 4 leaves on each plate, making sure each has croutons and avocado. Top each with 3 or 4 shrimp, sprinkle with more Parmesan. Serve with a lemon wedge, salt, pepper and additional Parmesan on the side.