I didn't start my trip planning on drinking a Pisco Sour a Day every day I'm in Peru. However, it certainly ended up that way. Peruvians like to say that good Pisco will never give you a hangover, but I don't believe them. So I decided to limit myself to one Pisco Sour a Day, every day I'm in Peru. Seems sensible. Besides I like a project, seeking out pisco bars is my kind of project.
As I write this I'm sitting on a plane flying from Lima, Peru to Buenos Aires, Argentina. I'm sipping a Pisco Sour too. I'm still in Peruvian airspace, so while jetting over the Andes, I'll have to make this my last Pisco Sour a Day in Peru. This Pisco Sour came in a bottle and it's sort of sad ending to my Pisco project. I'll have to think of another drink once I get to Buenos Aires. It won't be easy. I've grown accustomed to my balmy summer evenings (yes, it's summer here) starting with the jangle of a cocktail shaker filled with a citrusy, sweet-and-tangy Pisco Sour.
You'll hear it said that the Pisco Sour was invented at the Hotel Maury (Jr Ucayali 201, Plaza San Martin) just off the central square in downtown Lima. Tourists flock here hoping for a sip of the original. Sadly they're serving an overly sweet version that seems to be made from a bottled mix, much like a bad margarita. Still, the bar at Hotel Maury has the wonderful vibe of a great grand dame in her last throes. In fact, when I stopped by on my last day in Lima, the poor, sad bar was closed. I hope she survives.
Pisco is technically a brandy made from a single distillation of one or more of eight indigenous grapes of South America. These grapes are pressed and made into a young wine that reflects their sense of place. In other words, there's a lot of terroir in Pisco. Like Champagne or tequila, Peruvian Pisco is an official appellation; it must adhere to traditional production methods to carry the name Pisco.
Pisco became popular in Peru when Italian immigrants introduced refined winemaking to the country in that late 19th century. It enjoyed early popularity and flowed copiously among all classes of people. As the political climate darkened in the middle of the 20th century, the quality of Pisco began to falter, and so did its charms. However, as Peru's economy soars these days and its reputation as a world culinary leader solidifies, artisanal Pisco is making a comeback among the younger generation.
Pisco bars are popping up in the swankiest sections of Lima and they feature some of the best Pisco the Peruvian pisqueros can produce. Several of the Pisco bars we visited specialized in infusions. Some are fruity and well-balanced, others are infused with Amazonian oddities like the medicinal root known as Chuchuhuasi. I had a delicious pineapple-infused Pisco Sour. I think Pisco and pineapple are terrific partners, but I have to admit I was a little jealous when Ken chose something more exotic; his Pisco Sour was infused with Muna, a black-leafed Andean plant with strong herbaceous tones and a minty aftertaste. I saw some in the market in Cuzco simply labeled as black mint. Some of the coolest Pisco bars we went to displayed their colorful creations, apothecary style, along the wall creating an eye-catching backdrop.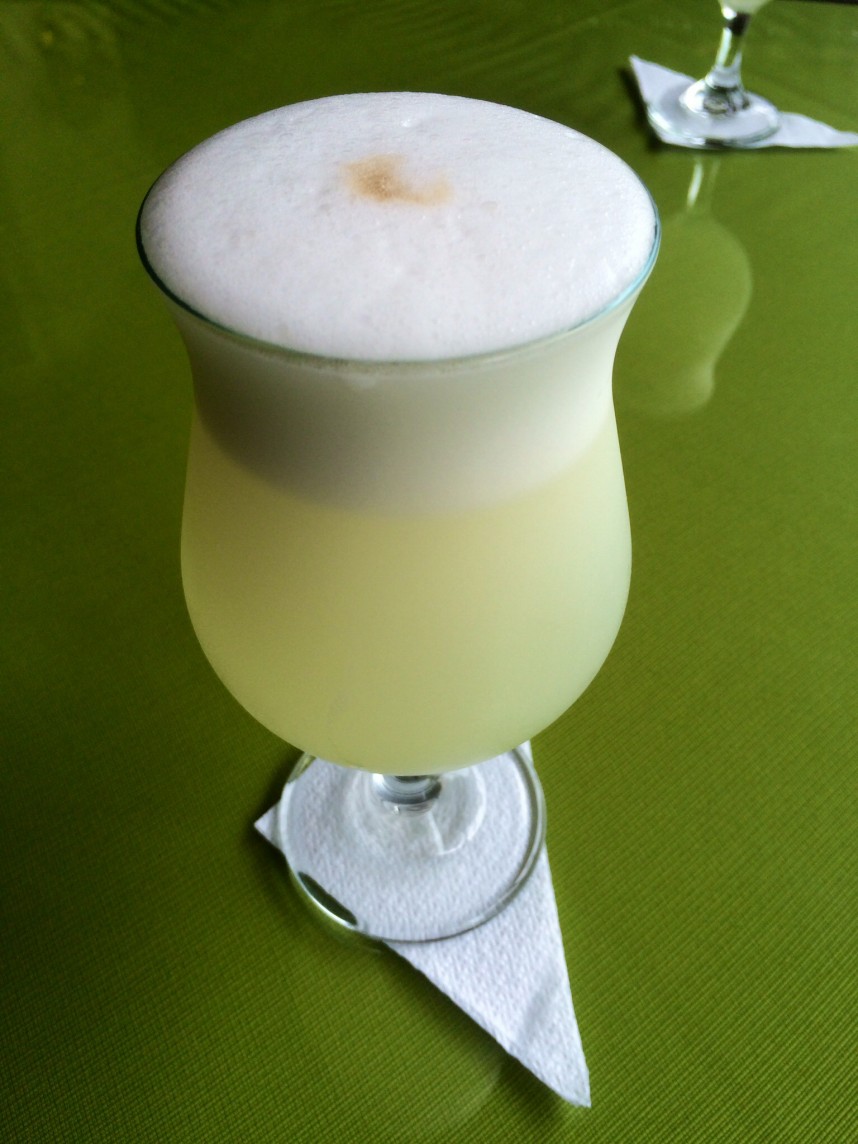 Still, for me the original sour is my favorite and I spent some time in Lima in pursuit of my favorites. GREG
The Best Pisco Sour In Lima

Bar Inglés at the Country Club Lima Hotel – Expect dark wood, leather seats, and tuxedo-clad barmen (and women). This is where you'll find high-end booze and free canapés. This place is steeped in Pisco Sour lore. It's the best place to get a drink as close to the 1920s original as is possible in Lima these days: four parts Pisco, one part lime, one part simple syrup and one egg white– shaken and strained into a chilled wine glass. (Los Eucaliptos 590, San Isidro)
Gran Hotel Bolivar – This is another great spot to get a classic version of a Pisco Sour. The building is a bit ragged around the edges. However, when you're sitting on the elevated terrace with a Pisco in hand, it's not hard to imagine 1920s Lima in all its opulent splendor– the view across the plaza has barely changed. At the Bolivar, you order piscos Catedral, or double-sized. (Jr de la Union 958, Plaza San Martin)
Antigua Taberna Queirolo – I hesitate to call this a dive bar (though that was my first impression). It's more of a traditional Peruvian taverna where people from all walks of life gather to eat and drink simply. It's the kind of place where locals go in groups and order a bottle of Pisco, a bottle of ginger ale, and a few limes to make their own Pisco Chilicanos. (Av San Martin 1090 Pueblo Libre, Plaza San Martin)
Picas – Well-crafted drinks, and a very lively social scene make this bar, located under the Bridge of Sighs in a funky neighborhood best known for its art galleries, bars, restaurants, and live music venues. It's a must-visit. (Bajada de Baños 340, Barranco)
Cala – Swank beach bar where hipsters, surfers, and mermaids mingle. If I didn't know better I'd think I was in Malibu. The Pisco menu here is mostly house specialties with an emphasis on creativity. This is a good place to step outside the Pisco Sour box. (Av Circuito Vial Costa Verde, Playa Barranquito)
Mayta – A restaurant and bar that serves up more than 100 varieties of house-made Pisco cocktails. (Av 28 de Julio 1290, Miraflores)
Hotel Antigua Miraflores – Tucked inside a charming a turn of the century mansion turned boutique hotel, the Alembic Pisco Bar & Lounge is a quiet little bar. Check out the many infusions that line the shelves and ask for one of them in your Pisco Sour. (Av Grau 350, Miraflores)
Restaurant Haiti Miraflores — Much like the Café Flor in Paris, this sidewalk eatery spreads out along the street and invites you in. Sure it's a bit touristy, but it's right in the center of things and a great place to sip as you watch the world walk by. (Diagonal 160, Miraflores)
I received compensation in order to bring information about the food of Peru to this blog. All opinions are my own.