Buenos Aires is like no other city I've been to. I was told to expect a city quite like Paris with its wide boulevards and fashionable apartments overlooking the chicest shopping areas. While it's true that Buenos Aires has both those features, it has a whole other vibe than Paris, especially when it comes to food.
Where Paris seems to quietly evoke its culinary superiority, Buenos Aires jumps out right in your face and begs you to love her. She'll leave you screaming for more.
The abundance doesn't stop at the dinner plate either. Architecturally, it's the kind of place where fanciful Belle Époque curlicues dance next to boxy concrete apartment buildings whose heavy edifices keep both feet firmly planted on the ground.
Most of the food I've enjoyed here follows this same fanciful/utilitarian dichotomy. Lunches particularly can be hours long affairs, spent lingering over a simple but impeccably grilled steak with all the accompaniments including dessert, coffee, and of course wine.
It's a major metropolitan area, so you find all kinds of food. However, in general, the food is heavily Italian-influenced, with undeniable Spanish flair and uniquely South American ingredients. First and foremost among these ingredients is beef.
Argentina is a beef capital of the world. They have galloped their way to the world's second-highest consumption rate of beef. I've heard it said that the only part of the cow that Argentinos won't eat is the moo. So it's safe to say that they know how to cook a cow.


Before you sit down at a leather-topped table at one the Parrillas you should know a few things about what you'll be eating. First, the beef in Argentina is noticeably more "beefy" than what we eat in the states. Healthy cows lead healthy lives in Argentina. They're quite likely to be grass-fed and therefore very lean. This means steaks cooked past rare may be a bit chewier than what you're used to. After all, these cows are usually pastured and actually use their muscles.
Parrillas, or grill restaurants, are seemingly everywhere. They specialize in grilled beef, as well as lamb, chicken, pork, offal, and more types of sausages than you've ever imagined. You'll want to make time for at least one evening of meat debauchery. GREG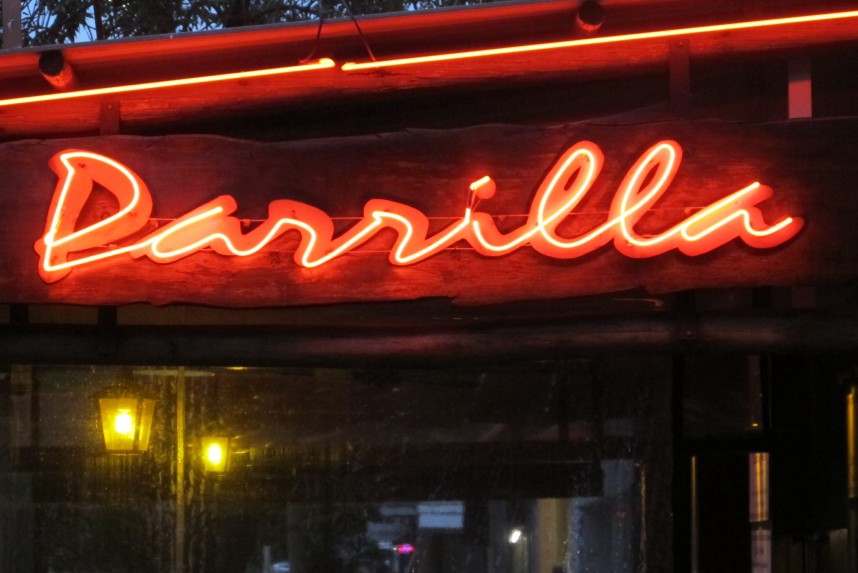 I've put together a list of my favorites:
Best Parrillas in Buenos Aires
Parrilla Don Julio (Guatemala 4699, Palermo Hollywood). Don Julio is a family-run steakhouse that seems to lead the guidebook competition for the title of best parrilla in town. It's got that traditional vibe of leather-draped wooden tables, gorgeously tiled old floors, speedy service, top-grade meat, and 150-plus wines. Must order items: mollejas (sweetbreads), provoleta (grilled cheese), and entraña (skirt steak). When I was there on a weeknight it was ridiculously busy, so expect a long wait.
El Bonpland (Bonpland 2113, Palermo Hollywood). This place melds traditional parrilla expectations with the hipster attitude of Palermo Hollywood. If you're lucky enough to find a seat, you'll find lots of beautiful people drinking red wine and enjoying tender, juicy cuts of meat. The waiters often cut a blood rare bife de chorizo (sirloin) in half with a spoon. Which may just be a flashy gimmick, but it's a pretty impressive gimmick nonetheless.
El Trapiche (Paraguay 5099, Palermo Hollywood ). This restaurant is a bit of a style anomaly in a hyper-trendy area. It lacks the panache of its neighbors, and they keep it garishly lit at all hours. You may be tempted to walk right by, but with low-priced winners like bife de lomo (beef tenderloin) and matambrito (pork flank), it's always packed with locals. If you're looking for a totally porteño experience, this could be your place.
Parrilla La Cabrera (Cabrera 5197, Palermo) This parrilla is very popular (especially among tourists). You can expect impeccably prepared steaks and other meaty edibles that come served on long wooden planks. As if this isn't enough, the meat comes accompanied with more side dishes than you can count. I'd consider sharing unless you're very hungry– or very, very greedy. You really should book in advance. Don't miss Provolete de Cabra (melted goat-cheese).
El Desnivel (Defensa 855, San Telmo). I've read that this place was once just a hole-in-the-wall spot frequented by taxi drivers and other working-class locals in the know. However, it's been discovered by a wider audience and is now the parrilla for anyone looking for big food at a small price. The house wine is served in penguin-shaped jugs that are sure to make you smile. The Menu del dia is where the bargains are found.
Gran Parrilla del Plata (Chile 594, San Telmo). This place definitely has a historical vibe. It was a butcher shop in the 1930s before becoming a parrilla. Which accounts for its rustic atmosphere and authentic architecture. All this ambiance is found on a picture-perfect corner of San Telmo. So if you're looking for a place that just feels like Buenos Aires, look no further. Ask the waiter to recommend the best of the day's cuts, which might include a perfect ojo de bife (rib-eye).
Rodi Bar (Vicente Lopez 1900 and Ayacucho, Recoleta) Everyone likes grumpy waiters in bow-ties. That's part of the draw of this parrilla located in the heart of Recoleta (right near Eva Peron's gravesite). Despite the location, it's not just tourists who flock here. Locals and ex-pats alike eat up the atmosphere of great food and low prices. The desserts are abundant and the wine is cheap.
Cabaña las Lilas (Alicia Moreau de Justo 516, Puerto Madero). I heard this was the best of the parrillas along the waterfront of Puerto Madero. So this is the one that got my attention. This parrilla is unique among those I visited in that you can choose a table inside or outside by the water where you can watch the brightly lit big boats or the equally colorful people who walk by. There's a lot to consider on the menu, so take your time. While you consider, the waiter may bring you a small plate of noshy things (cured meat, octopus, sausages). Be prepared, if you accept this plate it will appear on the bill. This plate (or sometimes just bread or olives) is called a couvert, in other words, a cover charge.
More of the Best Parrillas in Buenos Aires
La Chacra (Cordoba 941, Microcentro).
Miranda (Costa Rica 5602, Palermo Hollywood).
El Obrero (Agustín R Caffarena 64, La Boca).
Parrilla Peña (Rodriguez Peña 682, Recoleta/Congreso)