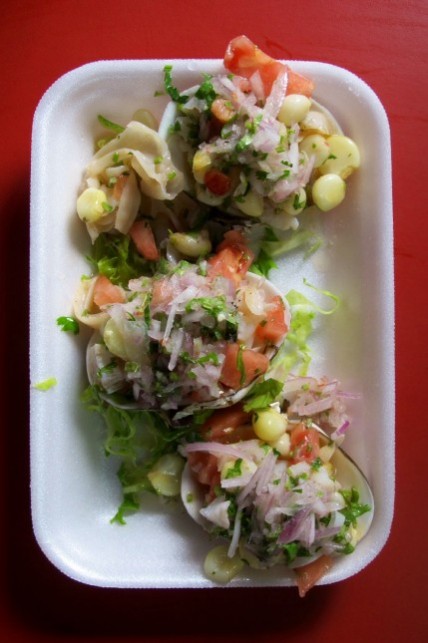 There's so much good food in Lima, Peru. Choosing just one meal to highlight was difficult. However, I chose Al Toke Pez (Avenida Angamos 886) because everything about the place defied my expectations of what Peruvian cooking could be.
Particularly the location. Lima may be the throbbing epicenter of Peruvian cuisine but, like my hometown of Los Angeles, it's not always a pedestrian-friendly city. So getting to all that good food can be tricky. When I travel I like to walk. Partly so that I can work up an appetite for my next meal, but also to understand how the city works and to discover the places not in guidebooks. Despite the lay of the land, I wanted to walk around in Lima as much as possible.
I'm pleased to say that neighborhoods like Central Lima, Barranco and Miraflores are exceptions, as they are fairly navigable on foot. However, since public transportation isn't really an easy option in Lima, if you want to venture further afield you'll need to get in a car or a cab. Like most places experiencing a cultural renaissance, the culinary explosion means some of the most creative restaurants are popping up outside of the traditional city centers. Young chefs particularly are willing to take a chance and start restaurants in untested areas.
Al Toke Pez
One of these restaurants is Al Toke Pez. It was opened in 2011 by 20-something Chef Toshi Matsufuji, son of a famous Japanese-Peruvian chef. He chose Surquillo, a blue-collar neighborhood filled with American fried chicken franchises and incessant car alarms. It lies just north of Miraflores and really isn't too far away (maybe 3 miles) from the trendy Barranco neighborhood where I stayed, so I was tempted to walk to the restaurant. However, Al Toke Pez sits on the wrong side of the Paseo de la Republica highway. Walking seemed a bit of a challenge as I wasn't sure how or if I could get across the major thoroughfare on foot. Maybe there were walkways, but I wasn't willing to go there and find out there weren't. So I grabbed a cab at my hotel and let the driver figure it out for me.
What I found was an inexpensive, blink-and-you-miss-it restaurant with no pretensions and a view of the busy street. The counter inside has six or seven stools that overlook a tiny cook space where the self-confident chef and his assistant work shoulder to shoulder preparing the orders for a non-stop lunch crowd; there's often a line stretched down the block. Most people get their plates to go. I chose the counter as I wanted to watch the show while I gulped tall glasses of chicha morada (sweetened purple corn juice) that were filled and refilled by Toshi's mom for everyone who walked in the place.
As with a lot of the creative fare in Lima, Al Toke Pez specializes in Pacific seafood and features some of the boldest Asian/Peruvian fusion cebiches and stir-fries in the city. The menu depends on whatever ingredients the young chef sources at the fish market each day before dawn. Whatever he finds will have your taste buds shivering with excitement, as slivers of pink-tinged sea bass tiradito fly down your throat. If you've never had it before, this is the time to introduce yourself to tiradito, a more subtle form of cebiche made of thinly sliced raw fish. I've had tiradito before in Los Angeles, but under Chef Matsufuji's sharp knife there's a freshness and zing I just wasn't prepared for.
The orders are filled by a boleto system. Meaning as soon as you can catch Toshi's mom's eye, you should get your order in. If you luck into a stool by the time the food is ready, good for you. All of this isn't as hard as it sounds, as I said many people take their plates to go. Still, I'm glad the man next to me helped us navigate this system. He also mentioned he was here for a new menu item he'd heard about. Almejas a la Chalaca. It's a spicy shellfish ceviche that is made from some conch-like creature and served on clam shells (see the main image). It was the highlight of the meal. Other winners include: the fresh cola negra (sea bass) tiradito I mentioned, sudado de cachete (stir-fried fish), the combo plate (cebiche, seafood rice, and chicharrón) and the cachete frito (fried fish cheeks). Which all reflect the Al Toke Pez philosophy of local products, low prices, and a limited menu. GREG
I received compensation in order to bring information about the food of Peru to this blog. All opinions are my own.