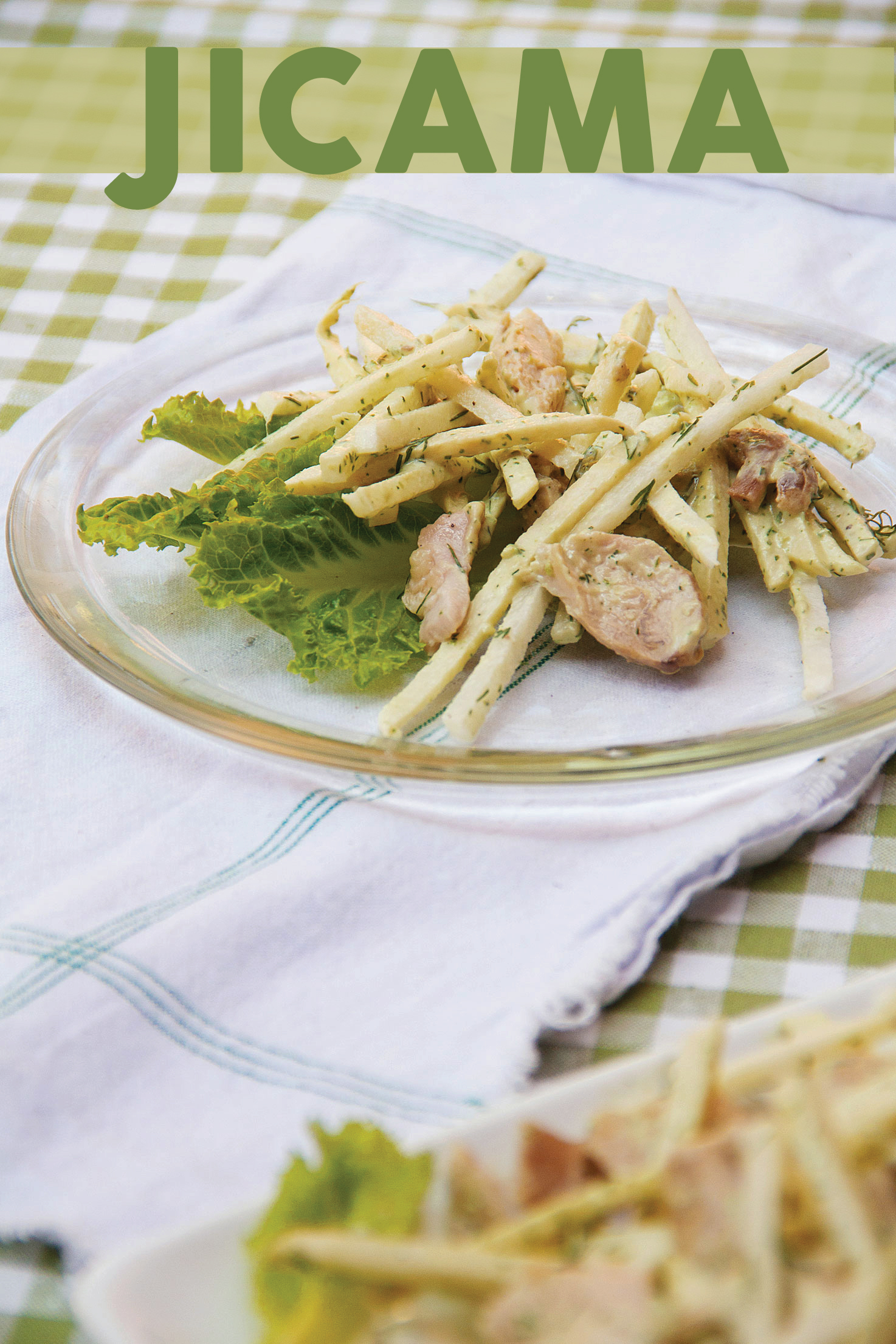 If you've ever traveled to Mexico or even to some of the Latino neighborhoods in Los Angeles, you'll find street vendors selling crunchy lime-spritzed jicama sticks called botanos. They're usually served upright, splayed like a large exotic bloom growing out of a paper cup. They're artfully sprinkled with bright red chili powder and are eaten on the go as a healthy snack. Every time I see these jicama salad sticks I'm amazed how they turn a homely, nearly forgotten vegetable into a magnificent still life and I think to myself, "Why don't I eat more jicama?"
Jicama is a bushy vine that's part of the legume family. Unlike a bean, however, the edible portion is the tuber that grows underground like a potato. Beneath the brown skin, the flesh is crisp and white. It has a crunchy texture, not unlike that of water chestnuts or maybe a savory apple. Despite its starchy nature jicama is low in calories and has a very low glycemic index, making it a good choice for diabetics.
As I said, jicama is a nearly forgotten vegetable in my life though I admit I walk past piles of them in my local Mexican market almost every day. They sit next to the avocados and I usually reach right past them to grab an avocado or two on my way out of the store.
However, usually is not always. I'd just left the doctor's office the last time I went shopping at the Mexican market. There's a very smart street vendor who parks herself by the doctor's front door. She sells beautiful, sliced and ready to eat fruits of all sorts. Most of her customers have just been reminded by their doctor that they should eat more fruit and veg. This vendor gives them a rainbow of choices including the jicama salad botanos I mentioned. I didn't stop and buy her fruit that day, the line was already quite long with guilt-ridden patients, but I did have jicama on my mind when I walked into the market later that afternoon. So I grabbed an avocado with one hand and a jicama with the other hand.
The result of my two-fisted shopping is a simple Chicken Jicama Salad that's tossed with Green Goddess Dressing. Something you might just call a Chicama Salad! GREG
A Tip for the Cook: Large jicama can be dry and fibrous. Look for medium-sized jicama that feels heavy for its size.
Save
Save
Save
Save
Save
Save
Save
Save
Save
Save
Save
Save
Save
Save
Save
Save
Save
Save
Save
Save
Save