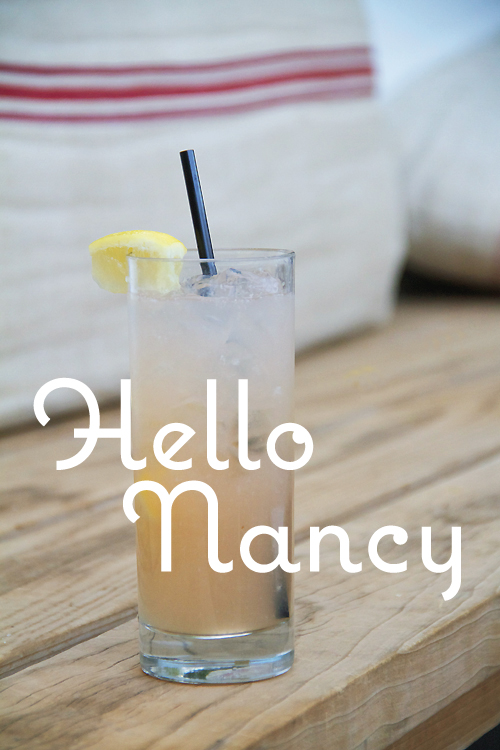 A Palm Springs Cocktail Tale
I recently hit the road in search of a truly Palm Springs cocktail.
When I drive into Palm Springs from Los Angeles I often take the old highway from the freeway into the downtown strip. I'm not really sure why though. This route takes you through a windy little pass where giant white windmills loom over the landscape giving you the accurate impression that your car is likely to get blasted with sand. A sometimes ominous beginning to a carefree weekend.
Wind aside, this route takes a bit longer too because my final destination is southeast of the city and there are quicker ways to get there. I guess I'm nostalgic though. In the "old days" (and yes I remember the old days) there really wasn't much to Palm Springs outside of the strip known as Palm Canyon Drive. Then it was just a mishmash of low slung mid-century buildings intermingled with white stucco and red tile facades. But parking was aplenty and the homes sprinkled on either side of the strip were worthy of the stars who whiled away their spare time here (in the old, old days).
By the time I made my first trip to Palm Springs in the 80s a lot of the glamor had faded. The weather was still spectacular. But as the desert grew, country clubs and subdivisions began popping up down valley. The core of Palm Springs began to feel less relevant. The old school restaurants were fun to visit, it's easy to imagine Frank and his crew commanding a corner booth– toasting the good life over a few well-made martinis. Their version of a Palm Springs cocktail. Still in my earliest experiences, the food and drinks of old Palm Springs just weren't as I'd imagined they should be.
Despite all this I enjoyed the desert and came regularly. There may not have been much in the way of gastronomy or nightlife (outside of gay bars) but the clear views and sun-drenched swimming pools kept people like me coming out here to cocoon with good friends in beautiful houses.
But all that is changing. A new crop of hipsters is discovering the desert and like Frank before them they're congregating along North and South Palm Canyon Drive. The good news is that after decades of dearth, there are interesting things to eat and drink while you soak in the atmosphere of a sultry evening under the stars.
Take Birba (622 North Palm Canyon Dr). It's a charcuterie-scented breath of fresh air set in a garden atmosphere just north of the newly bustling touristy section of Palm Springs. The thoroughly modern space opened in 2011. It doubles as a pizza joint and cocktail lounge set Palm Springs style in a beautifully lit, comfortably decorated outdoor living and dining room. The menu is creatively simple: salami, carpaccio, salads, a few pastas and of course wood-fired pizza, all of it very comfortably priced (most items under $15).
We came early and I'll admit we came for the drinks. I'd heard about their creatively mixed cocktails when I was doing research for my upcoming book, Savory Cocktails (Ulysses Press, Sept 2013). I enjoyed the cocktail menu partly for it's pizzazz and partly for it's brevity. Birba's eight signature cocktails are mostly whimsical reinterpretations of classics, like a Pimm's Cup called The Mean Queen and an apple flavored Bottoms Up. Many of the concoctions make a playful wink to the way gay reputation that this part of the desert still embraces.
Another particularly delicious Palm Springs cocktail is the Hello Nancy, whose kitschy name is a delightful nod to the man who helped put Palm Springs on the map. Nancy is of course Frank's daughter– if you didn't know that then you really have no business coming here anyway.
"So drink up all you happy people. Order anything you like." GREG