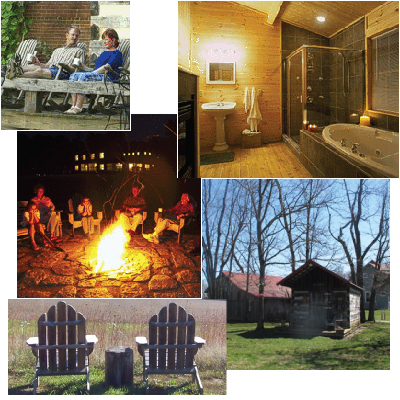 Our final full day in the Amish country of south Ohio was spent in West Union, at The Murphin Ridge Inn. This is where I began to form some opinions about all I had seen in this uniquely beautiful part of Ohio.
A stay in this part of the world should include at least one night at a bed and breakfast like The Murphin Ridge Inn. You'll enjoy all the amenities that come in a comfy room, tucked under an authentic Amish quilt. A visit to Amish country can be a rewarding and fascinating experience. From tranquil farms that run without electricity to the clip-clop of horse-drawn buggies– there are plenty of opportunities for a glimpse into the Amish way of life. Though their lives may seem strangely different than your own, please remember they are not actors playing a part. They are ordinary people who choose a different way of life.
In fact it is these differences that led to some of the introspection I mentioned earlier in this series. It might just be human nature to look at strangers suspiciously. I suppose it may even be some sort of primitive throwback woven into our survival instincts. But as modern folk we have the opportunity to push aside those fears and look to others for inspiration and even guidance. I find it interesting when cultures, religions, races, sexual orientations, heck even genders live and work together. Because by celebrating our differences we highlight our interconnectedness. Now I am not just spouting all this to impress you with my knowledge of the Amish way of life, what I don't know about Amish people could fill a stadium. I am just trying to make a point about the interconnectedness of life. Which was my big take away from this trip. It coalesced during a visit to an Amish dairy farm during my stay at The Murphin Ridge Inn.
As I mentioned earlier, this series came about thanks to a sponsored press trip. If you have ever been on a press trip then you know they are jam-packed with activities, sight-seeing and endless information gathering opportunities. After all the point of these trips is for writers and bloggers to get inspired to create content that suits the editorial directions they pursue. Every writer has a different POV. So there is typically a wide variety of experiences offered on these trips. Which means sometimes there are activities planned that don't suit Sippity Sup, and that's fine. In fact it's expected. But I'll admit, during tours of food processing plants or shopping malls, my eyes sometimes glaze over and my mind begins to wander. While these tours are often a lot of fun or even (gasp) educational– they don't always fit smoothly into the gears of Sippity Sup. Besides my mind wanders easily enough. Do I really need to leave home just to fantasize about another special episode of Glee starring me? You know they one where I swim in a vat of cheese curds lip-syncing with Hannah Montana to the song Cheese Jerky.
Me: I'm the man who had the cheese. I'm the man who had the jerky
Hannah: We put 'em both together and yeah it really workey
Both of us: Cheese Jerky– Say What (Cheese Jerky) Cheese Jerky– Say What (Cheese Jerky)
But everything about The Murphin Ridge Inn suits my tastes and my sensibilities. So I was able to push Hannah Montana to the back recesses of my brain. Heck, all of West Union, Ohio is filled with content I could write on and on about. Especially the family-run dairy I mentioned.
Let's start with the inn. A good night's sleep and an excellent meal are exactly what you need to muster the mindset to comprehend how I can quote Hannah Montana while writing about a visit to an Amish farm.
The Murphin Ridge Inn was named one of 54 Great Inns of America by National Geographic Traveler magazine. Partly due to the spectacular setting, highlighted by the perfectly restored main house built in 1826. This is where the dining rooms and some shared sitting rooms are located, for the communally minded. But there are about 176 acres to this property so there's privacy too if that's what you are looking for.
The inn has 10 rooms located in a large lodge separated from the main house by gardens and a few rustic buildings leftover from the property's days as a working farm. There are also 9 individual log cabins. My room was on the second floor of the lodge and was comfortably appointed with beautiful shaker furniture, a gas log fire and a modern bathroom. The big windows looked over the pool with the wide-open fields beyond. There is also a tennis court and some woods for wondering along three hiking trails. But my favorite time of the inn was spent watching the stars twinkle while sitting around the outdoor fire-pit sipping an excellent bourbon. I hope you'll watch this video from my stay at The Murphin Ridge Inn.
The dinner itself was another highlight. There were more than a dozen in our party and the inn easily accommodated us around a large table in a private dining room. Innkeepers Darryl and Sherry McKenney joined us at the table for a very special "farm to table" meal featuring an excellent menu from Chef Brad Robertson. This unforgettable dinner included produce grown on some of neighboring Amish Farms.
It's this unique relationship with their neighbors that not only brought fresh ingredients to our plates but also opened the door allowing us to step inside an Amish family's home and tour their hardworking dairy farm.
The farm and family belong to Vernon Yoder. An Amish dairy farmer who greeted us once we arrived at his property. As we got out of our cars and began to look around, I sensed we were going to be in for an out of the ordinary experience. Starting with a dog who spent his days patrolling the second floor of a large milking barn. He'd been convicted of chicken snatching and could not be trusted to freely roam the property. At first I felt a bit sorry for this dog kept inside a barn. But the barn is huge– much larger than most of the apartments in LA where the dogs I know are confined. It was then I got the first inkling that the metaphor of a dog trapped inside a barn was not all I assumed it to be.
Still, the differences between Vernon Yoder and myself were obvious. As I stood in his barnyard I could not help but notice the juxtaposition of the conservative work-ready clothing of our host set against my own attire: merlot-colored converse, designer jeans and a camera dangling needlessly ornate around my neck. I guess I wanted to make up for the obvious vanity of my life with a good first impression– so I grasped Vernon's hand a bit too firmly, but tried to make as honest eye contact as I could. I wanted him to sense my appreciation for the generous peek into his life and farm.
His eyes were brilliant. I was struck by them immediately, though I can't recall their color. Because the Amish do not allow photos of themselves. His skin was tanned and his dark brown hair was streaked a bit with gray. He had rolled up his shirtsleeves to the elbows, revealing strong forearms. His suspenders complemented a fit waistline beneath dark work pants. But again I reveal my own vanity with these observations.
As the others introduced themselves I watched some chickens scratching in the yard and Vernon walked over and stood next to me. It was then that I looked up and saw the dog more closely. He was barking at us with genuine purpose. The dog had us in his sights. He seemed determined, rather than agitated or distressed. That's when it clearly came to me. That dog has a place in this world. He has a job to do and he's damn happy to do it.
Did Vernon feel that way about his life? Did I feel that way about mine? Well, like that dog I can say that I do– mostly. And I bet Vernon does too. GREG

My thanks to Smith Bites who joined me on this trip. They provided the photos of the dog in the barn. I somehow knew that dog and that moment was special, but I never got the shot. Debra and Rod have a great eye for details and came to my rescue with these two photos.
Greg Henry writes the food blog Sippity Sup- Serious Fun Food, and contributes the Friday column on entertaining for The Back Burner at Key Ingredient. He's active in the food blogging community, and a popular speaker at IFBC, Food Buzz Festival and Camp Blogaway. He's led cooking demonstrations in Panama & Costa Rica, and has traveled as far and wide as Norway to promote culinary travel. He's been featured in Food & Wine Magazine, Los Angeles Times, More Magazine, The Today Show Online and Saveur's Best of the Web. Greg also co-hosts The Table Set podcast which can be downloaded on iTunes or at Homefries Podcast Network.

Follow Greg on Twitter @SippitySup
Follow The Table Set on Twitter @TheTableSet
Like Sippity Sup on Facebook
Look for Greg's book Savory Pies coming Nov 2012, from Ulysses Press
Save