A custard pie is not Chess Pie. Neither is a buttermilk pie. Though if you examine most Chess Pie recipes you'll see cream and egg in roughly the standard ratio of custard – one or two eggs per cup of fatty liquid. My Rhubarb Chess Pie follows that ratio exactly. Does that make it a custard pie? Well, that depends on where you live. A lot of Northerners would call most any pie with that sort of ratio a custard pie. Add apple and they might call it Marlborough Pie. In the south (with or without apple), they'd probably call this pie Chess Pie.
In my opinion, these Southerners would only be partially correct.
There are plenty of other names for these very basic pies. In the mid-west, some call this pie Desperation Pie because you can make it even when you desperately need to restock the pantry. Here in the west, there's a similar pie called Crack Pie, but that's a terrible name. I like the Southern version (and name) best.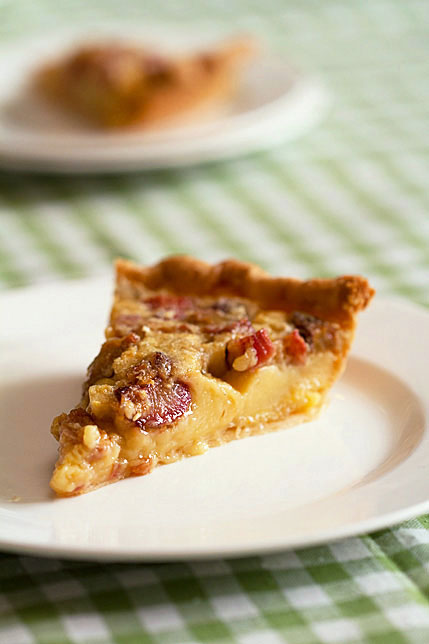 Rhubarb Chess Pie
There's more to Chess Pie than a custardy ratio of egg to cream. Remarkable in its simplicity and timeless in its appeal a Southern Chess Pie is not unlike a Northern custard pie because at its heart it contains four basic ingredients that most cooks always have on hand: flour, butter, sugar, and eggs. Of course, you can get fancy and add fruit (i.e. Rhubarb Chess Pie), cream, cocoa powder, or a sprinkling of nutmeg or cinnamon. However, it isn't these optional additions that separate Chess Pie from a standard custard pie. The difference comes when Southern cooks add a tablespoon or two of gritty cornmeal and a nearly undetectable sour tang (which usually comes by stirring in some vinegar).
There's one more step that truly separates Southern Chess Pie from its cousins. It's also (who really knows?) may be (could be) the reason behind the name. Chess Pie is chilled in the ice ches' after baking. Which doesn't mean it's eaten cold. No self-respecting Southerner I've heard of would ever eat it cold, but once it's been baked, you allow it to cool on a rack and then refrigerate it for a few hours. At serving time the pie sits at room temperature 15 or 20 minutes before slicing. It's a texture thing. Try it and see. GREG
Rhubarb Chess Pie