Ricotta Rhubarb Cheesecake. I think we have come full circle.
This whole rhubarb obsession started with a rhubarb (she says stewed I say compote) recipe from The Daily Spud. But to end all this squabbling I think we'll just call it a sauce. Everybody loves a sauce.
Although, on second thought, since this is my sauce (and my blog), I am going to go ahead and call it a compôte. And if that is not fancy enough I think I'll take this a step further and call this an Orange Scented Rhubarb Compote. It tastes better already!
Although in Spud's hands it would be a mighty delicious Stewed Oranges and Rhubarb– you say toe-MAY-toe, I say toe-MAH-toe.
Speaking of which I spent the day at the L.A. Garden Show handing out toe-MAH-toe recipes for TomatoMania. We had a blast! But more on that Monday.
But briefly while we are on tomatoes. Tangled Noodle may have figured out where I was going with this whole TomatoMania/Rhubarb Madness. She correctly pointed out that "rhubarb is a vegetable used like a fruit while a tomato is a fruit that is regarded as a vegetable".
Click for More on Sobon Estate Orange MuscatAnd yes that was my thesis. This whole week was intended to lead up to a post about that very irony. Oh the metaphors I had rolling around in my head! You would have been so entertained and impressed by the way my mind works! Just thinking about it I can't stop patting myself on the back.
But no, T.N. pulled a noodle and let the cat out of the bag– a weeks worth of work, down the drain. No wind in my sails! I can barely bring myself to the keyboard.
There is one saving grace. I think I have a heckuva recipe for you. Because I am pairing that Orange Scented Rhubarb Compote (yes compote, allow me that one small pleasure) with a Ricotta and Mascarpone Cheesecake.
Ricotta Rhubarb Cheesecake
This is a particularly luscious cheesecake. I have patterned it after a Sicilian style cheesecake and used ricotta as opposed to cream cheese. This makes for a much lighter cheesecake than you may be used to. This is not the first time I have made a ricotta cheesecake. But it is the first time I have made it with the addition of mascarpone cheese.
As I said ricotta makes this a lighter, more airy cake than a New York style Cheesecake. My version is considerably less sweet too. It has a fabulous texture, but I found myself missing that full mouth sensation you get from a cream cheese version. By adding the mascarpone I believe I will keep the airiness, but still get a hint of
the creaminess we have come to expect from a cheesecake with out changing the true essence of the ricotta. My inspiration was a canoli. If that helps you visualize this thing.
I have also decided on a yellow corn meal crust. I will sweeten it a little, but I hope to avoid that overly sweet cookie-like flavor of graham crackers. I want all the subtle sweetness in this recipe to come from the cheese.
Grant is also doing a pairing. This is a great dessert to pair with wine because it is not overpowered by sugar. There is a lot of room to let a sweeter wine shine! His choice was fabulous, but he admits this wine might be a bit difficult to find in some areas. He has offered a few suggestions. But if you really can't find it, try another California Muscat. You might just make a great find yourself!
Ricotta and Mascarpone Cheesecake serves 12
CLICK for printable recipe
1 1/2 sticks (12 tbsp) unsalted butter, room temperature
1/2 cups sugar
1 1/4 cups all-purpose flour
1 1/4 cups yellow cornmeal
1/2 teaspoon salt
1 1/2 pounds ricotta cheese, room temperature
1/2 pound mascarpone cheese, room temperature
1 cup white sugar
1/3‑cup all-purpose flour

6 eggs
Zest of 1 orange
Zest of 1 lemon
1‑tablespoon vanilla extract
Orange Scented Rhubarb Compôte (recipe follows)
Pre-heat the oven to 350 degrees F. In the bowl of a stand mixer fitted with the paddle attachment, cream butter and 1/2‑cup sugar until light and fluffy. Add the flour, cornmeal, and salt. Mix these until well combined.


Press the mixture on the bottoms and up the sides of a 10" x 3" springform pan. Do not worry about keeping the top edge perfect. It will add to the rustic appeal.
Place the pan into the oven, and bake until lightly golden, 20–25 minutes. Remove the pan from the oven and allow it to cool on a wire rack completely before proceeding.
Reduce the oven to 325 degrees F.


Place the ricotta and mascarpone in a large mixing bowl. Stir them until as smooth as possible with a rubber spatula. Stir the remaining 1 1/4 cups sugar and the 1/3‑cup flour into the ricotta. Stir until well incorporated.
Beat in the eggs 1 at a time. Add the vanilla, orange and lemon zest, and salt. Sir until just combined. Do not over mix.
Pour batter into the prepared cornmeal shell. Place in oven on center rack.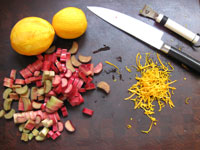 Bake for about 70 minutes, until a light golden color. Make sure the center is fairly firm, and the point of a sharp knife inserted in the center comes out clean.
At this point turn the oven off and allow the cheesecake to sit in there another hour to hour and a half. This will help it from cracking. Still some cracking is inevitable and, again, part of the rustic appeal.
After that, remove the cake to a wire rack to cool completely. Then cover the pan and move it to the refrigerator at least 2 hours but overnight is better.
When ready to serve, remove the cake gently from the springform pan.
Orange Scented Rhubarb Compote CLICK for printable recipe
5 stalks of rhubarb, cut into 1/4″ pieces (about 3 cups)
1 cup sugar
zest and juice of 2 oranges
Place all the ingredients in a medium saucepan set over medium heat-low heat. Simmer gently, stirring occasionally, until the sugar has dissolved.
When the rhubarb is tender, about 10 minutes, break the pieces up some with the back of a wooden spoon.
Continue to cook until the mixture thickens. Then remove from heat and let it cool completely.
You may serve the compote in a bowl next to the cheesecake or spooned over the top. But do not spoon the fruit on top until immediately before serving.
SERIOUS FUN FOOD

Greg Henry

SippitySup