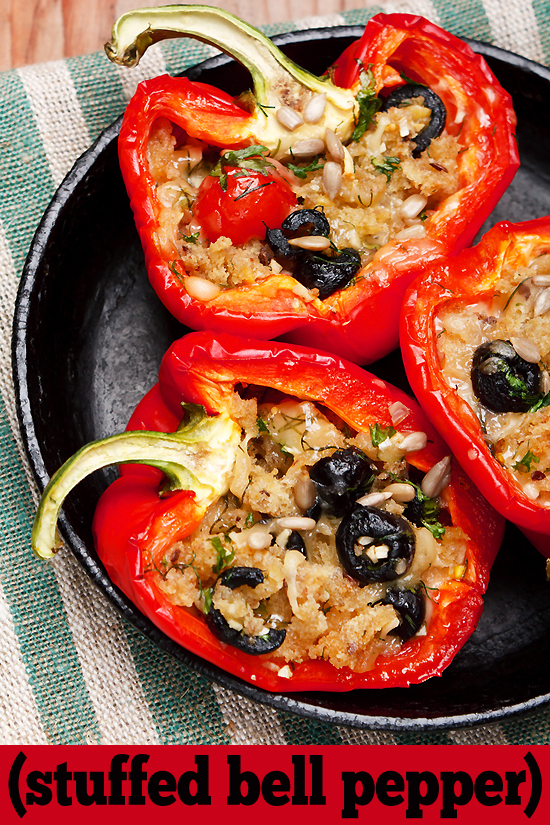 It's summer along the California coast. Throw on a sweater and get ready for something warm from a hot oven. I made these Stuffed Bell Peppers with Black Olives and Sunflower Seeds to celebrate our unique west coast summers.
I woke up this morning to June-Gloom. I know it's July, but June-Gloom is not strictly a June phenomenon. There's also May-Gray, No-Sky-July, and Fog-ust. But mostly I just call it all June-Gloom.
If you don't live in coastal California you may not know what June-Gloom is. Well, it's a summertime weather pattern that often casts a very un-Californian gray over our coastal areas. This prompts raised eyebrows from newcomers, but once you've lived here long enough you come to expect a few chilly mornings when the rest of the country is sweltering.
The recipe for June-Gloom requires equal parts cold Pacific Ocean water, onshore currents, and high pressure. Winter, spring, summer and fall, the air in the atmosphere typically cools as you go higher. However, when a cold current comes onshore in the Pacific, and high pressure builds on top of it, then an inversion of the typical pattern develops. This creates a gloomy haze– technically known as the marine layer. What you might call fog, and I would call June-Gloom. Wow. Cool, huh?
I can't believe I'm discussing the weather on my food blog. I used to think people only talked about the weather when there was nothing left to say. While it's possible that after 5 1/2 years of blogging I have nothing left to say– the truth is the older I get the more fascinated I am by the Weather Channel. Of course the older I get the more fascinated I am with insomnia, colonoscopies, and black socks with sandals too. But let's just concentrate on the weather, okay?
First of all: the weather, perhaps more than any other mitigating factor helps determine what we feel like eating. No-Sky-July has me craving Stuffed Bell Peppers. I hadn't considered Stuffed Bell Peppers until I woke up this morning and saw all that gray mist in the sky. Suddenly I craved summer flavors in a warm-from-the-oven package. June-Gloom makes Pacific Coast cooks want to crank the oven and get cooking.
Still it is summer, so my June-Gloom remedy is Stuffed Bell Peppers sprinkled with sunflower seeds. Sunflower seeds may be the only sun I see today. GREG
Stuffed Bell Peppers with Black Olives and Sunflower Seeds