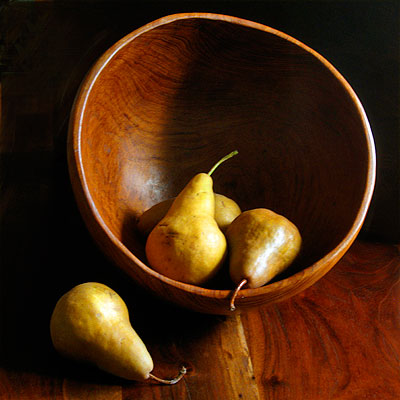 Roasted Pears: I was a bit under the gun on this one. I knew I needed to bring a dessert to a friend's house for a impromptu dinner party. And I did have the bug to cook. So I thought good and hard about what I wanted. Or I should say, what I thought I wanted. Because they are not quite the same thing. I thought I wanted poached pears with Champagne-ginger and saffron syrup. I thought I wanted them peeled, left whole and wholly elegant. I thought I wanted to spend 2 hours in the kitchen preparing them. I even considered sprinkling them with edible gold flakes. That's when I put on the brakes and realized I was just one cutesy step away from wrapping them in ribbon, or painting a smiley face on their pert little cheeks.
Roasted Pears
I mean I was invited for a casual meal. A tapas-style Spanish celebration to say farewell to a friend who is returning to Spain after an extended stay in Los Angeles. I'm sure my original intention of poached pears would have been lovely. But entirely inappropriate.
It's this blogging competition you see. While I'll admit there's a part of me that thrives on it. Sometimes I find myself ratcheting things up a wee bit too much. I mean really… edible gold flecks? How did that even get into my brain in the first place? Where would I even find them? So instead, I pulled back on the reins and really thought about what I wanted to eat. What I wanted to present to my friends as an expression of myself and our friendship.
Turns out it was pears after all. But pears simply roasted, left unpeeled and glazed with a slightly sweet, slightly sour balsamic glaze. And if we are really going for what I want then we may as well serve this with a good-sized chunk of Manchego cheese. Call it a dessert, call it a cheese course. I'll call it just the very thing I wanted.
Roasted Pears with Balsamic Glaze and Cheese SERVES 4 CLICK here for a printable recipe
4 T unsalted butter
4 firm but ripe pears, preferably Bosc
6 T balsamic vinegar, plus more as needed
1⁄2 c apple juice
freshly cracked black pepper, to taste
almost any variety of cheese, optional
Working from the bottom, remove the core of each pear by cutting out a pointed cylander shape with a paring knife. Remove just enough to get the core, leaving the stem end in tact. Slice a small disc off the bottom of each cored pear so that it sit upright.
Adjust the oven rack to the middle position and preheat the oven to 400 degrees. Have ready a roasting pan or baking dish that will just barely accommodate the pear sitting upright side by side, close but not touching. Using too large a pan will cause the sauce to scorch.
Place the butter in the pan and place on the middle rack until melted, about 3 minutes. Remove from the oven and arrange the pears, standing up, in the butter. Roast the pears in the middle of the oven until almost tender, about 15- 25 minutes, depending on the ripeness and size of the pears.
Drizzle the vinegar over the pears and roast for 5 more minutes.
Immediately transfer the pears, to serving plates. Pour any of the pan juices into a small sauce pan, add the apple juice. Cook, stirring often over medium heat, until the sauce reduces by about 1/3 and becomes a bit syrupy. Add additional balsamic to taste to adjust acidity if needed. There should be a bite of tangy vinegar to off-set the sweet pairs, especially if you choose to serve this with cheese. Puddle a small amount of the sauce onto the serving plates and sprinkle the pears with black pepper. Serve at once.
ROASTED PEAR VARIATIONS:
Blue Cheese: Crumble about 1 ounce over each pear just prior to serving.
Goat Cheese: Place a spoonful of soft goat cheese next to each pear just prior to serving. Drizzle sauce over cheese.
Mascarpone: Place a spoonful next to each pear just prior to serving. The warmth of the pear will melt the mascarpone slightly so it will mingle with the sauce.
Pecorino or Manchego: Thinly shave aged Pecorino or Manchego alongside each pear just prior to serving.
SERIOUS FUN FOOD
Greg Henry
SippitySup