Ricotta dumplings are for "one of those days". I think you know the kind of day I'm talking about. The kind of day when you wake up late, and rather than bound out of bed you lay there longer than you know you should. After all, there's a dog to walk and he's already clicking around on the hardwood floors – besides there's bread to "win" and bacon to "bring home". Why does life require so much bread and bacon? Anyway, you may be having "one of those days" but you still gotta eat. Sure there's the pizza delivery guy, or Thai take-out. But cold pizza or greasy Pad See Ew will make "one of those days" a heck of lot worse.
May I suggest Ricotta Dumplings? They take no special skills or fancy ingredients. You can get this meal on the table in 25 minutes. Time yourself and see.
Cheese. Egg. Herb. Flour. And that marinara I know you made last week when you weren't having "one of those days".
Ricotta Dumplings are one of those no-recipe recipes too (though I included the recipe in case you want to make it just they way I did). The only thing you need to know is to keep the dough quite sticky. Stickier than your instincts might lead you to believe. The way to deal with all that sticky ricotta dumpling dough is to resist adding too much flour once you move it to the work surface. Instead, lightly flour your hands before rolling the dough into balls.
However, there is one caveat – these dumplings need to be cooked as soon as they're made. Which really isn't a problem. Who does prep work when they're having "one of those days" anyway?
There's also room for a twist. You could change the herbs in the dumplings to suit what you have around. Basil works well because I had it in the house. But tarragon is a good choice too. Dried herbs will do in a pinch. After all, when you're having "one of those days" don't expect me to judge your herbs.
Ricotta Dumplings or Gnocchi?
Though semantics is the last thing you want to deal with on "one of those days" I'll go ahead and bring up a "sticky" point. I call these little cheesy pillows Ricotta Dumplings, but they're really the same thing as Italian gnudi – which is actually nothing more than ravioli filling without the pasta. Which sounds an awful lot like gnocchi. Leave it to me to quibble over definition on "one of those days". GREG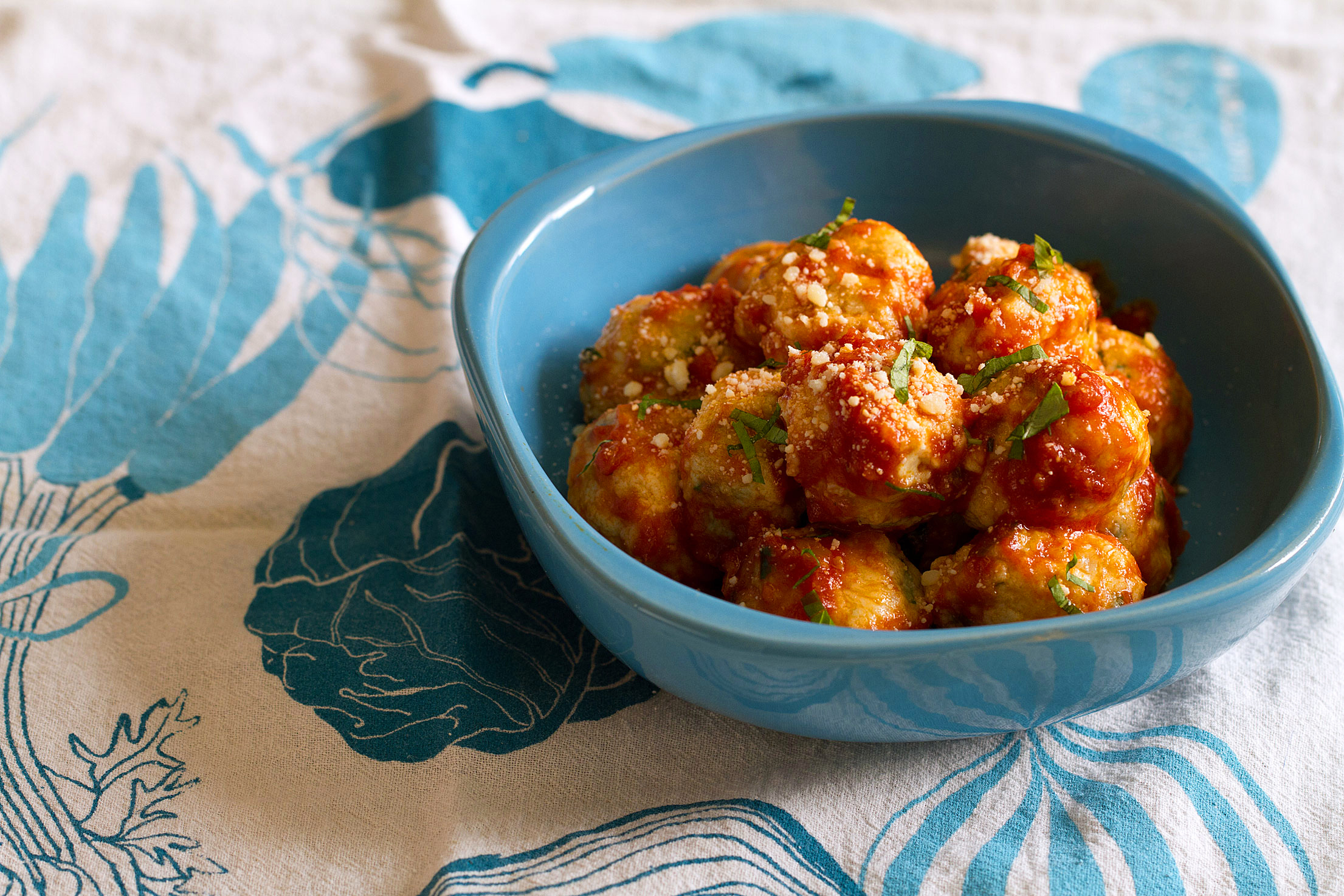 Save
Save
Save
Save
Save
Save
Save
Save
Save
Save
Save
Save
Save