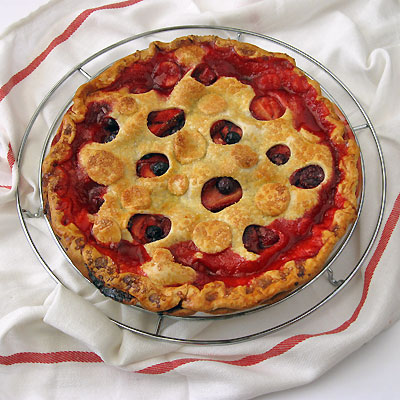 This is the simplest of pies, designed to highlight the very best summer berries. You can fill it with any combination of berries you like. Summer Berry Pie.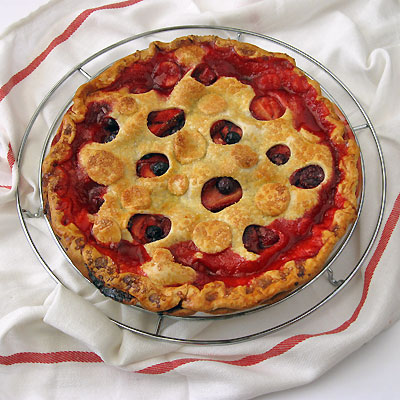 Ingredients
turbinado (raw) sugar, for sprinkling

1 tablespoon

cream

1

egg yolk

1 pinch

kosher salt

¼ cup

cornstarch

1¼ cup

granulated sugar

8 cup

cups mixed summer berries such raspberries, blackberries, blueberries & sliced strawberries

all purpose flour, for rolling surface

perfect pie crust (see recipe section)
---
Directions
Lightly flour a pastry board, marble counter, or kitchen counter. Divide the pastry in half. Pat each piece of pastry into a flat round. Lightly flour the rolling pin. Roll pastry in one direction only, turning pastry continually to prevent it from sticking to the surface.
Using pie plate as a guide, measure rolled-out pastry, it should be slightly larger than the pie plate and 1/8‑inch thick. Fold rolled pastry circle in half so you can lift it more easily. Unfold, gently fitting the pastry into the pie plate, allowing pastry to hang evenly over the edge. Do not trim the pastry yet.
Stir together berries, sugar, cornstarch, lemon juice, and a pinch of salt. Fill pie shell with berry filling.
Then roll out the second crust in the same manner as for the bottom. Using a sharp, pointed knife or a small decoratively shaped cutter cut little vents in a decorative pattern. Fold circle in half and place folded pastry on one half the pie. Unfold, pressing top and bottom pastry together. Trim edges with scissors, leaving a ½‑inch overhang. Fold bottom pastry overhang over top and press firmly to seal. Crimp rim, using fingers or the tines of a fork.
Whisk together yolks and cream. Decorate tops of pies with cutouts, brushing bottoms with egg wash to help them adhere. Refrigerate the pie for 1 hour.
Preheat oven to 375 degrees. Brush tops of pies with egg wash, and sprinkle with turbinado sugar. Transfer to a parchment-lined rimmed baking sheet.
Bake until juices are bubbling and tops are golden brown, about 1 hour 20 minutes (tent with foil if crust is getting too dark). Let cool at least 1 hour.
The cooled pie may be kept overnight, covered at room temperature. Do not refrigerate