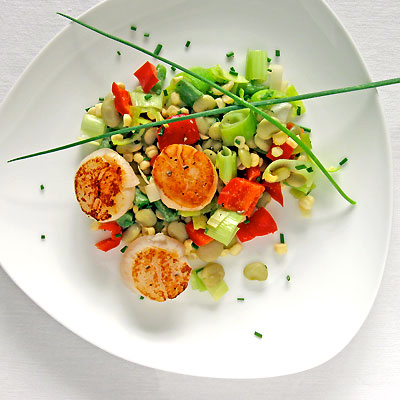 Succotash was a bean dish adapted by the early settlers from the Native Americans. It makes a light, flavorful and summery base for seared scallops. Seared Scallops with Succotash.
serves 4 as main course or 6 to 8 as first course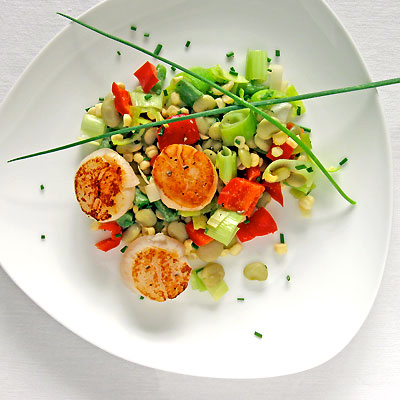 Ingredients
3 tablespoon

unsalted butter

1

large leek, white and pale green parts, halved lengthwise, cut into ½" pieces and well rinsed

1

red bell pepper, cored, trimmed and cut into ½‑inch dice

1

(15oz) can lima beans, drained and rinsed

2 cup

green beans, trimmed and cut into ½" pieces

4

ears fresh corn kernels

4 tablespoon

chives, minced and separated

2 tablespoon

fresh oregano, minced

kosher salt and fresh ground black pepper, to taste

1 tablespoon

olive oil

12

large sea scallops, tough muscles removed
---
Directions
Make the succotash: Melt the butter in a large saute pan set over medium heat. Add the leek and cook, stirring often, until it begins to soften but is not yet colored. About 2 minutes. Add bell pepper and green beans; cook an additional 5 minutes.
Turn off the heat and add the lima beans, corn, 2 tablespoons chives, and oregano. Season with salt and pepper. Set aside until ready to serve.
Make the scallops: Heat the olive oil in a large non-stick or cast iron skillet set over medium-high heat until very hot but not quite smoking. Add the scallops in batches to avoid crowding. Cook the scallops undisturbed on one side about 3 minutes until a nice golden crust forms. Flip them over and cook an additional minute or two until they are barely translucent in the center.
Gently reheat the succotash if necessary and serve the scallops on top. Season with salt and pepper. Garnish with remaining chives.