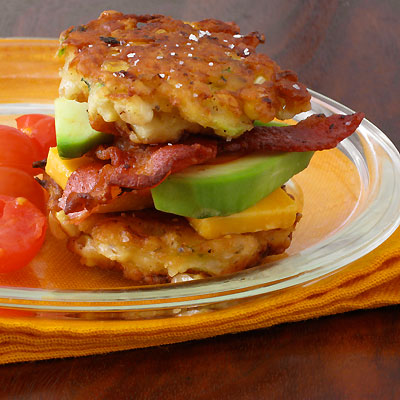 Cheddar cheese, crisp bacon, creamy avocado are nestled, sandwich style between corn & zucchini fritters. The drizzle of balsamic and cherry tomatoes complete the picture.
Print This Recipe
Total time
Yield
12
Source Inspired from Martha Stewart Living
Published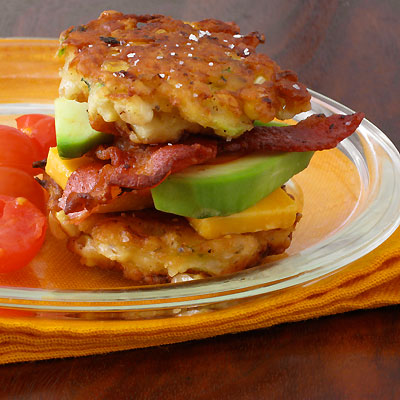 Ingredients
12 slice

extra-thick bacon

1½ cup

all-purpose flour

2

extra-large eggs

2 tablespoon

unsalted butter, melted

aged balsamic vinegar, as needed

cherry tomatoes, halved, as needed

sliced avocado, as needed

sliced cheddar cheese, as needed

vegetable oil, for frying

2 cup

corn kernels (2 or 3 ears)

kosher salt & pepper, as needed

½ cup

milk

1

medium-sized zucchini, grated

2 teaspoon

baking powder
---
Directions
Fry the bacon to crisp in a large cast iron or non-stick skillet set over medium-high heat. Remove the cooked bacon to a paper towel lined plate. Drain off all but about 2 tablespoons of the bacon fat. Reserve the skillet for the fritters.
Whisk together flour, baking powder, 2 teaspoons salt, and ¼ teaspoon pepper in a large bowl. In a separate smaller bowl, stir together butter, eggs, and milk; add to the flour mixture, and stir until barely combined. Add zucchini and corn. Stir together.
Add enough vegetable oil to bring the level to about 3/4 of an inch in the skillet you used for the bacon. Heat the mixture until a deep-fry thermometer reaches 350 degrees F.
Working in batches drop 2 tablespoons of batter into the hot oil, flattening them with the back of the spoon to about ½" thick and 2 ½" round. Cook turning once, until golden brown about 3 minutes per side. Transfer immediately to a paper towel lined plate and season well with salt while still hot.
Make the sandwiches by stacking bacon, cheese and avocado between 2 fritters with a drizzle of balsamic. Serve them one or two per person with the cherry tomatoes on the side.