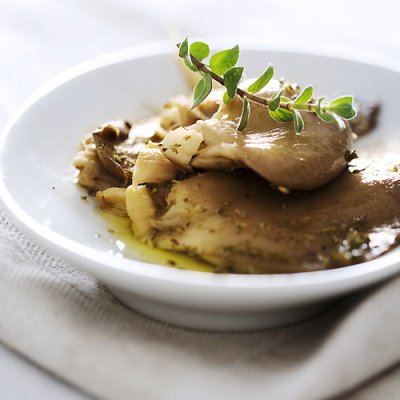 Simple sautéed oyster mushrooms tossed with linguine and very good olive oil make simple meal.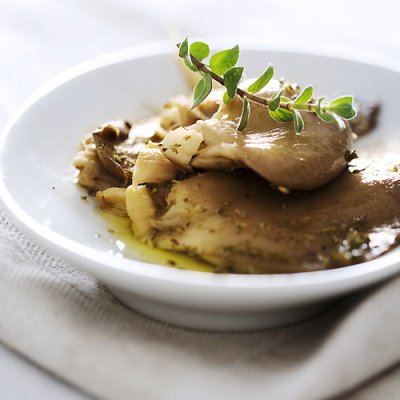 Ingredients
6 cup

oyster mushroom, cut into bitesized pieces

¼ cup

olive oil, plus more for drizzling

2 tablespoon

unsalted butter, divided

1 pinch

each salt and kosher pepper, plus more as needed for seasoning

3 clove

garlic, peeled and minced, divided

¼ cup

sweet vermouth, divided

¼ cup

fresh oregano leaves

1 pound

al dente cooked linguine, plus some of the water it was cooked in

¼ cup

freshly grated parmesan cheese

extra-virgin olive oil

(for serving)
---
Directions
Heat a medium-large pan over high heat with about half of the oil. Drop in about half the mushrooms. Don't overcrowd the pan work in batches. Let the mushrooms site until the begin to brown. Add a pinch each salt and pepper, as this will help release more of the moisture. Add half the butter and half the garlic to caramelize as the moisture keeps evaporates. Once the pan is mostly dry add half the vermouth, scrapping the bottom of the pan to remove and browned bits. Transfer to a warm plate and repeat with remaining mushrooms, olive oil, buter, etc.
Once all the mushrooms are cooked toss them with fresh oregano and freshly cooked linguine. Add a splash of the pasta water and Parmesan cheese. Turn out onto a serving plate and drizzle with extra-virgin olive oil. Serve hot.