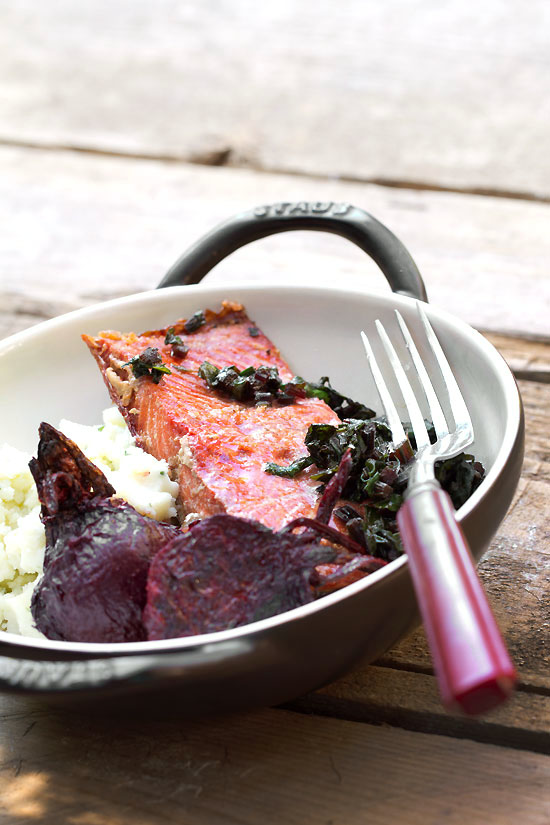 Roast Salmon and Beets is a simple one pan meal that cooks in two steps. First you steam the beets, then you roast the salmon right beside the beets.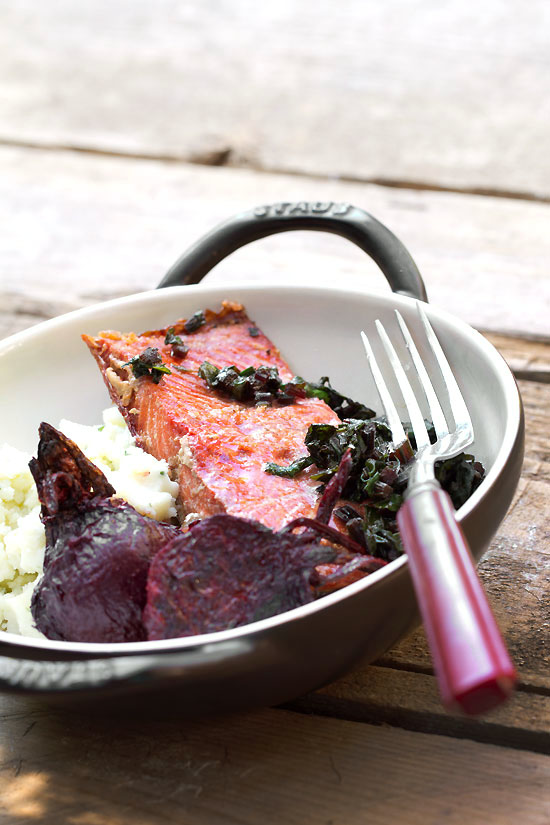 Ingredients
1

side, skin-on, wild sockeye salmon

(1 ½ to 2 pounds, pin bones removed)

⅓ cup

teriyaki sauce

4 clove

garlic

(peeled and minced, divided)

2 tablespoon

minced shallot

2 teaspoon

peeled, minced fresh ginger

4 tablespoon

olive oil

(divided)

kosher salt

(as needed)

freshly cracked black pepper

(as needed)

4–6

medium beets, with fresh greens attached

(about 2- 2½ inches in diameter)

2 teaspoon

tomato paste

2–3 tablespoon

water

(may substitute fish, vegetable or chicken stock)
---
Directions
Slice salmon crosswise into 6 equally-sized portions. Lay them skin side up into a shallow baking dish not much bigger than the salmon fillets. In a small bowl combine teriyaki sauce, half the garlic, shallot, ginger, 2 tablespoons olive oil and a pinch each salt and pepper. Pour the mixture over the salmon and marinate in the refrigerator for 30 minutes. Flip the salmon fillets and marinate an additional 30 minutes.
Meanwhile place the oven rack in the center position and heat the oven to 450 degrees F.
Line a 9x13 inch or larger rimmed baking sheet with parchment. Remove the beet-greens from the beets. Wash and dry them well then thinly slice first the stems and then the greens; set aside separately. Peel and halve the beets and place them onto the lined baking sheet in a single layer. Drizzle beets with 1 tablespoon olive oil and sprinkle with a generous pinch each salt and pepper. Cover the baking sheet tightly with aluminum foil. Roast in the heated oven until tender; about 40 minutes depending on size.
Remove and discard foil. Leaving the beets on the tray lay salmon fillets skin side up onto the baking sheet and pour the marinade on top. You may need to move the beets aside to accommodate the salmon. It's fine to place some of the beets on top of the salmon.
Return the baking sheet, uncovered, to the oven and roast the salmon until cooked to your liking. Roasting time depends on the thickness of salmon, as determined by the thickest part of the salmon fillet. For every half-inch of salmon, roast 4 to 6 minutes (4 minutes for medium rare, to 6 minutes for well done).
Meanwhile, heat remaining 1 tablespoon oil in a large skillet over medium heat. Add remaining garlic and tomato paste; cook, stirring, 1 minute. Add beet-green stems and cook, stirring frequently, until softened; about 2 minutes. Add beet-green leaves and water. Cook, stirring frequently, until tender, about 2 minutes. Season with salt.
Serve salmon, beets and beet-greens together immediately.