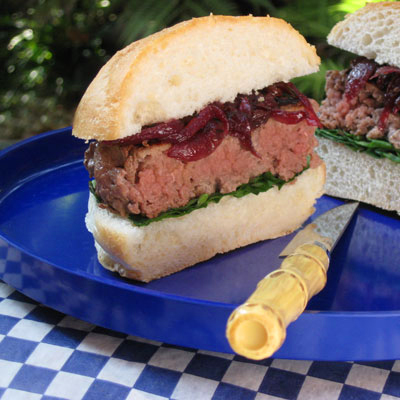 This Red Wine and Blue Cheeseburger is a fun way to celebrate the Fourth of July, but you don't have to wait for the holiday to grill one up.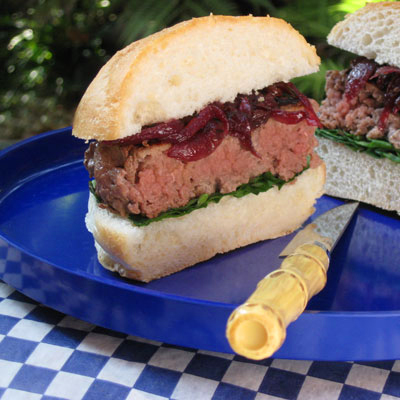 Ingredients
2 tablespoon

olive oil

2

red onions

(halved and thinly sliced)

1 cup

red wine

2 tablespoon

red wine vinegar

1 tablespoon

honey

½ cup

raisins

2 teaspoon

finely chopped fresh thyme leaves

salt and pepper

2 ounce

blue cheese

(softened, plus a bit more for topping the burger)

4 tablespoon

unsalted butter

(softened)

1 ½ pound

ground sirloin

1 tablespoon

olive oil

4

Kaiser rolls

(split)

4 ounce

fresh arugula
---
Directions
1. Heat the oil in a medium saute pan on medium-low heat.
2. Add the onion and cook until soft, stirring occasionally, about 10 minutes.
3. Add the wine, vinegar, honey, raisins and thyme and simmer, stirring occasionally, until the liquid has evaporated, five to seven minutes. Season with salt and pepper.
4. Remove from the heat and let cool to room temperature. The jam can be made two days in advance and stored in an airtight container in the refrigerator. Bring to room temperature before serving.
5. In a small bowl, blend the roquefort with the butter.
6. Scrape the butter onto plastic wrap and roll into a 4‑inch cylinder. Refrigerate until firm, about 1 hour. Slice the butter into 4 disks.
7. Gently shape the ground sirloin into 4 thick patties. Using a spoon or melon baller scoop out a small amount from the center of each burger. Then with your thumb, make a clean, smooth depression in the center of each patty and fill with a disk of Roquefort butter. Return the scooped out meat to the indentation. Then press and fold the meat over to encase the butter completely. Gently pat the burger into a plump rounded patty.
8. Season the burgers with salt and pepper and grill over a medium-hot fire until browned and cooked through, about 6 minutes per side.
9. Brush the cut sides of the rolls with the olive oil and grill until lightly browned, about 10 seconds.
10. Set the burgers on the rolls, top each with the ¼ of the wine-braised onion jam and arugula. You may also crumble a bit more blue cheese on top if you are so inclined. Serve hot and juicy!