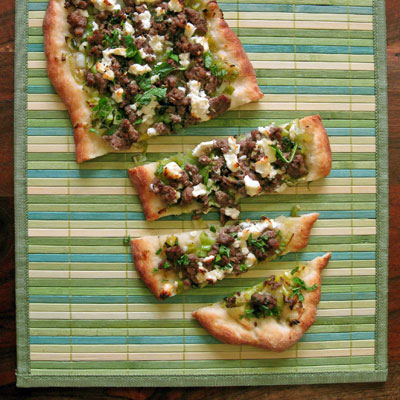 Lamb Flatbread or Pizza I don't really care what you call it! This one get its punch from the classic Greek elements of lamb, feta and mint.
Print This Recipe
Total time
Yield
8
Source Adapted from Martha Stewart Living
Published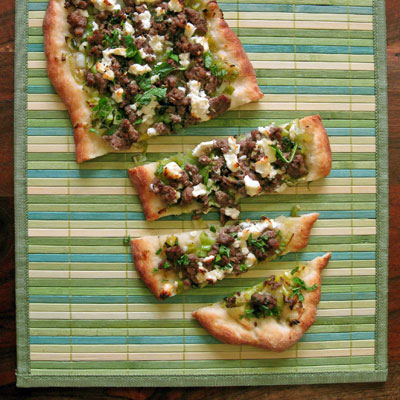 Ingredients
1 3/4 teaspoon

dry active yeast (from one ¼‑ounce envelope)

2 cup

water (110 degrees f)

2 tablespoon

extra-virgin olive oil, plus more for bowl

1 tablespoon

sugar

1 teaspoon

salt

4½ cup

bread flour, plus more for surface

1

unsalted butter

1 tablespoon

extra-virgin olive oil, plus more for brushing and drizzling

4

scallions, white and pale-green parts only, thinly sliced

2

spring onions, bulb plus 2 or 3 inches of stems, chopped into ¼â€™ pieces

coarse salt and freshly ground pepper, to taste

¼

chopped fresh flat-leaf parsley

¼

chopped fresh mint, plus more for garnish

1 pound

ground lamb

1 cup

feta cheese, crumbled
---
Directions
Flatbreads: Combine yeast and water in a mixer bowl. Let stand until foamy, about 5 minutes. Add oil, sugar, and salt. Mix with the dough hook on medium speed until well combined. Reduce speed to low. With the machine running, add flour, a little at a time, and mix until dough comes together. (You will need more flour in warm weather than in cold.) Transfer dough to a lightly floured work surface, and knead until smooth and supple, 10 to 15 minutes. Transfer to an oiled bowl, and cover with plastic wrap. Refrigerate for at least 4 hours (or overnight).
Remove dough from refrigerator, and bring to room temperature. Place a pizza stone onto the center rack of the oven. Preheat oven to 500 degrees.
Topping: Melt butter with oil in a medium skillet over medium heat. Add leeks and scallions; season with salt and pepper. Cook, stirring occasionally, until softened, about 5 minutes. Transfer to a bowl. Stir in parsley and mint.
Add lamb to the same skillet, and set over medium-high heat. Cook, stirring and breaking meat into small pieces, until browned, 6 to 7 minutes.
Divide dough into 4 portions. On a lightly floured surface, gently stretch 2 pieces into 15-by-6-inch rounded rectangles; keep other portions covered. Place dough rectangles on a parchment-lined peel or inverted rimmed baking sheet. Brush with oil, and spread each with ¼ of the leek mixture, leaving a ½‑inch border. Top each with ¼ of the lamb, and then sprinkle with ¼‑cup feta. Season with salt and pepper. Carefully slide parchment with flatbreads off the peel or sheet onto the pizza stone. Bake until flatbreads are golden brown, 10 to 12 minutes. Repeat with remaining dough.
Garnish flatbreads with fresh mint, and drizzle with oil. Cut into thick slices, and serve immediately.