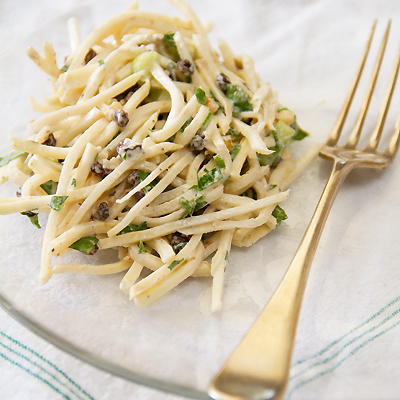 Celery root is also known as celeriac and is literally the root of celery. It's a bulbous, unusual looking vegetable that has a woodsy flavor similar to celery. This is an creamy version is a french celeriac remoulade typically made with mayonnaise, capers, and herbs.
Print This Recipe
Total time
Yield
10–12
Source Inspired by Lemonade Cafeteria
Published
You may substitute Greek yogurt for crème fraîche if you prefer.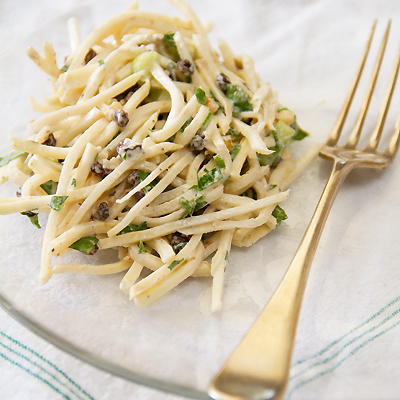 Ingredients
1

celery root

(about 1 ½ pound)

½ cup

crème fraîche

(at room temperature)

½ cup

white wine vinaigrette

(3 to 1 oil to vinegar ratio)

1 teaspoon

freshly squeezed lemon juice

4

stalks celery

(halved lengthwise then sliced crosswise)

1 cup

toasted walnuts

(chopped)

1 cup

black currents

½ cup

chopped flat leaf parsley

1 teaspoon

kosher salt

½ teaspoon

freshly cracked black pepper
---
Directions
Using a large, heavy chefs knife cut off the top and bottom of the celery root. Then use a sturdy paring knife to remove the skin. Be a bit aggressive in peeling.
Next, use a mandoline or a chefs knife cut the celery root into 1/8‑inch matchsticks. The end result should be about 1 pound. Combine the crème fraîche, vinaigrette and lemon juice in a medium mixing bowl; stir until well incorporated. Add the celery root, celery, walnuts, currants and parsley. Toss the ingredients together until blended. Cover and refrigerate two to eight hours before serving. Serve chilled.