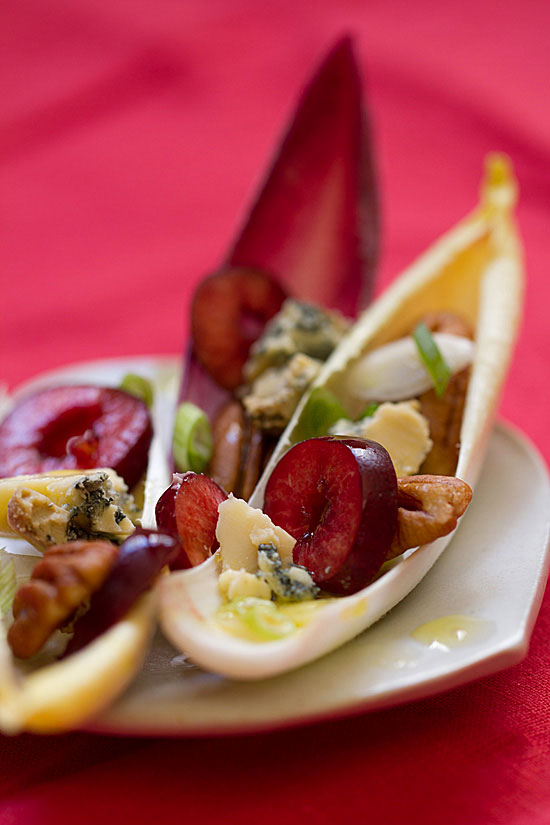 If you don't like bitter flavors it's easy to hate endive. To me, it has just the right balance of bitter bite and juicy crunch. Add to this combination something creamy and something sweet and even the haters will be endive converts.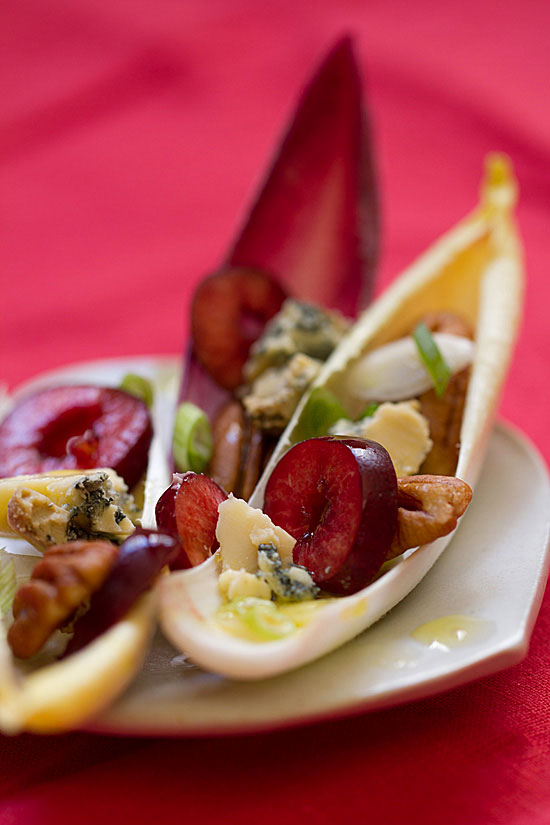 Ingredients
1 tablespoon

Dijon mustard

1 tablespoon

apple cider vinaiger

1 tablespoon

Champagne vinegar

½ teaspoon

granulated sugar

¼ teaspoon

kosher salt

¼ teaspoon

freshly cracked black pepper

¼ cup

extra-virgin olive oil

1 cup

pitted and sliced sweet or sour cherries

3–4

heads Belgian endive

1 cup

lightly toasted pecan halves

¼ cup

thinly sliced green onions

cup

4 ounce

crumbled Stilton cheese

(about 1‑cup)
---
Directions
Make the cherry vinaigrette: In a medium bowl, combine mustard, both kinds of vinegar, sugar, salt, and pepper. Slowly whisk in the oil until well-combined. Fold in the cherry slices and set aside.
Prepare the endive: Working with each endive separately trim off ½‑inch from the stem end and letting the outermost leaves fall away. Repeat the process a second time, this time trimming a bit less. You only need 6 or 8 of the largest leaves from each endive for this recipe, save the small interior leaves for another use.
To serve: For a handheld appetizer, arrange the endive leaves In a single layer attractively across a serving platter. Carefully fill the interiors of the leaves with pecans, green onions, and Stilton. Drizzle the cherry vinaigrette on top and all around the endive leaves making sure a couple of cherry slices nestle into each leaf. You can alternatively toss the ingredients together to serve as a salad.