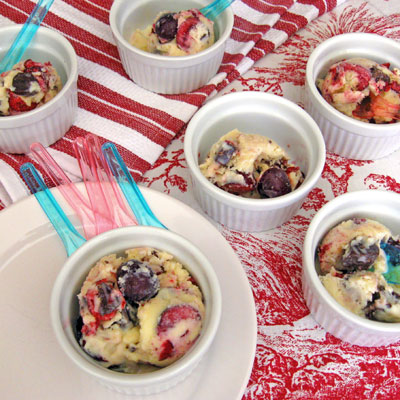 Cherries and Chocolate Chunks in Vanilla Ice cream. You love it from Ben and Jerry. You'll adore it homemade, because I sneak a little brandy in there too! Cherry Garcia Ice Cream.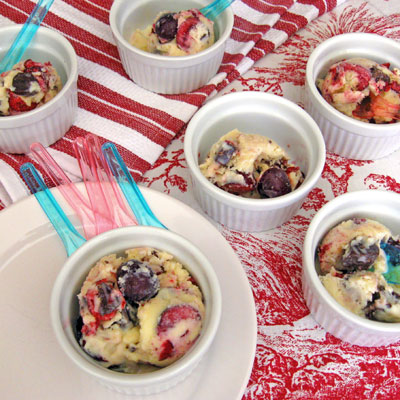 Ingredients
1 cup

chopped semi-sweet chocolate

1 cup

cherry or plain brandy

2 cup

cherries, pitted and halved

1 cup

heavy cream

3

large egg yolks

1

vanilla bean, split and scraped

1 pinch

salt

.75 cup

sugar

2 cup

half and half

1 cup

milk
---
Directions
Combine the half and half milk, ¼‑cup sugar, salt, and vanilla bean in a medium saucepan. Bring to a simmer and cook, stirring, until sugar is dissolved; remove from heat.
In a medium bowl, whisk together remaining sugar and yolks; set aside. Remove vanilla bean from milk mixture, and discard. Bring the milk mixture just to a simmer. Using a measuring cup or a ladle, slowly pour about ½ cup of the hot milk mixture into the egg-yolk mixture, whisking constantly. Keep adding milk mixture, about ½ cup at a time until it has all been added.
Pour mixture back into saucepan, and cook over low heat, stirring constantly with a wooden spoon, until mixture is thick enough to coat the back of a spoon, 5 to 8 minutes. Pour through a fine sieve into a medium bowl. Stir in heavy cream; let cool completely. Cover and transfer to refrigerator until chilled at least 1 hour and up to overnight.
Place cherries in a small pan. Add the brandy and set over medium heat. Gently poach the cherries 4–6 minutes until barely softened; set aside. Pour custard into an ice-cream maker and process according to manufacturers' instructions. During the last minute or two of processing, add the drained cherries along with chocolate. Continue processing until set, but not hard.
Transfer the soft ice cream to a plastic container; freeze at least 3 hours and up to overnight.