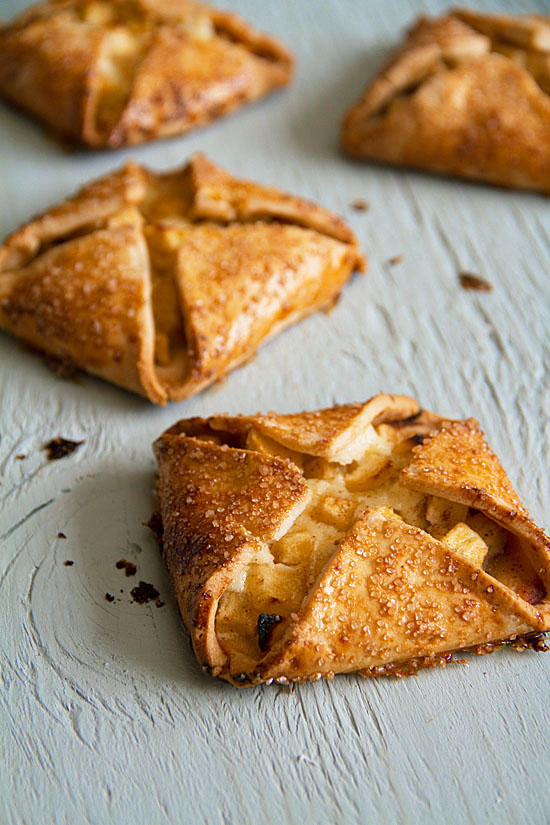 Apple Cream Cheese Hand Pies with Cardamom make a hand-held dessert that both sophisticated and casual. I like this four corner method of folding the pies because it allows some of the filling to be exposed to direct heat and develop some caramelization.
Choose apples that are crisp and tart and stay that way even under high heat. I used a combination of Braeburn and Granny Smith.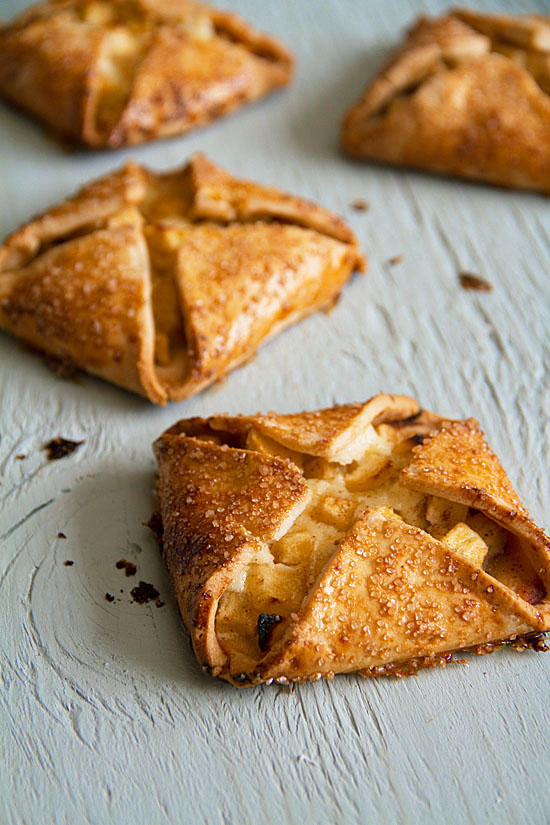 Ingredients
14 ounce

cream cheese

(at room temperature, divided)

7 tablespoon

unsalted butter

(at room temperature)

2 tablespoon

heavy cream

(or more as needed)

2 3/4 cup

(390 grams) all purpose flour scooped & leveled

(plus more as needed)

1 teaspoon

kosher salt

3/4 cup

granulated sugar

(divided)

1 teaspoon

fresh lemon zest

1

large egg

2

large, tart, firm apples

(peeled, halved, cored and cut into ½‑inch dice)

¼ cup

freshly squeezed lemon juice

1 teaspoon

ground cardamom

½ teaspoon

ground cinnamon

1

large egg yolk

(mixed with 1 teaspoon water, as egg wash)

turbinado sugar

(as needed)
---
Directions
Put 6 ounces cream cheese, butter and cream into the bowl of a food processor fitted with a blade attachment. Process until well combined and fluffy, about 20 seconds. Add flour and salt. Pulse mixture 5 or 6 times. Scrape the sides of the bowl with a rubber spatula. Process an additional 15 or 20 seconds, until dough just comes together and begins to pull cleanly away from the sides of the bowl in jagged clumps. If this doesn't happen within 15 or 20 seconds add another few teaspoons cream as needed.
Move the dough to a lightly-floured work surface and gently knead 2 or 3 times. If dough seems quite sticky or at all wet sprinkle in another few teaspoons flour. Give dough another couple of quick, gentle kneads. Divide dough in half, shape into 2 squares about 5‑inches wide and 3/4‑inch thick. Wrap in plastic. Refrigerate dough at least 1 hour (or up to 2 days), or freeze up to 1 month.
Place oven rack in the center position. Heat oven to 400 degrees F.
In a medium bowl use a hand-mixer to beat the remaining 8 ounces cream cheese, ½‑cup granulated sugar, lemon zest, and egg until very smooth. In a separate bowl toss diced apple with lemon juice, remaining ¼‑cup granulated sugar, cardamom and cinnamon. Chill both bowls at least 20 minutes and up to 8 hours.
Remove dough from refrigerator. On a lightly floured surface using a lightly floured rolling pin, roll out one square of cold dough to about 10 or 11-inches square, a generous 1/8‑inch thick. Use a paring knife to trim the edges squarely and neatly. Then cut into four 5‑inch squares. Lay squares onto a parchment-lined baking sheet, about ½‑inch apart. Repeat with second square of dough.
Working with dough squares in place on baking sheet place a generous 2 tablespoon dollop of the cream cheese mixture onto the center of each square, leaving about a 1‑inch border all around. You will have extra cream cheese for another use. Place a scant ¼‑cup spiced apples on top. Working one at a time, fold all four corners over the filling, so that the points meet near the center but do not touch (leave about ¼‑inch of space between them). Press lightly to distribute the filling somewhat, being careful not to let any escape. Repeat with the remaining squares of filled dough. Refrigerate until chilled, about 20 minutes.
Brush the exposed tops and edges of the dough of each hand pie with egg wash and sprinkle with turbinado sugar. Bake in the heated oven, until pies are golden brown and filling is oozing out a little, about 30 minutes. Move to a wire rack to cool. Serve warm or at room temperature.