According to legendary Southern gossip, black-eyed peas are associated with a "mystical and mythical power to bring good luck." Which is how they've found their way into many folks' New Year's Day supper menu. I'm not superstitious. In fact, I doubt this little recipe of mine for Black-Eyed Peas in Guajillo Sauce with Cilantro Pesto will bring anyone good luck. Still, I hope you have the good fortune to give this recipe a try. It's delicious– and delicious is as lucky as life gets these days. I'm sorry if that sounds sad, but the truth is I'm thrilled to see the big ugly backside of 2017 walk out the door.
But, it's a new year and I hope better things lie ahead. So I might as well share something that's new. For me that "new" is Guajillo Chile Peppers (see note).
Of course, depending on where you live, Guajillo Chile Peppers may not be new at all. They're considered among the Holy Trinity of Chile Peppers in Mexican cuisine. I guess that means they aren't new to a whole lotta people. I may live in So Cal where authentic Mexican food can be found on most every street corner, but these peppers are new to my vocabulary. Though probably not my taste buds. Guajillo Chile Peppers are an integral part of Mexican mole sauce. GREG
Note: The Guajillo chile is a mild variety of the Mirasol chile. In Spanish "guajillo" means "little gourd," which refers to the shape of the chile. The flavor is earthy and sweet with a hint of berry and spice. They can be tricky to source in many areas. Ancho, Pasilla, and Cascabel make worthy substitutes.
I don't always soak my beans before cooking. But in this case, I did.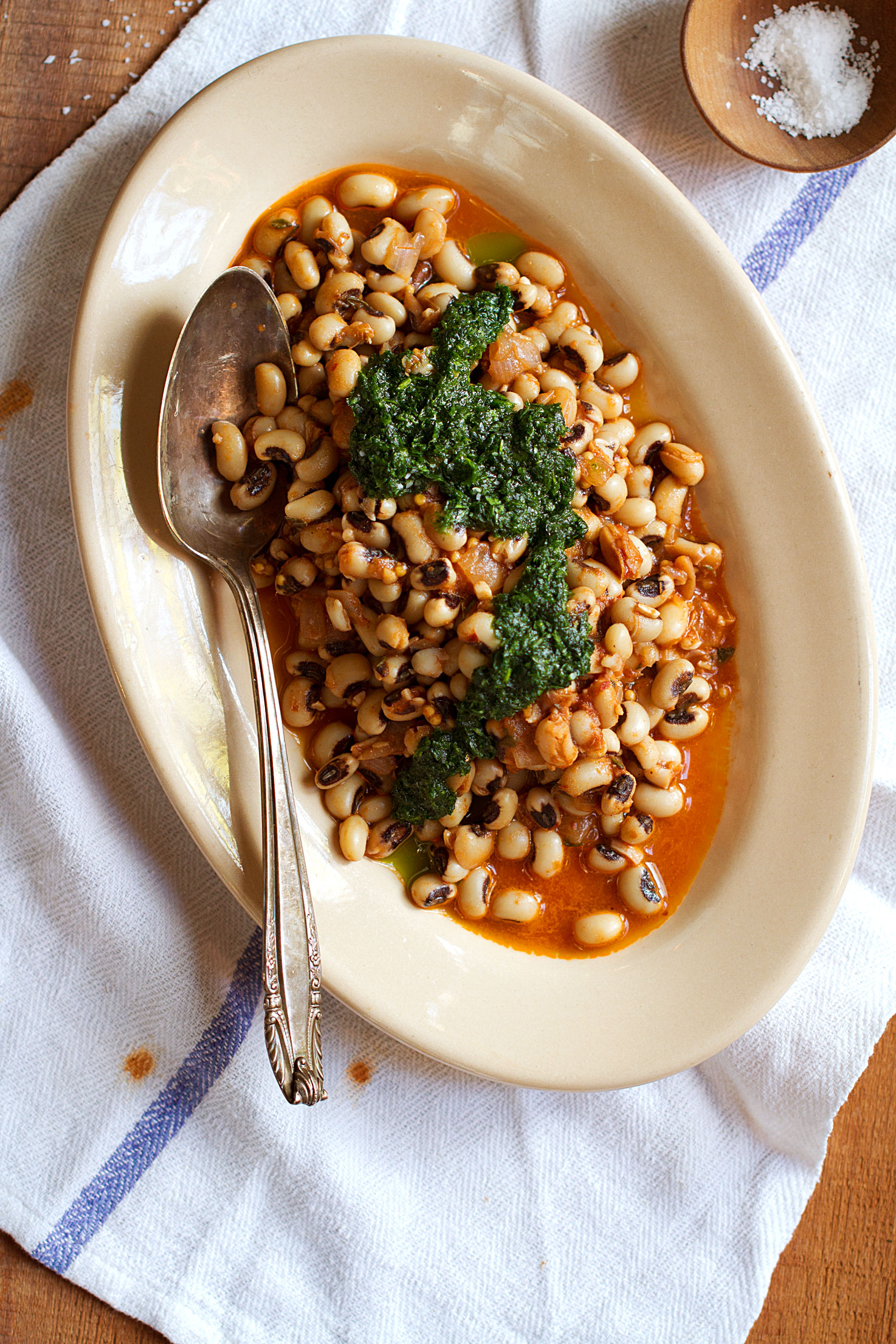 Ingredients
1 pound

dried black-eyed peas

(sorted)

3 tablespoon

olive oil

1

yellow onion

(chopped)

4 clove

garlic

(peeled and chopped)

2 tablespoon

yellow mustard seeds

1 tablespoon

kosher salt

(or more to taste)

1 teaspoon

cayenne pepper

1

bay leaf

3–4

fresh sprigs thyme

1 cup

guajillo

BBQ

sauce

(see recipe)

cilantro pesto

(to taste, see recipe)
---
Directions
Soak the beans in water 8 to 12 hours. Drain well and set aside.
Warm the olive oil in a large Dutch oven over medium heat. Add the chopped onion and garlic; cook until translucent, 3 to 5 minutes. Stir in the mustard seeds, salt, cayenne, bay leaf, and thyme. Add the black-eyed peas and enough water to cover by about 1‑inch. Simmer until tender and creamy but not yet falling apart, about 30 minutes depending on beans. Add more water as necessary to keep the peas covered until cooked. Remove the black-eyed peas from the heat and let them cool in their cooking liquid, preferably overnight.
Drain the beans and quickly move them to a clean pot or bowl depending if you plan to serve them warm or not. Allow some of the soaking liquid to come along but they should not be soupy. Remove the bay leaf and thyme stems and stir in about 1 cup of guajillo (or other flavorful) BBQ sauce.
Serve the beans gently reheated or at room temperature with cilantro pesto on the side.
By: Greg Henry
Print This Recipe
Total time
Yield
2 cup
Source Adapted from Travis Lett
Published
The sauce can be made up to 1 week in advance and stored, tightly covered, in the refrigerator.
Ingredients
¼ cup

olive oil

8

dried guajillo chiles

(stems and seeds removed)

6 clove

garlic

(peeled and thinly sliced)

1

(15-oz) can diced tomatoes

(plus more as needed)

3 cup

water

¼ cup

honey

½ cup

red wine vinegar

kosher salt

(to taste)
---
Directions
In a medium saucepan combine the olive oil, dried chiles, garlic, and diced tomato. Cook over medium-high heat until bubbling vigorously and starting to soften, 3 to 5 minutes. Add the water and bring to a boil. Lower the heat to medium, cover, and simmer vigorously for 30 minutes. Uncover the pan and continue to cook until the chiles have softened and most of the liquid has evaporated. Remove from the heat and let cool.
In a food processor or blender, process the chile mixture to a coarse paste. Add the honey and vinegar and pulse to combine, then run the machine until the sauce is very smooth. Taste and season with salt. The mixture should pour easily but still cling to the spoon. It should not be as ridiculously thick as many store-bought BBQ sauces. Adjust consistency with more water if needed.
The pesto can be made 3 or 4 hours in advance and set aside on the counter, covered with plastic wrap until ready to use.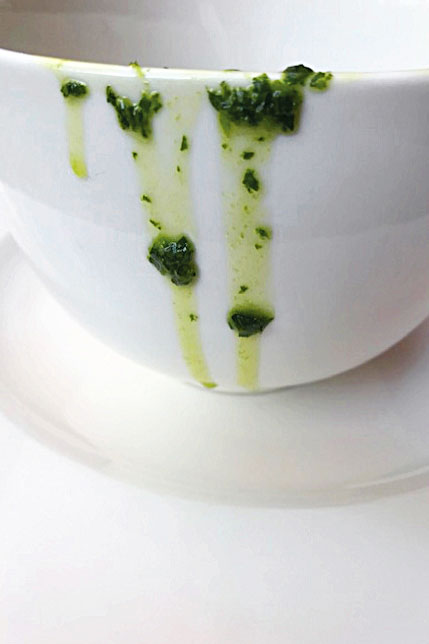 Ingredients
1 cup

chopped fresh cilantro

¼ cup

chopped fresh flat-leaf parsley

½ cup

olive oil

kosher salt

(to taste)
---
Directions
With a mortar and pestle, break down the cilantro and parsley into a paste, and slowly drizzle in the olive oil to loosen slightly, you might not use all the oil. Season with salt.