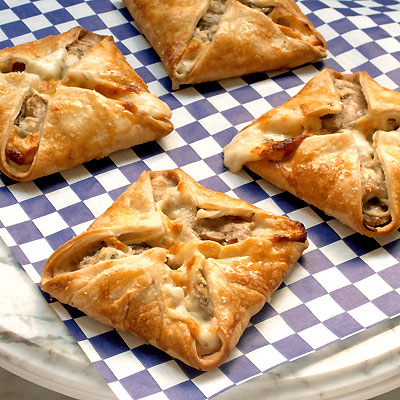 Can you say Mushroom, Goat Cheese & Mint Hand-Pie? I ask because it might seem like an unusual combination of flavors. Especially for a pie. But actually mushrooms, goat cheese and mint are an inspired combination. I should know because Russ Parsons from the LA Times inspired me to include this trio in a quesadilla way back in 2010. It was a culinary highlight that year, and a top post here at Sippity Sup.
In fact the combination of mushrooms, goat cheese and mint was one of the highlights of 2011 for me too. Because last year I made a mushroom, goat cheese and mint omelette, I put mushrooms, goat cheese and mint on a turkey burger, I even tried my hand with mushroom, goat cheese and mint muffaletta. I just didn't include any of those experiments on this blog. Mostly because as good as they were, none of them stood quite as tall in my mind as did that first Mushroom Goat Cheese & Mint Quesadilla.
The trick is how to bring these flavors back to Sippity Sup in a way that suits the new year and all the things that interest me in 2012. Pie is high on that list. I love savory pies because the combination of a tender, salted crust and a hearty filling is so elementally simple yet endlessly varied. Pies are the culinary equivalent of a well-loved blanket. But what about hand-pies? They are smaller and more portable, making them terrific addition to the busy beginning of a new year. I like to call them palm-sized pastries. I think they are the perfect pouch for mushrooms, goat cheese and mint to snuggle into. GREG
Mushroom, Goat Cheese & Mint Hand Pies makes 8 CLICK here for a printable recipe
1

basic savory pie recipe

1 t

flour for rolling surface

2 T

unsalted butter

1 lb

button mushroom, sliced

1/2 t

kosher salt, plus more for sprinkling

2 T

shallots, peeled & minced

2 T

mint leaves, minced

1/4 c

fresh goat cheese

1/4 c

low-moisture mozzarella, cut into 1/2‑inch dice
Choose and prepare the Basic Savory Pie Pastry recipe. Divide dough in half, shape it into 2 evenly-sized squares about 5‑inches wide and 3/4‑inch thick. Wrap them in plastic. Refrigerate dough for at least 1 hour (or up to 2 days), or freeze for up to 1 month.
On a lightly floured surface, roll out both squares of cold, but un-frozen dough separately, one at a time, into approximately 11-inch squares. Then trim them cleanly into a 10-inch square. Cut each 10-inch square into quarters, giving you eight, 5‑inch square pieces of pastry. Transfer them to 2 parchment lined baking sheets, 4 to a sheet. Cover with plastic wrap and keep refrigerated while you make the filling.
Heat oven to 425 degrees, with racks in the upper and lower thirds.
Melt the butter in a medium-sized skillet set over medium-high heat. Add the sliced mushrooms and sprinkle with 1/2 teaspoon salt. Cook, stirring frequently, until the mushrooms have given up their moisture, about 5 minutes. Add the shallots and cook until the they have softened and the mushrooms are quite tender, about 5 more minutes. Remove from the heat and stir in the mint and the goat cheese until the mushrooms are well coated in a thick creamy sauce. Set aside.
Get the pastry squares from the refrigerator. Working with the pastry square in place, pile the mozzarella cubes, evenly distributed, onto the center of each square leaving about a 1‑inch border all around. Place about 1/4 cup of the mushroom filling on top of the mozzarella on each of the squares. Working one at a time fold up all four corners around the filling, so that the points meet near the center but do not touch (leave about 1/4 inch of space between them). Press lightly to distribute the filling somewhat, being careful not to let any escape. Repeat with the remaining squares of filled dough.
Brush the exposed tops and edges of the dough of each hand pie with the egg wash and sprinkle with kosher salt. Bake, rotating sheets halfway through, until pies are golden brown and filling is set, about 25 to 30 minutes. Cool slightly on a wire rack. Serve warm.
Save
Save