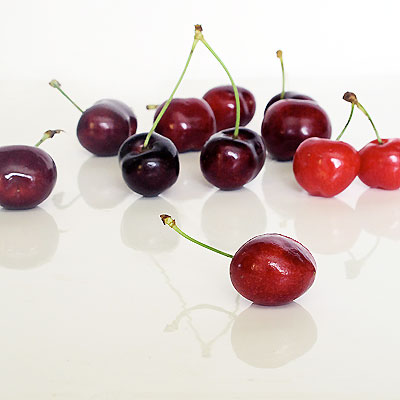 Today I found sweet red cherries at the Hollywood Farmers Market. I brought them right home. I had every intention of giving them a good start in life. You know, serve them simply with sweet cream and a smile! Maybe even bake them up in a pie, so wholesome and delicious!
But something went wrong, and I swear it's not my fault. Cherries can be so deceptive. So downright fallacious.
They may present a cute, shiny face to the world. Flushed red– all pert and pretty. I don't know, maybe they are just naive. But the damage is done. The minute I left them alone in the kitchen these cherries began to cozy right up to deep dark chocolate. Well one thing led to another and before I knew it their co-mingling produced a plate of Bittersweet Chocolate-Cherry Brownies. And these brownies are very bad boys.
If I were your mother I'd tell you stay away from them because they are such a bad influence. I might try and distract you by introducing you to all the good girl granola on the block. I'd even invite broccoli, spinach and kale for a sleepover. Just hoping you kids would settle in together and play nice.
But I know how you think. The more I'd try and keep you away from these bad boys the more you'd want to hangout with them after school– under the bleachers… making a chocolate cherry crumble mess.
And your father? He'd be no help. In fact I suspect he's carrying on with chocolate behind my back! Besides, show him a pretty cherry face and he'd blush all rosy and point out that cherries are the first stone fruits to arrive at the seasonal party– so sweet and well-behaved. He might even look for that silver lining and bring up anti-oxidants.
But you and I we know better. We know just how bad these brownies are. Very bad. Now wipe that smile off your face, I have invited Carrie Carrot over so you can study for the SATs.
Bittersweet Chocolate-Cherry Brownies makes 16 CLICK here for a printable recipe
1 stick (8 tablespoons) butter, more for pan and parchment paper
6 oz bittersweet chocolate, chopped
2 large eggs
1⁄4 t salt
1⁄2 c dark brown sugar, packed
1⁄2 c granuated sugar
1 t vanilla
1⁄2 c all-purpose flour
1⁄4 c unsweetened cocoa powder
1 c fresh cherries, pitted and quartered
Instructions
Chocolate-Cherry Brownies
Butter a 8x8-inch baking pan and line with buttered parchment paper. Preheat oven to 350 degrees. In top of a double boiler set over barely simmering water, or on low power in a microwave, melt 1 stick butter and chocolate together. Cool slightly. In a large bowl, whisk eggs until frothy. Whisk in salt, both sugars and vanilla.
Add the chocolate mixture to the bowl, stir to combine. Sift in the flour and cocoa, fold together until barely combined. Fold in the cherries. Spread batter into prepared pan.
Bake for 30 minutes or until shiny and beginning to crack on top. Cool in pan on rack.
SERIOUS FUN FOOD
Greg Henry
Sippity Sup