Finally. Finally. Finally!
Morels are here. I am not waiting even one more day. I am having morels for dinner tonight!
This weeks Market Matters choice of morels also combines with something I had been wanting to take part in anyway. It just took the inspiration that morels bring to get my mind in gear to solve this problem.
I call it a "problem" but really it's more of an honor.

FoodBuzz sent me a sample of a new product from Buitoni. Wild Mushroom Agnolotti. My challenge is to create a recipe using this product and turn it in for consideration in a contest they are having.
Lots of really talented bloggers and cooks (probably even CHEFS!) were given this same challenge so I knew my entry needed to be special.
That is why I am so grateful to morels for making their appearance just when they did. Because suddenly it came to me all at once.
I would create a recipe for a spring vegetable ragoût! These sweet spring vegetables are a perfect partner for the deeply intense earthiness of the Buitoni's wild mushroom filling. Besides these vegetables have a crisp bright freshness that will really accentuate the silky luxury of the egg-based pasta wrapper.
I think I have a winner (maybe not "literally" but you know what I mean)!
Wild Mushroom Agnolotti with Spring Vegetable Ragoût
3/4 oz dried morel mushrooms (1 cup) or 1/4 lb fresh
3 cups straight vegetable broth or a mix of morel soaking liquid and vegetable broth
1 lb medium asparagus, peeled, trimmed and cut diagonally into 1‑inch-long pieces (about 3 cups)
2 bunches spring onions, or scallions
water
1/2 teaspoon sugar
1/2 teaspoon dried thyme
2 bay leaves
1 pinch salt
1 tablespoon butter
2 tablespoons white wine vinegar
4 tablespoons unsalted butter
2 cloves finely chopped garlic
1 cup frozen peas
1 teaspoon finely grated fresh lemon zest
1/4‑teaspoon salt
1/4‑teaspoon pepper
NOTE: If using dried morels, soak them in enough warm water to cover them for 30 minutes. To clean dried morels, agitate the water 2 or 3 times during soaking. For fresh morels, submerge them in cool water for 30 seconds, shaking them a bit to dislodge any grit. Then lift them from water, shaking and gently squeezing out excess. Pat them dry with paper towels. Cut morels (fresh or dried) in half length-wise wise, Smaller morels may be left whole at your discretion.
If using dried reserve the soaking water.
The key to success in this recipe is cooking all the vegetables separate. By cooking the vegetables separately you can ensure that the results are tender, and perfect. Creating a wonderful foil for the silky texture and rich flavor of the agnolotti.


ASPARAGUS
If you have chosen thick asparagus (which I think are the best choice here) they will need to be peeled. I would not want you to overcook these beauties. So I have a tip for peeling asparagus. I have mentioned it before, but I have included a photo that I hope makes it easier to understand.
The tip is this: lay the asparagus one at a time prone on the countertop. Starting just below the bud run your peeler down to the bottom, rolling each spear as you work. This way the pressure you exert to get the peeler to do it's job will not snap the asparagus in two. When you have finished them all, you can trim of the woody ends off for a very neat and consistent appearance.
Once peeled, pour 3 cups vegetable broth (or 3 cups total soaking liquid plus vegetable broth) into a medium sized saucepan. If you are using the soaking liquid be careful to keep the grit from that has settled to the bottom from getting into your pan. Bring this liquid to a boil. Add asparagus and cook, uncovered, stirring occasionally, until tender-crisp, about 3 minutes. Transfer asparagus with a slotted spoon to a large bowl of ice and cold water to stop cooking, then drain and pat dry.
Turn the heat down and reduce this liquid to about 2 cups. Set aside.

ONIONS
Trim the onions, being careful to keep the root end intact so they stay whole while cooking. If using spring onions use the whole small bulb plus about 1/2 inch of the stalk. If using scallions use only about 1 1/2 inches of the white bottom part of each onion.
Choose a saucepan that will hold all the onions in a single layer, add the onions to the pan. Add just enough water to just barely cover them along with the sugar, thyme, bay leaves, peppercorns, salt and butter.
Bring the liquid to a boil, and then turn the heat down. Your goal is to gently simmer the onions for 15 or 20 minutes. They are ready once tender when pierced with a knife. The liquid should have reduced to a shiny glaze.
Remove the onions from the heat and add 2 tbsp white wine vinegar. Roll the onions around the pan to make sure they are well coated. Set aside.

MORELS and PEAS
Heat 2 tablespoons butter in a 10-inch heavy skillet over moderately high heat. When it becomes foamy, but before it begins to brown, add the morels and garlic. Sauté them, stirring occasionally, until garlic is pale golden, about 4 minutes. Pour in 1 cup reserved broth and bring to a boil. Stir in peas, asparagus, spring onions, lemon zest, and as much of the remaining broth you think is needed, You want it brothy, but not to soupy. Season with 1/4‑teaspoon salt and 1/4‑teaspoon pepper.
Simmer, stirring occasionally, until vegetables are heated through, about 2 minutes. Remove from heat and add remaining 2 tablespoons butter, swirling skillet until butter is incorporated, then season ragoût with salt and pepper. A little Parmesan here is optional.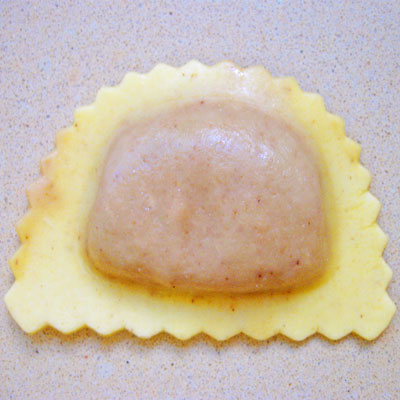 The ragoût is now ready to serve. I served mine as a sauce for a new product from Buitoni that was supplied to me by FoodBuzz. Wild Mushroom Agnolotti I decided that this spring vegetable ragout was just the right accompaniment to this pasta, which is filled with Portobello and crimini mushrooms along with Grana Padano and Parmesan cheese.
Agnolotti is a version of ravioli from the Piedmont region of Italy. If you love ravioli you'll love agnolotti too. They are a perfect version of stuffed pasta. Much simpler (for the home cook) to construct than a ravioli, but of the same basic principle.
The reason I usually buy agnolotti (and ravioli as well) is because the luscious texture of the pasta is so important. It's something well left to experts.
I typically prefer dried pasta to fresh pasta. I like that al dente bite and the starchy way sauces clings to it. I particularly like dried pasta with recipes where the pasta needs to be the vehicle that carries the flavor of the sauce.
But fresh pastas have a whole other set of requirements. In fresh pasta the pasta itself is an integral part of the dish. It has to be luscious and
velvety.
I choose to compliment the luscious texture and earthy flavors of Buitoni's agnolloti by pairing it with a sauce that acts as a counterpoint to the pasta and it's filling. By choosing bright spring flavors like asparagus, spring onions and peas, I think the deep earthy flavors in the wild mushroom filling can stand apart.
The tender yet stll crisp nature of these vegetables will also create an interesting and diverse texture. This will really accentuate the silkiness in the egg-based pasta wrappers of the agnolotti.
Morel mushrooms are certainly one of the very special treats of spring. The rich creamy flavor they bring to the broth, helps bring both sides of this dish together. Because morels are such a special treat, they also help elevate this recipe. Making you and your dinner partners feel very special indeed.
SERIOUS FUN FOOD

Greg Henry

SippitySup