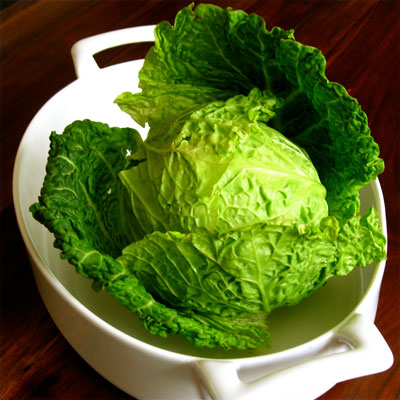 Savoy cabbage, in my opinion, is pretty much the best cabbage there is. It seems to be rather seasonal here in Southern California. And this is its season. So when I see it, I grab it!
When I saw it today at the Hollywood Farmers Market, grab it I did! Because I have had something in mind for quite some time. I've just been waiting for our 80 degree winters to take a quick break. Well, today cool temperatures and a bit of rain marked my Sunday at the Farmers Market. In fact, I barely got out of there before the wet weather began. So I rushed right home and started in on one of my favorite cool weather recipes. Baked Italian Style Savoy Cabbage (Cavolo Verza al Forno).
If you pay any attention at all to what I've been up to (and I know that you do), then you will have noticed that I've had a theme running these past few weeks. Comfort food. It was perhaps best illustrated through my recent Macaroni and Cheese with Lobster recipe. But I also had a classic American-Style Spaghetti and Meatballs. On that day I discussed that, to Americans, pasta served with meatballs is not only classic– it's comfort food to boot. But, in truth, it's not authentically Italian. Though I am sure many Italians have been comforted by it. Does that make sense?
Well today, I have a classic (and authentic) Italian comfort food. You guessed it. Baked Italian Style Savoy Cabbage (Cavolo Verza al Forno).
serves 6
Adapted from The Silver Spoon
CLICK here for a printable recipe
2 T unsalted butter
1 c fresh or panko style breadcrumbs
2 lb savoy cabbage, cut into 1/2″ ribbons
1 T olive oil, plus more as needed
4 sweet Italian sausages, removed from casings
4 T tomato paste
salt and pepper, as needed
1 c mozzarella, grated, chopped or shredded
1 c heavy cream
1⁄2 c parmesan cheese, freshly grated
crusty bread
In a small skillet set over medium heat, melt 2 tablespoons of the butter. Add the breadcrumbs and toast, stirring constantly, for about 3 minutes until golden brown and crisp. Remove from the heat and set aside
Prepare a large bowl with an ice bath. Bring a large pot of water to a boil. Add 1 heaping tablespoon of salt. Add the cabbage strips to the water, stir well and boil about 5 minutes. Drain the cabbage and add it to the ice bath to stop cooking. Dry the cabbage well using a salad spinner. Set aside.
Preheat oven to 350 degrees F. Brush a deep 2 to 3 qt casserole or cocotte style dish with olive oil. Set aside.
Heat 1 tablespoon olive oil in a medium saute pan. Add the crumbled sausage, and heat gently. Stir in the tomato paste and 5 tablespoons water. Season with salt and pepper. Cook until done through, about 10 minutes.
Spoon about 1/3 of the cabbage onto the bottom of the prepared casserole dish, and smooth out to an even layer. Season with salt and a generous amount of black pepper. Top the cabbage with half of the mozzarella in an even layer. Then add half the cooked sausage on top of that in an even layer. Repeat the process, then add the remaining 1/3 cabbage as the final layer. Season well and pour the cream over the top. Sprinkle with breadcrumbs and Parmesan.
Bake 45–50 minutes, until browned and bubbly. Serve hot in shallow bowls with some of the liquid and plenty of crusty bread on the side.
SERIOUS FUN FOOD
Greg Henry
SippitySup