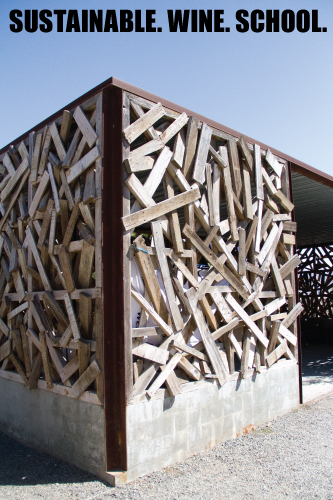 Sustainable. Wine. School. Three of my favorite things combine (blend?) perfectly in Hugo d'Acosta's hands-on winemaking incubator called La Escuelita. We decided to stop by this "little school" as a last stop on our way out of the Valle de Guadalupe.
I was impressed on many levels. First, it is visually impressive. From the old-wine-bottle-impregnated entry wall on– the entire campus is cleverly constructed from "waste" materials. Hugo's architect brother, Alejandro d'Acosta, was the mastermind behind this beautifully sustainable design. He created classrooms clad in discarded wood stakes, an open air pavilion with walls made of re-purposed mattress springs and an urban-chic tasting room and cooperativa café constructed of seasoned wine barrel staves. The result is a feeling of being immersed in an authentic wine experience.
La Escuelita
La Escuelita also has an impressive list of graduates. Each year Thomas Egli, a Swiss enologist, selects (hand-picks?) a small group of students to train. For approximately $100 (the school is a non-profit) the group is led through a course in traditional and modern winemaking practices with an emphasis on coaxing the best qualities out of the Baja's climate, soils and geographical features (terroir). Accomplished alumni include some who've gone on to practice their own style of the enological arts at Vena Cava, Vinas Pijoan, Vinal Lafarga, Tres Mujeres, and other well-respected local wineries.
Finally, I was impressed by the product itself. Greg and I ended our visit with a sample of the school's work: a wine soda. Young, or joven, Petite Sirah wine made by the La Escuelita students (homework?) is shaken up with cloves and soda water into a refreshing afternoon cocktail. Greg came home and reinterpreted this little sparkler with a splash of Mexican mezcal in a cocktail he calls Soda de Vino Fume. KEN
More on my trip to Valle de Guadalupe: GREG
Valle de Guadalupe: Mexico's Wine Country
Monte Xanic: A Winery in Valle de Guadalupe, Mexico
Encuentro Guadalupe: Modern Luxury in Baja's Wine Country
Laja Cocina de Baja: Valle de Guadalupe, Mexico (featuring 2012 JC Bravo Palomino)
Eating in Valle de Guadalupe: Breakfast Lunch Dinner (featuring wine from Mogor Badan)