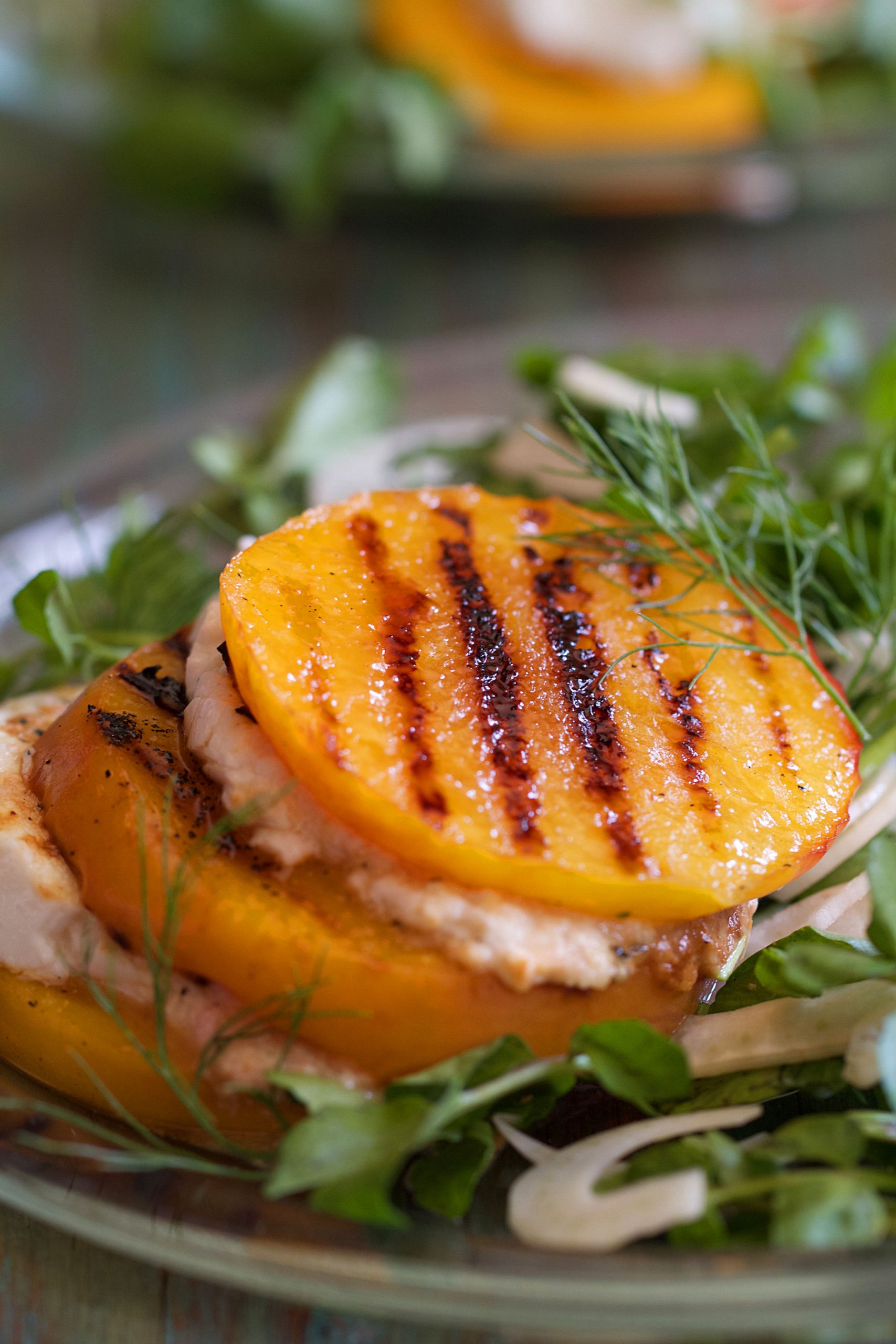 Grilled Peaches and Fresh Goat Cheese as a stacked salad is a bit challenging. At least to me, it is. I don't mean it's challenging to love. Summer peaches are a marvel. Make grilled peaches the center of a summer salad and the only challenge the eaters in your life will face is stopping at just one stack.
No, for me the challenge in this salad comes in presentation.
As a cook, I'm big on presentation. Fabulous food sloppily presented seems half-baked to me. That's not saying I don't love a casual presentation. Family-style lasagna. Bread fresh from the oven torn into chunks. Meticulously made cocktails spilling over the sides of the glass. I love this sort of casualness– as long as it's thoughtfully casual. I'm not saying I'll succumb to the burlap napkins or rusty forks that some food stylists prefer, but thumb your way through most cookbooks these days and you will see page after page of thoughtfully presented food. All of it is so casual I'd be tempted to put my elbows on the table.
Grilled Peaches
So as summer comes to an end I have grilled peaches in a thoughtfully casual summer salad. We can't let summer slip away without enjoying the last of ripe, juicy peaches. The combination of fruit and slightly licorice-tasting fennel is a winner. The creamy goat cheese ties all the elements together.
The challenge comes when stacking. Work carefully and quickly, the warm peaches are intended to melt the goat cheese. This can quickly cause your stack to tumble from thoughtfully casual to deliciously sloppy.
Of course, you could serve this salad deliciously sloppy– of course, you could. But I couldn't (I just couldn't). GREG