Today I have a recipe and a wine pairing Open-Faced Flank Steak and Arugula Sandwiches with Fig & Red Onion Jam which my brother paired with Buehler Zinfandel Napa Valley 2009. But I also have a confession and a conundrum I'd like to present.
Here's the confession: I like steak. Especially rib-eye. But I wasn't an immediate convert to flank steak, or so I thought. Partly because I perceived it as tough. And I don't mean chewy. I like a chewy steak (a chewy, bloody steak). But most of the flank steak presented to me as an adult was overdone and improperly carved. Making it way more than chewy.
Here's the conundrum: Why did it take me so long to "discover" flank steak? My family had a recipe for flank steak (marinated in Worcestershire and garlic) that I had been eating almost since birth. And I loved it. It was something my dad called earthworms and salamanders.
You can easily see how a sophisticated grown up gourmande (such as myself) might eschew a dish with a name like that. So somewhere between the earthworms of my childhood and the rib-eyes of my adulthood I lost track of flank steak. Surely it wasn't my fault, I am an adventurous eater. So how to explain it?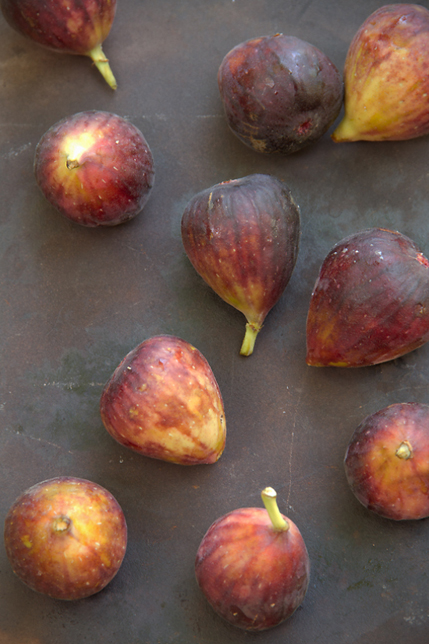 You see earthworms and salamanders occurred naturally when my dad cut flank steak. Because he knew how to do it. Which means across the grain. The earthworms were the long skinny pieces that come from the center of the flank steak. They are usually quite rare and could practically be twirled around a fork like spaghetti. They were not at all tough, but satisfyingly chewy. But salamanders were shorter, chunkier and more well done. They came from the ends of the flank steak where the flap thins out making it harder to cut as thinly. So whenever my mom brought a flank steak to the table, my dad would start cutting it and ask: earthworm or salamander? I always said earthworm.
So you see, it's easy to forgive me for not realizing we were eating flank steak. Which explains why it took me so long to become an adult convert to the cut. To this day I can't dig in the garden without salivating. Earthworm anyone?
The figs in this recipe were supplied by: www​.californiafigs​.com
SERIOUS FUN FOOD
Greg Henry
Sippity Sup
Open-Faced Flank Steak and Arugula Sandwiches with Fig & Red Onion Jam
serves 4 CLICK here for a printable recipe

2 T

granulated sugar

1 pn

cayenne pepper, or to taste

1 t

salt, plus more as needed

1

large red onion, chopped

1 lb

fresh figs (any type), halved lengthwise

2 oz

walnuts, toasted (1/3 cup)

1 pn

black pepper, pluse more as needed

0.5 c

balsamic vinegar

0.75 c

olive oil

1 pn

red pepper flakes, or to taste

1

(1 ½- to 1 ¾‑pound) beef flank steak

1 bn

arugula, washed and dried

parmesan cheese, thinly sliced or grated to taste
Make the jam: Combine sugar, cayenne, and teaspoon salt in a small bowl. Set aside.
Heat oil in a large nonstick skillet over medium heat. Add onion, and cook, stirring occasionally, until lightly colored, about 12 minutes. Add 1/3 of the figs, and cook until soft, about 5 minutes. Add 1 tablespoon sugar mixture, and cook, stirring often, until sugar caramelizes, about 10 minutes. Let cool slightly, then pulse onion-fig mixture and walnuts in a food processor, adding a drizzle of water if necessary. Season with salt and pepper. (Jam can be refrigerated for up to 2 days.)
Marinate the steak: Whisk together a pinch of black pepper, vinegar, oil, and red pepper flakes in a large shallow dish. Add the steak and turn to coat. Cover and let marinate in the refrigerator for at least 4 hours and up to 8 hours, turning every 2 hours.
Grill the steak: Heat a grill or grill pan over medium-high heat until quite hot. Remove the steak from the marinade, letting most of it drip off. Season with salt and pepper. Grill, uncovered until lightly charred and crusty, about 4 to 5 minutes. Turn steak over, moving to a cooler part of the grill, or reduce the heat to medium if using a grill pan. Cook until medium-rare, 3 to 4 minutes more. Do not go much past medium-rare as flank steak gets tough when overcooked. Remove the steak to a cutting board and let rest for 5 minutes. Cut into 1/2‑inch thick slices against the grain of the meat.
Roast the figs: Preheat oven to 400. Place remaining figs, cut sides up, on a rimmed baking sheet. Sprinkle with remaining sugar mixture. Roast until tender and caramelized on cut sides, about 10 minutes. Spread 3 tablespoons onion-fig mixture on each slice of bread. Top each with arugula, cheese, steak slices and several warm fig halves, and cut into 3 or 4 pieces. Serve immediately.
Save
Save
Save
Save