It's summer, it's hot. Certain foods just aren't as appealing now as they are when there is a chill in the air. That's just a fact of life. In fact I can safely say it is a rule. But don't blame me I don't make the rules. But I do enforce them. So turn off the oven and step away from the deep fryer.
Expect lighter, cooler dishes out of me for a while. L.A. has got the heat turned up and I am changing the way we eat until this swelter breaks.
Starting with today's pasta. Swordfish Stuffed Pasta Shells with Fresh Tomato & Herb Sauce. These shells are stuffed with a summery blend of swordfish, arugula and herbs. It's a light and flavorful dish served at room temperature, or even slightly chilled.
Typicallly stuffed pastas are served baked, often in a heavy or creamy sauce. But that ain't gonna happen in my kitchen anytime soon. There is no heavy sauce involved here, in fact the tomatoes in this recipe are not cooked at all. Making this is a great summertime meal. It can be made ahead in the morning before the heat of the day forces you out of the kitchen. It can sit in the fridge, next to the wine– waiting until dinner.
Speaking of wine, we have an old world pinot grigio with a nice backbone of food friendly acidity, making it an easy summer choice. Alois Lageder Pinot Grigio Vigneti delle Dolomiti 2008
Swordfish Stuffed Pasta Shells with Fresh Tomato & Herb Sauce serves 4 CLICK here for a printable recipe
Adapted from La Cucina Italiana
1⁄2 lb rustic bread cut into 1/2″ slices
10 T extra-virgin olive oil, plus more for drizzling
1 sprig fresh marjoram
1 sprig fresh rosemary
2 1⁄2 lb ripe tomatoes
1 lb swordfish steak, about 1″ thick
2 c flat-leaf parsley, roughly chopped
1 clv garlic cloves, peeled and crushed
1⁄2 t crushed red pepper flakes (to taste)
1 T fresh marjoram leaves finely chopped
1⁄2 lb arugula, stemmed, washed, spun dry, and chopped
fine sea salt to taste
freshly cracked black pepper
1⁄2 c basil leaves, cut into thin strips crosswise
30 large (2.5″) pasta shells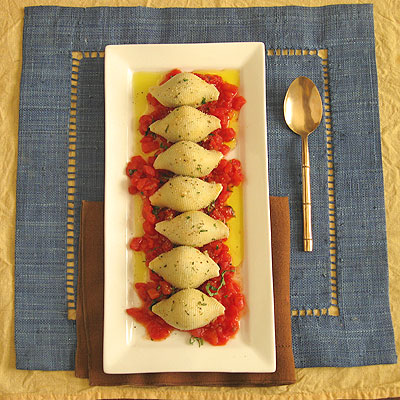 Heat oven to 375 degrees F. Bring a large pot of water to a boil. Trim crusts from bread and cut into 1/2″ cubes.
In a large cast iron or non-stick skillet, heat 4 tablespoons olive oil over medium-high heat. Add the marjoram sprig and rosemary sprig. Stir to coat with oil. Once the oil is fragrant with the herbs add the bread cubes and cook, turning as needed about 2 minutes. They should not get too brown. Remove the skillet from the heat, and using a slotted spoon transfer the bread cubes to a baking sheet. Discard herb sprigs.
Spread the bread cubes out in a single layer and toast them in the oven about 8 minutes until browned. Remove them from the oven and let cool completely, then pulse them in a food processor until coarsely ground. Transfer the crumbs to a large mixing bowl.
Drop the whole tomatoes into the boiling water. Once the skins begin to crack remove them with a slotted spoon to a tray to cool. Turn the heat off under the water and reserve it, covered.
Wash and dry fish. Heat a dry cast iron or non-stick skillet over medium-high heat until hot but not smoking. Lay the fish in the skillet and cook turning once, until just cooked through, about 6 minutes. Transfer the fish to a plate and season it with salt and pepper. Let it rest at least 10 minutes.
Meanwhile in the large skillet you browned the bread cubes in add 3 more tablespoons of oil and heat it over medium-high heat. Add parsley, garlic and red-pepper flakes; reduce heat to medium and cook, stirring constantly about 2 minutes. Add arugula and a big pinch of sea salt and a few grinds of pepper; cook for another 30 seconds. Remove from heat.
Lightly brush a rimmed baking sheet with oil. Bring the retained pot of water to a low boil and add a generous amount of salt. Carefullu place the pasta shells in the water and cook until al dente, according to package directions. Drain the shells and choose the 24 best ones and line them on the oiled baking sheet without touching.
Add the arugula and herb mixture to the large bowl with the breadcrumbs. Thinly slice the fish against the grain, then cut into 1/8″ dice. Add the fish along with any accumulated juices to the bowl with the breadcrumbs and arugula mixture; stir to combine. Season with salt and pepper to taste.
Peel, quarter and seed the tomatoes, then roughly chop them. Stir in 1 tablespoon of the remaining oil. Add the finely chopped marjoram leaves and the strips of basil. Stir to combine.
Fill the 24 shells with the fish mixture. Spread the fresh herb tomato sauce onto a serving platter placing the filled shells on top. Garnish with extra herbs, a big drizzle of olive oil and serve at room temperature.
SERIOUS FUN FOOD

Greg Henry

Sippity Sup