So here we are on day 4 of mint. Lamb Flatbread

We did a mint tea that highlights the simplest essence of the herb. Then we used it as part of a medley of bright notes in a fruity tomato salad. We continued coaxing its distinctive flavor out by infusing mint into a classically French Cherry soup.
But I never really discussed why it is I chose mint in the first place. There certainly are more glamorous herbs in this world. What about shiso? Everybody is talking about that exotic little leaf.
It seems I have had a French flair going on here lately. So why not feature the most classic of the Provencal herbs, rosemary?
But I chose mint.
Partly because I wanted to prove it's not just for Tic-Tacs and toothpaste, but also because I have a deep and abiding respect for mint. It took me a lot of years to get there though.
Remember when you were a kid? Maybe your parents were going out of town and needed to find you a babysitter for the weekend. It was a long weekend so that teenage girl who lived down the street with the silly name of Anise could not be trusted. Of course you were disappointed. You liked that girl Anise and her rowdy boyfriend Oregano.
But, nooo your parents said. This weekend required someone they could trust. This weekend they needed a relative! So you'd jump up and down and beg and plead for your continental cousin Basil to get the job. He'd breeze in on his Vespa and impress all the other kids in the neighborhood.
But, nooo your parents said. And from the look on your mothers face you knew there was no use in trying to talk her into calling your glamorous Uncle Cardamom (who always liked to wear your
mother's blue eye-shadow).
In fact you knew the answer before they even opened their mouths. This was a job for good old reliable Aunt Mint. Versatile, rugged, a little bit kooky; but no-nonsense Aunt Mint.
But just as you were about to skulk off to your bedroom you remembered a few things about Aunt Mint that you assumed your parents did not know.
Sure she could be reliable and comforting. She was pretty much available anytime of the year. But she had a way of making things come alive, that some of your swankier relatives just did not. She might be a sturdy woman of a certain age, but there was something about her you could not help loving.
The herbal variety of mint is not unlike your under-appreciated Aunt. It is kind of a default herb at my house. It grows in a pot by the back door. Even in the winter I can usually find a sprig or two.
It's incredible as a garnish. It adds a perky spot of green even to the blandest of rice dishes. It is often unceremoniously tossed aside as soon as the serving spoon hits the bowl. Most people hardly look twice at it. It is such a "breakfast, lunch and dinner" kind of herb.
It may be ubiquitous, but it also contains a bit of mystery. Think what it does for spicy Thai dishes. Can your wannabe little nephew Parsley really pull that off?
So give the old gal her due and stop thinking about Mint with that cottage garden quaintness. She can boogie down when your parents aren't looking.
Which is why I chose it. I wanted you to remember that on those long weekends when your parents were gosh knows where, it was Aunt Mint who stood by you. As deft with a leg of lamb as she was with homemade ice cream!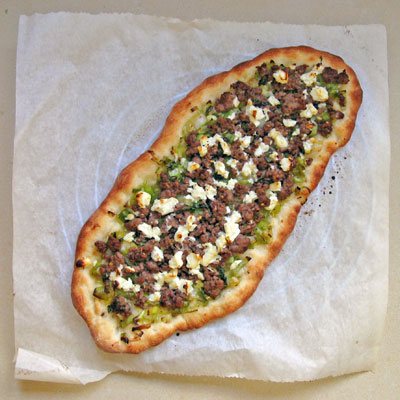 So I am using her talents today with ground lamb, a sweet mix of onions and a salty punch of feta in a Lamb Flatbread with Mint and Feta. Because Aunt Mint is just the right soul to be trusted to tame and corral all these flavors while letting them have a little fun at the same time!
That's not a job your upright and proper old Granddad Black Pepper seems qualified to handle. Besides he's best when hes half "cracked" if you know what I mean?
SERIOUS FUN FOOD

Greg Henry

SippitySup
And now for the fine print. Aunt Mint is a fictional person. So no offense to all the dependable yet fiesty Aunts of a certain age out there. Besides, I based this recipe on one I found in Martha Stewart Living. My "Aunt Mint" read Cosmo.