Ken and I were recently invited on a tour of Mendocino. What would a culinary peek at Mendocino be without a trip to the Anderson Valley? I've asked Ken to give us a few impressions of the impressive Anderson Valley Wine scene. GREG
Anderson Valley Wine
Being off the beaten path is a good thing. These days I find myself in an always-on, gotta have it now, whatever's closest, anxious mindset. Not so in the Anderson Valley. Though only two hours north of the high tech, high brow San Francisco scene, and a lovely 9‑hour coastal drive from the megalopolis that we call Los Angeles, the Valley's laid-back natural beauty is a world apart. Serenity aside, it's also a great place for wine.
The area's wide diurnal range in temperature, which can span 40–50 degrees in a single day, plus the variation in elevation (sea level up to 2,500 feet) combine to produce a bevy of micro-climates. Add in the coastal fog and variety of soil types and you've got yourself a recipe for many distinctive expressions of place, or terroir. Generally speaking, these conditions are very well suited to both the finicky and revered Pinot Noir grape as well as Alsatian varietals such as Riesling and Gewürztraminer.
And bubbly. French Champagne house Roederer Estate placed a bet on the Anderson Valley for their New World outpost back in the early 1990's. Makes sense, as two of the three grapes used for Champagne production, Pinot Noir and Chardonnay, thrive here (I didn't come across any Pinot Meunier). We had a particularly delightful and informative session of, er, sparkling conversation with Scarlet at the Signal Ridge tasting room located on the grounds of The Madrones. As Scarlet poured the current release of their 80% Chardonnay, 20% Pinot Noir blend brut she explained that the grapes came from a vineyard with the highest elevation in all of Napa, Sonoma and the Anderson Valley. Small grapes, big concentrated flavors: a luxurious bouquet of fresh citrus and apple with a bright clean finish. Different from a toasty French Champagne, elegant in its own way.
Navarro Vineyards has been crafting popular, very well-priced Pinots and Alsatian varietals (dry, sweet, and even non-alcoholic versions) for decades. Like much of the Anderson Valley, the stunning setting is enhanced by the warm and welcoming staff (as well as a couple of llamas). After savoring a pair of Pinots, I was treated to a taste of their 2013 Late Harvest Gewürztraminer and an older Late Harvest Riesling: both were lush, honeyed yet surprisingly crisp and refreshing. Noble rot indeed.
That said, Pinot Noir truly is the king of the Anderson Valley wine. From the five distinctive offerings at Goldeneye Winery (Anderson Valley wine with a Duckhorn pedigree) to the outstanding 2006 Baxter we had with dinner on our last night, each sip sang a song of cherries (some tart or sour, some ripe and red, some fortified like Luxardos), herbs and love.
Lula Cellars 2012 Costa Vineyard Pinot Noir
Which brings me to my favorite wine of the trip, the Lula Cellars 2012 Costa Vineyard Pinot Noir. I don't mean this in a sexist way, but this is a masculine Pinot Noir. Winemaker Jeff Hansen explained that the blending of two different clones of Pinot Noir (Pommard and Dijon) grown on the low yield, 700' elevation Costa Vineyard has allowed him to achieve intense fruit flavors and aromatics. I found notes of black raspberry, cherry, plum, tea and a touch of spice from aging in 50% new French oak. Deep, full-bodied with a lingering finish. A mere 600 cases of this Gold Medal winning wine were produced, and it's only available for purchase directly from the winery (reducing the price since distribution costs have been eliminated). What a perfect holiday or host/ess gift! Just think how this thoughtful expression of appreciation could transport the recipient to a serene and satisfying place. KEN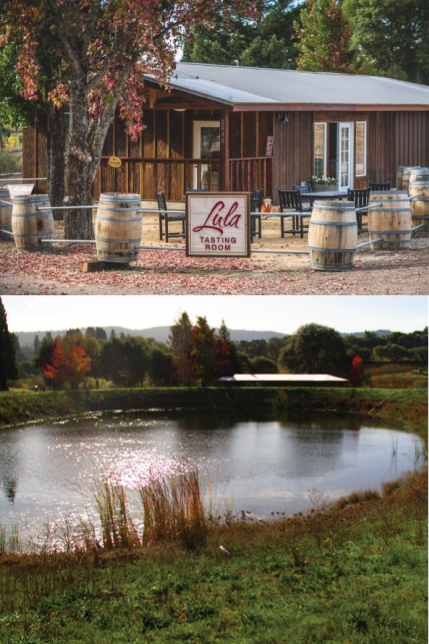 Anderson Valley Wine Tasting Recommendations
For more about my Mendocino county experience at The Little River Inn, my Anderson Valley food, wine & lodging recommendations, details about our Mendocino mushroom hike, or a recipe for local Mendocino crab cakes follow any of these links.
I received accommodations and other expenses in order to bring the Mendocino Coast & Anderson Valley Wine to this blog. All opinions are my own.