This is the third in a series of sponsored posts about our trip to Mendocino county.
Ken and I recently spent 4 days exploring as much of Mendocino County, CA as we could. When you're in Mendocino the lure of the ocean is strong. There are miles of ocean vistas and empty beaches. It's a place where glistening river beds create oceanfront lagoons and marshes, and where the waves famously crash onto ragged bluffs. The best way to experience this landscape is to spend much of your time twisting and turning along coastal Highway 1. It's a gorgeous drive, but it can leave your equilibrium lost in a dance with a twister.
Which is how Ken and I found ourselves just inland coasting along the gentle curves of CA 128 on a leisurely drive through the Anderson Valley.
Northern California's Anderson Valley is a wine lover's paradise. It's more remote and less traveled than Napa and Sonoma, but still just 2 hours from San Francisco. The best introduction to the area is a slow-paced drive from one end of the valley to the other.
Pretty much the only way to accomplish that is along Highway 128– a well-maintained road, and a semi-straight shot through the wine country of Anderson Valley. You can pick it up on its northern end at CA 1 (right where the Navarro river spills into the Pacific) or from the southeast you can veer off the 101 at Cloverdale. Whichever direction you choose to travel you'll pass through pastures of grazing sheep, 100-year-old apple farms, and of course vineyards. It's a captivating drive– arching along graceful curves, dipping and rising just above and below the fog. The famous fog that creeps down the valley from the ocean, gently tempering the inland climate. Which creates the perfect slow-ripening environment for cool-weather grapes likes Pinot Noir, Gewürztraminer, and Riesling.
For me, the Anderson Valley is the newly emerging heart of Northern California's wine country. In the Anderson Valley the term Wine Country is both a physical reality and an emotional state of mind. The Wine County here is a quiet place to spend your day surrounded by beauty, and perhaps visit a winery or two. Of course, with good wine comes good food. The combination of the two is exactly what I planned for an idealized overnight Anderson Valley Wine Country trip come to life.
Highlights of our trip include Bocci Ball on the lawn at Balo Vineyards, a roast Chicken at Coq au Vin, the Pinot Noir at Lula Cellars and talking to the llamas at Navarro Vineyards.
Whether you visit the Wine Country of Anderson Valley for just a few hours or as much as a few days, you'll hear plenty of people say, that it's like Napa of 40 years ago– only prettier. Come and see for yourself. GREG
The Best of Anderson Valley
Where to stay: The Madrones is a Mediterranean mansion and gardens turned guest house. It feels a bit like a Tuscan village with interconnected buildings and courtyards. In addition to the main house with guest rooms, there are cottages scattered around a central garden as well as shops, and wine tasting rooms from Bink Wines, Drew Wines, Knez Winery, and Signal Ridge Winery. I saw a garden antique shop (sadly closed when I was there), and even one of the best restaurants in the Anderson Valley (see below). I hear there are plans in the works to add a few cabins in the redwood forest that adjoins the property. However, the main reason I consider this the place to stay in the Anderson Valley is just how well-appointed everything is. Our shower was probably 8 feet across and seductively built for two. The linens are better than my own at home. In fact I meant to ask what brand they were. Fresh local apples and handmade banana bread are tucked within easy reach should you awake early and peckish. What I'm saying is the owner has an eye for detail that makes me want to come back again and again just to see what he's up to next. 9000 Highway 128 Philo, CA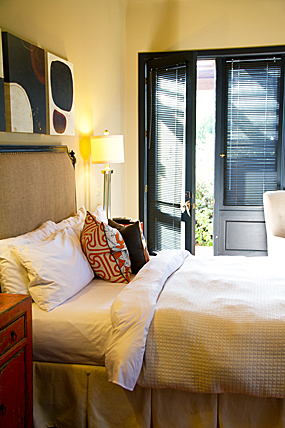 The Best of Anderson Valley
Where to eat: I'm going to have to break this down to breakfast, lunch, and dinner (and snack) categories.
Breakfast: I was quite impressed with the simple savory hand-pies ($4.50) at Boonville General Store 17810 Farrer Ln, Boonville, CA. It's a no-frills, step up to the counter cafe where you can pick up excellent coffee and pastries to go. You can also sit by the window and linger as we did. I'll warn you though, it's a popular place with visitors and locals alike. Try to get a seat well away from the door. The comings and goings are non-stop. If you prefer heartier fare there's a weekend brunch at The Buckhorn. 14081 Hwy 128, Boonville, CA
Lunch: The lunch menu at Stone and Embers is simple– just a few lines scrawled on a piece of paper. It consists mostly of pizza from the wood-fired stove, as well as a couple of starters like roasted red romaine salad and wood-fired padron peppers. Are you sensing a theme? Stone and Embers is one of those restaurants that takes a curious pride in how little they have on the menu. That's because everything they offer is as fresh and local and as impeccably prepared as it can possibly be. It's my kind of place. Everything at Stone and Embers is made in a wood-burning stove, giving the flame-roasted seasonal foods and artisanal pizzas a rustic vibe. The menu changes but the 12-inch pie of turducken (yes, that turducken), smoked mozzarella, and red chili flakes ($19) is a good example of the singularly creative fare you can expect. They also serve dinner– but there was a private event when I stopped by. I had to make other plans. Located in The Madrones, 9000 Highway 128, Philo, CA.
Dinner: Being turned away from Stone and Embers turned out to be no problem. There are several good choices for dinner in the Anderson Valley. Lauren's 14211 Hwy 128 Boonville, CA is a casual spot locals love. I'd also heard great things about Table 128, but we did not realize it was in the Boonville Hotel 14050 Hwy 128, Boonville, CA and must have past it right by. However, when Ken and I were at Lemons Market 8651 Hwy 128 Philo, CA we asked a guy (who carried himself like a local) what he thought about the nearby restaurant Coq au Vin 1810 Hwy 128, Philo, CA. He told us flat out that we needed to book a table at least two weeks in advance for this tiny French restaurant. Well, that sealed the deal. We were determined to eat there. Fortunately, Ken speaks French and he charmed Marie, la propriétaire into a small table in the back of the room where we got to enjoy a delicious Poulet Roti ($22) with a Chardonnay from Handley Cellars 3151 Hwy 128 Philo, CA. Which would have been a perfect enough evening for me. However, it got even better when we couldn't help but overhear a conversation between a well put together woman and her bearded young dining companion. It seems the woman had recently bought some property and acreage in the Anderson Valley and the young man may have been her gardener. They were discussing what to do with her property. Eventually, she hoped to plant grapes, but in the meantime, she just wanted to get something planted that "looked good". The young man went on to explain that like much of this valley her property had a long history. What was once oak-studded flatlands, had been used as a pasture for perhaps 100 years. The sheep hooves had caused a certain kind of compaction of soil that the man had seen all over this valley. In other words. Her pasture-cum-garden-cum-vineyard was going to take some work. It was a privilege to peek into the forces that are making the Anderson Valley a major wine producing area of California.
Snack: There's nothing as tasty as a sweet treat just as nature intended it to be. The Apple Farm 18501 Greenwood Road northwest of Philo, CA is a working farm and active farm-stand where you can find seasonal heirloom apples, as well as handmade delights such as juice and jam. All grown and produced right on the farm where you're standing. There's more to do here than simply nosh. You can book a guest room, take cooking classes or even pitch in and see how farm life suits you. For me, it was a peaceful stop along the road and the perfect place for a ripe snack. You know what they say about an "apple a day". Well, if I lived in the Anderson Valley I'd be very, very healthy. Since I don't, I came home with a big bag of the Black Twig heirloom apples ($3 per lb) some of which found their way into my Thanksgiving Marlborough pie.
The Best of Anderson Valley
Where to Sip: There are so many excellent wineries in the Anderson Valley so allow plenty of time to enjoy this unique opportunity to meet the men and women who make the wine. Many tasting rooms don't charge a fee, and you can frequently spend half an hour chatting with an Anderson Valley top winemaker. It's Pinot Noir territory and there are a lot of terrific examples of the varietal. But for me, nothing beats the hour we spent strolling through the organic gardens (wine glass in hand) at Lula Cellars. There will be lots more about the wine of Anderson Valley in the next post.
For more about my experience at Little River Inn, our Mendocino mushroom hike, and a recipe for local Mendocino crab cakes follow these links.
I received accommodations and other expenses in order to bring the Mendocino Coast & Anderson Valley Wine to this blog. All opinions are my own.