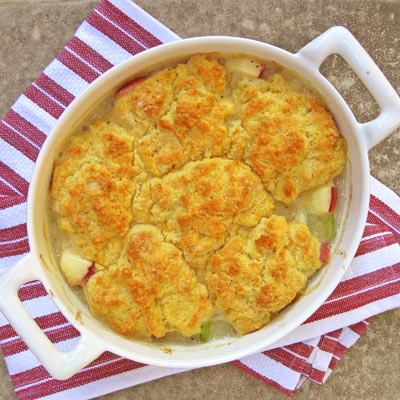 Turkey Pot Pie with Apples and Cheddar Biscuit Crust: I know it's been nothing but apples hand over fist this week at Sippity Sup. But it's An Apple A Day here, the bitter end is nowhere and in sight. Because I am craving something warm and hearty. Something not at all sweet. So naturally this young man's fancy turned to apples.
That's right warm and hearty savory apples. So get off your high horse 'cuz apples are great with savory dishes. And I don't mean to say "with" as in beside, next to or accompanying.
I mean "with" like inside and integral.
So if you're still with me and have not yet abandoned this apple ship, then today I have a pie. An easy as pie apple pie.
"Hey" I can hear you saying. Apple pies are sweet. Well, tell it to the marines, 'cuz not all apple pies are sweet!
My pie is a Turkey Pot Pie with Apples and Cheddar Biscuit Crust. How do you like 'dem apples?
Ohhh…did I just say 'dem apples? Chris at Nibble Me This praised my restraint regarding that phrase earlier in the week. I can't believe I just disappointed him. Sorry man. I am lost in an apple haze; all my literary restraint has left the building!
But 'des apples really are a wonderful and integral part of this terrific pie.
So, batten down the hatches because my editorial skills have flown the coop and reduced me to bantering about hackneyed over used sayings as a literary shortcuts. 'Cuz it looks like we are back to square one and I am going to get this party started and let a picture say a 1000 words. Yep, it's time for Sup! to put up or shut up!
So shake a leg and get a gander at these gams, err I mean apples.
SERIOUS FUN FOOD
Greg Henry
SippitySup
Turkey Pot Pie