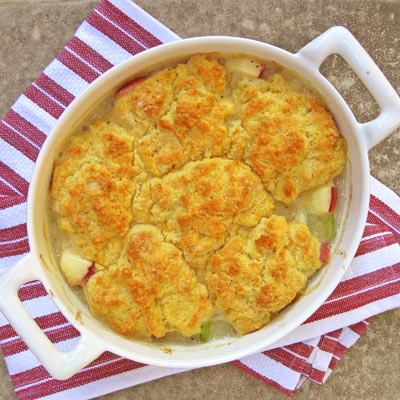 Turkey Pot Pie with Apples and Cheddar Biscuit Crust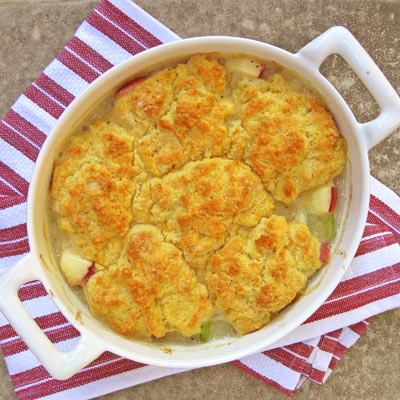 Ingredients
1

onion

(peeled and cut into ½‑inch pieces)

2

carrots

(peeled and cut into ½‑inch pieces)

2

stalks celery

(cut into ½‑inch pieces)

2

parsnips

(peeled and cut into ½‑inch pieces)

2

sweet-tart apples

such as granny smith or jonathan, cored and cut into ½‑inch pieces

1 teaspoon

fresh thyme leaves

3 tablespoon

unsalted butter

4 cup

roasted turkey meat

(cut into ½‑inch pieces)

2 cup

all-purpose flour

2 teaspoon

baking powder

2 teaspoon

baking soda

¼ teaspoon

freshly cracked black pepper

1 ½ cup

coarsely grated extra-sharp cheddar

6 tablespoon

cold unsalted butter

(cut into ½‑inch pieces)

2 tablespoon

vegetable shortening

1 ¼ cup

buttermilk

3 ½ cup

chicken stock

½ teaspoon

kosher salt
---
Directions
Cook the onion, carrots, celery, parsnip, apples and thyme in melted butter seasoned with salt and pepper, in a 12-inch-wide shallow pot, covered, over medium heat, stirring occasionally, until vegetables are almost tender, 10 to 12 minutes.
Sprinkle with ¼ cup flour and cook, stirring constantly, 2 minutes. Stir in stock , scraping up any brown bits as you pour in the stock. Bring the pot to a boil, stirring, then lower the heat and simmer until slightly thickened, about 5 minutes. Stir in turkey, and additional salt and pepper to taste.
This part can be done up to one day in advance. Bring the mixture back up to a simmer when ready to proceed.
Preheat oven to 375 degrees F with rack in middle of the oven.
Sift together flour, baking powder, baking soda, salt, and pepper into a medium bowl. Add cheese and toss to coat. Blend in butter and shortening with a pastry blender until mixture resembles coarse meal. Add buttermilk and stir just until a rough dough forms. Drop biscuit dough onto the turkey filling in 6 large mounds, leaving spaces between biscuits so that they can rise.
Bake until biscuits are puffed and golden brown and filling is bubbling, 35 to 40 minutes. Let stand 10 minutes before serving.