If I hadn't just driven a couple of miles down La Brea Avenue, I would have sworn I was in Italy. I had the good fortune to be included in a Zuani wine tasting seminar and luncheon at one of LA's best restaurants, République. Winery owners Patrizia Felluga and Antonio Zanon were in town to tout their new releases of Zuani wines and talk up their terroir, the Collio DOC. Though technically a midweek 'business lunch' it felt more like a family Sunday supper.
The Collio zone is located in northeastern Italy, about an hour's drive from Venice (if you drive a Lamborghini) and is close to both Austria and Slovenia. Also known as Friuli-Venezia-Giulia, the area is nestled between the Alps and the Adriatic sea– supplying not just stunning scenery (as Greg and I experienced when we drove the Adriatic coast a few years back) but both a maritime (warm) and a mountainous (cool) climatic influence on the vineyards. Combine that with soil called "ponca" that is a mix of marl and sandstone, nutrient-poor but great for supplying mineral notes, and you've got great conditions for complex and expressive white wine production.
Zuani Vigneti in San Floriano de Collio
Zuani is a family affair. Patrizia is a fifth generation winemaker and somewhat of a rock star– respected, stylish, yet very warm and unpretentious. Her son Antonio (also a charmer) handles the business side of things, including distribution. I was most impressed with the family's commitment to a natural way of doing things. What we call sustainability practices they simply feel is "part of the tradition of families that live on the land."
They found four different varietals growing on the acreage they purchased to launch Zuani in 2001– Friulano, Chardonnay, Sauvignon Blanc and Pinot Grigio. All four combine in various proportions to create a field blend that is vinified two ways. The Zuani Vigne Collio Bianco goes through cold maceration and is fermented and aged in stainless steel vats. The Zuani Zuani Collio Bianco Riserva is picked two weeks later and aged in French oak with frequent lees stirring. The Collio Bianco is fresh with lively acidity and pronounced minerality and the Riserva is more nuanced, intense, full bodied and age-worthy.
While you'd undoubtedly enjoy a young Zuani Vigne Collio Bianco as an apéritif, both styles really come to life with the appropriate food pairing. To wit:
Chef Walter Manzke's Hiramasa Crudo, a melange of super fresh jack and tropical fruits enhanced the 2014 Collio Bianco– the dish's sweet and spicy notes complemented the tart lemon zest and gravely notes in the bright young wine. Citrus and seafood? Naturally.
Next was a rich pasta dish spiked with crab, Spaghetti Rustichella. Creamy with hits of salinity from the crab, the Rustichella called for a more mature, rounder wine. I thought the 2012 Zuani Riserva was fantastico. Toasty on the nose, toasted breadcrumbs in the pasta. Hints of citrus in the wine to sprinkle on the crab. Full bodied and complex with a touch of sweetness on the finish.
As if that wasn't enough, we proceeded to a Pork Belly with apples course. Though this was a land based protein, I still felt the 2012 Zuani Riserva worked best. Maybe it was the sweetness of the apples and crackling skin combined with the vanilla notes in the wine. Maybe it was the underlying acid to cut through the fat. Maybe I already had a bit to drink and just really loved the 2012 Zuani Riserva.
This was a lovely three-hour junket into the minds and heart of the Collio. I'd love to physically go there some day. Something tells me I'd be treated like famiglia. KEN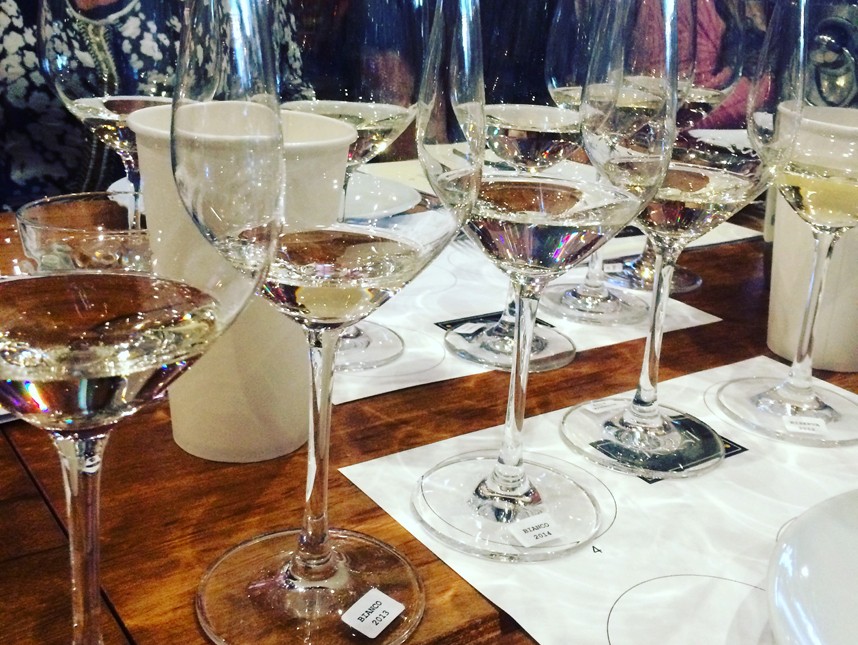 I attended this lunch as a guest of the winemaker. All opinions are my own.