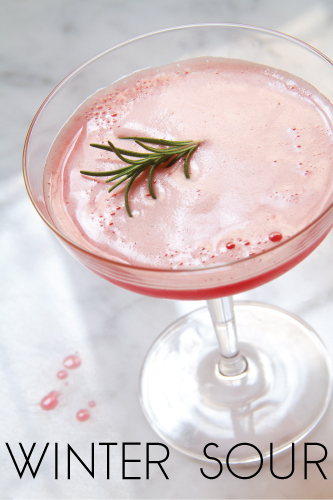 Winter Sour. That's such a good name. It's such a good cocktail too. But, it's not my cocktail or a name that came from my brain. But I'm using it to push a cocktail book that I wrote. Is that immoral?
Well in this case no. This recipe comes from H. Joseph Ehrmann, the proprietor of Elixer, a neighborhood "saloon" located in the Mission Dolores section of San Francisco. A bar that's been in business since 1858. Ehrmann gave me the recipe (and his permission to use it) when I was researching cocktails for my book Savory Cocktails. It's a terrific Campari based drink. Campari is a particularly great ingredient in a savory cocktail. There were already several Campari drinks in my book so I decided to save this one as part of the promotion of the book.
It's a drink I find myself making again and again because it has just a few simple ingredients that I always have at my house. Yes, I'm the kind of person who will have Campari around the house, but not necessarily the more expected liquors (like bourbon and gin). I tend to buy those on an "as needed" basis. Because when I have bourbon and gin around the house I tend to drink too much bourbon and gin.
Anyway just because I couldn't find a place for this drink in my book shouldn't mean you are deprived of its grace. Because it is a graceful drink. Campari can have a rough edge. It's a rough edge I happen to like, but its bitter component can be a bit too much for some people. Ehrmann addresses this issue beautifully with a touch of honey and a whiff of rosemary shaken up with lots of lemon juice. The end result has a bittersweet bite that is just tame enough to bring out the botanicals in Campari. Which makes it a terrific spokescocktail for my new book.
If you're still unsure just what the heck a savory cocktail is then I'd like you to note the slideshow at the bottom of this post. I filled it full of savory cocktails from around the web. This is a cool feature from the website Foodie. It's a great way to add relevant content from a variety of sources using a simple embed code. Check it out… GREG