I've recently returned from Mérida, Mexico – the capital city of the Yucatán region – where I threw myself into a self-proposed project to taste as much of the street food of Mérida as possible. There's a lot to love when it comes to the street food of Mérida too. It's a place where taco-like panuchos and salbutes are sold on street corners, large steamers of tamales wrapped in banana leaves are peddled from roving tricycle carts and intoxicating smells waft from the simmering pots of the tiny fondas that ring almost every public square in the city. The street food scene is so vibrant that you'll never be able to try it all.
Though you'll see from the photos that I gave it a good go!
If you haven't been to Mexico or immersed yourself in its cuisine it's easy to assume that tacos and burritos are the best the country has to offer. While these two favorites certainly are ubiquitous, Mexico, much like Italy, is a country of great culinary diversity and clear regional differences. To know and love the real food of Mexico is to delve into the specialties specific to each region.
This is especially true of Mérida. The culinary delights of Yucatecan food are quite distinct from traditional Mexican cuisine. The food is irresistible, influenced by Mayan, Caribbean, and Spanish cuisines. Key ingredients range from locally grown products such as pumpkin seed, oregano, red onion, sour orange, sweet chili, tomato, achiote, the xcatic chile, and habanero pepper to turkey meat. You might not consider turkey to be a Mexican ingredient but it's a traditional component in many of the regional specialties of the area.
Before I get into all the street food let me tell you a little about the city. Mérida, Mexico is an architectural jewel of brightly painted mansions lining a grid of cobblestone streets and interconnected public squares. Considered the capital city of the Yucatán it has one of the country's largest historic centers outside Mexico City. It's an elegant place where Mayan ruins and colonial architecture come together gracefully – reinvented by a newly emerging expatriate community who are converting the colonial mansions and haciendas into sophisticated hotels, bistros, and beautiful private homes.
While it's true that Mérida is becoming a world-class restaurant town and boasts an exquisite gastronomic heritage, it's also a place where simple street food may be the most exciting culinary contribution to the city's culture. The Plaza Mayor is a vibrant meeting place in the center of town where locals escape the mid-day heat sipping champola on leaf shrouded benches or chat with friends late into the night over scoops of icy sorbet. On weekends the choices become even more exciting as food vendors invade the square from all corners.
Street food in Mérida dates back to pre-Hispanic times – the Spaniards were probably amazed to find an array of ready-to-eat food for sale on the streets when they arrived. Not much has changed since then: the streets still teem with carts and makeshift fondas slinging fast, cheap, delicious eats. Who needs Michelin stars when you have street eats this good? GREG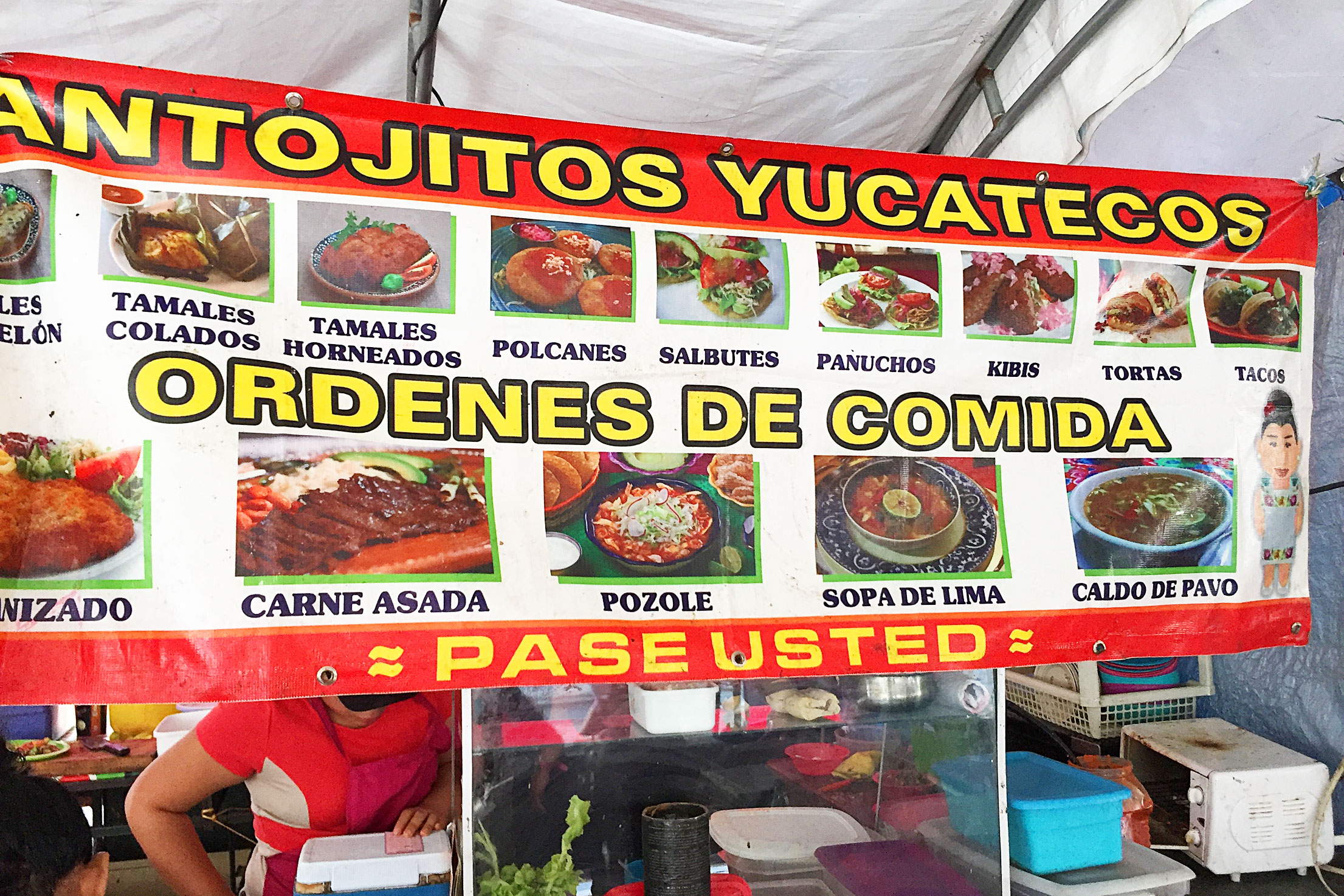 Typical Street Food of Mérida