I'm in Loreto, Mexico. Right now. I'm tip-tapping this out on an iPhone with taco breath and cold fingers (from a frosty bottle of Mexican beer). As I stare out over the Sea of Cortez I can't help but let my mind drift back to the very first Mexican taco I ever ate. It was a Taco al Pastor purchased from a roadside stall somewhere near Ensenada. It's why I'm sitting here enjoying the view and thinking how much I'd like to share some of the delicious tacos in Loreto I've been enjoying.
Because whenever I travel south of the border I always think back to that very first sweltering drive south I made in the 1980s. It's where, as a freshly minted Californian, I first encountered a taco stand.
I don't know what I expected, but that stand wasn't much more than a faded rainbow-colored beach umbrella sheltering a woman carving off slivers of al pastor from a vertical spit. Bathed in a chile sauce with achiote, dripping with pork fat and roasted pineapple juice the meat was neatly folded into a corn tortilla and handed to me with a nod to the condiment table. I thanked this woman for my initiation into the world of Mexican tacos, but not nearly profusely enough. Soft. Savory. Acidic. Spicy. I honestly didn't quite understand what I was in for. Because even after all these years I can still build an entire trip around visiting taco stands.
Tacos in Loreto
Traditional Mexican, touristica, fresh seafood, burgers, farm to table. Loreto, Mexico is not a big town, still, there are a lot of great restaurants… more than 70, I'm told. However, I'm limiting this post to tacos. Taco stands, taco stalls, even well-regarded taco lists from upscale restaurants. These won't be the big city, chef-driven tacos of my hometown Los Angeles. I'm interested in tasting as many traditional Mexican tacos in Loreto as I can. So, for as long as I'm here I plan to eat, talk and swoon my way through taco, tacos, tacos. GREG
1697 Restaurant & El Zopilote Brewing: Yes, it's in a hotel and most folks come for the pizza and craft beer but they have a damn good crispy, tempura-style fish taco that tastes just like the beach – no sunscreen required. Calle Davis at the main square
Asadero Sonora: One block off Ave Benito Juarez this place can be hard to find. Put some effort into the task and reap the rewards. Great grilled meat tacos in the open air and over open fire. The carne asada and tripe "mixto" is a winner. Smoky. Crunchy. Salty. Juicy. Impressive. Pino Suarez at Agua Dulce
Asadero Super Burro: Locals love this place as much as visitors. And why not? You can watch as they press tortillas by hand and grill the meat over live fire. The arrachera (grilled skirt steak) is popular, but not as popular as the gigantic burritos accompanied by stuffed baked potatoes (yes, baked potatoes). I'm not used to eating plates of food the size of a mini-van so I stuck to the excellent nopales tacos. Still, if you can handle the mass of the thing you should try their Carne Asada Papa Relleno. It's what they're known for. Blvd Salvatierra near Calle Independencia
Birrieria El Valle: This is the quintessential taco stand. The tiny kitchen is hidden among a large cluster of plastic tables and chairs. The place is so small it wouldn't seem like they'd need all those tables. However, most days I saw locals claiming seats well before the place even opened at 4 pm. Of course, they serve their namesake birrieria (goat, beef, etc) but there are also tacos dorados (fried tacos) and delicious looking caldos (soups). There's no menu, everyone seems to know what to order. Benito Juarez near Calle Ayuntamiento
Cesar's Taco & Beer: Hamburgers, chicken wings, and stuffed baked potatoes are on the menu along with tacos in all the expected varieties. The restaurant, like a lot of places for tacos in Loreto, is a little shabby at the edges but it's still colorful, festive, and fun. Colegio at Avenida Miguel Hidalgo
El Bajón Restaurant: While walking by the bright green gate that separates the dining area from the street I was surprised to see plastic chairs and tables in the bay of what otherwise looked like the garage of an auto mechanics shop. I'm not saying there were car parts strewn about the place but it's safe to say that the ambiance is not what brings you in. People come for the antojitos Mexicanos (open dinnertime only) as well as the Menudo and Pozole (served los Sabados only). Calle Benito Juarez near Calle Ayuntamiento
El Rey Del Taco: I had a lot of tacos in Loreto and the tacos served at this simple kiosk-cum-restaurant were my favorite. The Carne Asada was a standout, but Loreto is a beach town and El Rey serves the best fish tacos in town. There are plenty of toppings, including a fresh jalapeño flecked pico de gallo, so go ahead and make it all your own. The hours of operation were baffling, but it seems they're often closed by 2:00 pm. Calle Benito Juarez near Calle Misioneros
Gastroteca A Z U L: The tacos are probably not the reason to go to this upscale, farm to table, chef-driven restaurant located in the ex-pat planned community of Loreto Bay. There's much fancier fare on the menu. But as long as you're here… why not eat tacos with the gringos? Paseo Mision de Loreto Ave 158, Nopoló
Jr's & George's: You can't talk about tacos in Loreto and not mention Jr's & George's. They seem to specialize in what they call snacks with cocktails. To me, with its array of creative condiments, it's more like a tapas bar – and tacos make wonderful tapas. They also serve (new to me) flavored beers. The mango was surprisingly refreshing. just off Ave Savatierra east of the square
La Super Torta: There are very good tacos here and (despite the name) I expected that. That's because this little food stall has everything I look for in street food. First, it's run by a serious woman who always seems to have one eye on her telenovelas playing on her tiny tv in her tiny kitchen. Also, there's a walk-up window with a bench where you sit shoulder-to-shoulder with the other customers. As I said the tacos are good but when you look over your shoulder at the other patrons, you're likely to see that namesake torta, which is essentially a grilled sandwich. Sporadic evenings only. Madero at Fernando Jordan
Mariscos El Caloron: Located under a large second story palapa overlooking the water. This breezy little place offers tacos featuring all sorts of seafood. The pulpo (octopus) and almejas (clams) were standouts. If you tire of tacos they serve all the same toppings on tostadas. Paseo A Lopez Marcos 2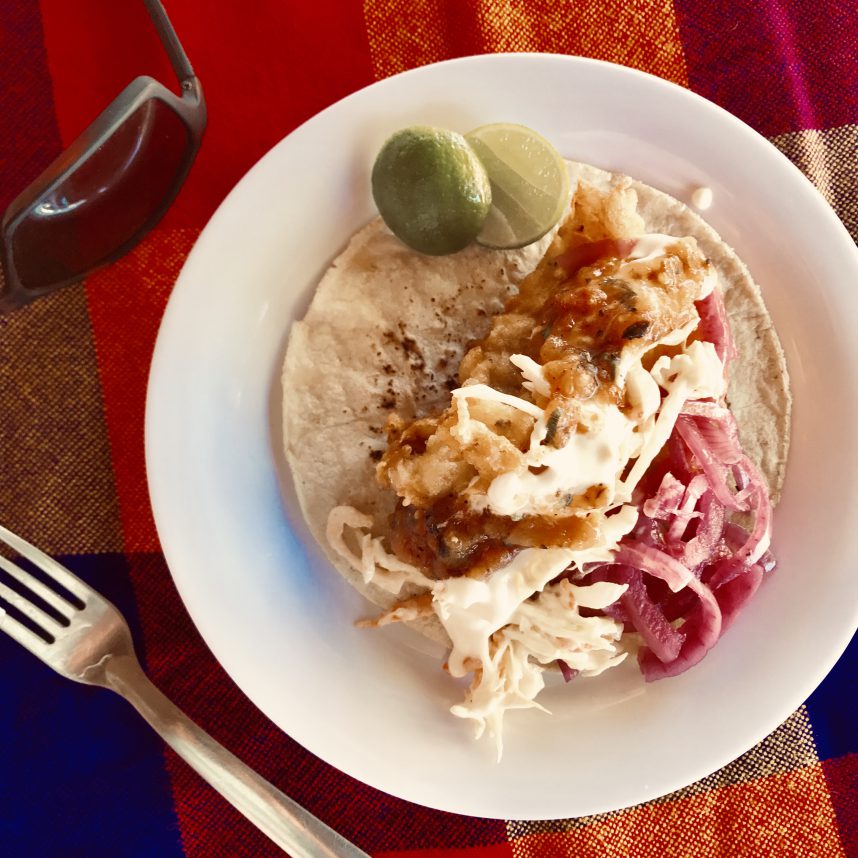 Orlando's Restaurant: This place is on most tourists radar, but don't let that scare you away. It serves breakfast, lunch, and dinner on a well-situated patio. With it's colorful Papel Picado banners blowing in the breeze you'll be looking over your shoulder for Coco herself. But if you can get your mind off the Disney movie and take a look at the menu you'll find all sorts of choices including hearty egg dishes and simple seafood – not to mention some sort of taco under each category on the menu. Francisco I Madero between Juàrez and Kino Col.
Tacos De Guisados Dizoyla: My guess is that Dizolya is the owner of this taco stand and he's from the Yucatán. His guisados (gravies) have elements like Conchita Pibil. Dizoyla gets my vote for best overall taco stand because they're doing things nobody else is doing. Ave Salvatierra just before the historic district.
Tacos el Poblano: Whoever we asked, from a barful of ex-pat gringos to the local boat captain who took us out on his panga, they all said this was the taco stand not to miss. They serve Mexico City-style street food and awesome tacos. It's well out of the tourist zone, but if you walk north-west along Calle Independencia until you come to the highway you should be able to find it. Ask a local. Miramar, Loreto
Tacos y Mariscos Vayeyo's: Shrimp, fish, marinated, grilled, fired. There aren't a lot of choices for tacos here but every one of them is great. Contender for Best Fish Taco is Loreto. All you really need to do is tell them if you want fish or shrimp and a plate of perfectly seasoned and battered tacos arrives, ready for you to sauce up to the nines. Ave Miguel Hidalgo at Colegio
Taqueria La Reyna: A weathered picket fence, an outdoor grill crowned with a chimney seemingly designed for a steam engine, and rickety red chairs set under a palm-draped palapa to save you from the sun. She may not be much to look at but this "queen" serves up a smoky good carne asado taco. Long live the queen! Ave Miguel Hildago between Calle Independencia and Colegio
Tlalocan: This is a popular bar with a very friendly owner/barman. They also serve creative tacos like black bean and goat cheese as well as a delicious coconut shrimp taco that is just sweet enough. Ave Miguel Hidalgo almost to the Malecon