WINE: Smith-Madrone Chardonnay 2007
FOOD: Seared Scallops with Succotash
With a nice bright yellow hue, and floral-tinged aromas of lemons, apples and pears, I liked this chardonnay from the first sniff. Along with apple and pear, some tropical flavors emerge on the palate, framed by a subtle taste of vanilla. The richer elements of the wine play nicely with the sweet caramelization on Greg's scallops, and the creamy sweetness of fresh corn, while its buttery feel matches the silky texture of scallops. With a slate-like minerality and crisp acidity, this wine departs from the "Napa Chard" stereotype, and I give thanks for that!
As stated on their website, "Smith-Madrone's Chardonnay is grown at the top of Spring Mountain (1,900-foot elevation), west of St. Helena in the Napa Valley. The vines are planted on very steep slopes (up to 35% slope) in red volcanic soil. The vines receive only the rain that Mother Nature lets fall from the sky, forcing the vines to send their roots deep into the mountain soil in search of moisture. This centuries old method of farming wine grapes, known today as dry farming, creates a grape with intense flavor, structure, and finesse."
I must admit that this wine surprised me. I expected full-body, sweet oak, and baked pineapple flavors. What I got was a very finessed, crisp, yet richly flavored wine with a long, complex finish. If I had tasted it blind, I would have guessed 1er cru Cote d'Or. What I really learned from this wine is that I need to keep an open mind when tasting Napa chardonnays. I wish learning other "life lessons" were this enjoyable!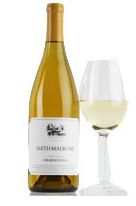 GRANT HENRY
PRICE: about $30.00
Pairs well with semi-soft and soft cheese, chicken, crab, hearty fish, lobster, veal, vegetables
Category- White
Varietal- Chardonnay
Region– Spring Mountain, Napa Vally, CA
Available at: