Today's post is from my wine (and shoe) loving friend Helen. I like shoes as well as the next guy, but I wanted you to know who's wearing the boots today. GREG
The way Carrie Bradshaw feels about shoes is the way I feel about wine. Watching Sarah Jessica Parker drool over a fancy pair of Minolo Blahniks', would be akin to sharing the shimmering excitement I feel when confronted with a spectacular Dionysian bottle… but I am still a woman who can appreciate lovely footwear.
I had a lucky week. Much as I would love to earn a living drinking wine, in reality, I have spent the last twenty years working as a therapeutic massage therapist. I work in people's homes and at a couple of high-end hotels. One of my hotel clients is in the fashion industry and he had a bag of Italian Suede boots in sample size in his room. He wondered if they might fit me, as he didn't want to travel home with them. This Cinderella managed to magically slip into the Chloé boots as though they were made to measure for my feet alone. How can you top that?
Well, a few days later, another regular client presented me with a bottle of Champagne he had left over from his New Year's Eve party. I may have mentioned to him, on occasion, that I LOVE Champagne. I may have proselytized that it is the only wine that can be enjoyably consumed at any time of the day, with any meal. It is possible that I may have previously explained my preference for the nutty, biscuit, rather than tart citrus flavors of this divine elixir. I will take Bollinger over Cristal any day. My client doesn't really drink Champagne, so he said he would be interested in getting my feedback on it. "I hope it's toasty," he smiled as I glowed with giddy gratitude.
Guy Larmandier Cramant, Blanc de Blancs, Grand Cru Champagne
By way of coincidence, my client had purchased this Guy Larmandier Cramant, Blanc de Blancs, Grand Cru Champagne at Helen's Wine Shop, a stellar little haven for oenophiles tucked inside Jon and Vinny's restaurant here in Los Angeles.
So this gift, bearing a pretty pink "helen's" label, was like being handed a personalized bottle. Cramant, not to be confused with Crémant (a creamier style of sparkling wine), is a Grand Cru rated village in the Côtes Du Blancs region of Champagne. Guy Larmandier, is a small family run domaine. I have never had the opportunity to taste this Champagne before and I couldn't wait to call Ken and Greg to arrange a get together to pop the cork. It is my opinion that all good Champagne tastes even better when consumed with great friends, which is why it is such a stellar party drink.
Corked popped, strawberries at the ready, we immediately noted the pale gold color on this 100% Chardonnay, suggesting a little age or oxidation. The bubbles are also a surprise: tiny, elegant and as mousse-like as a Cremant. That's right, Crémant from Cramant, how fabulous! On the nose, a hint of hazelnuts and brioche. My heart started somersaulting… Toast! On the palate, ripe Bartlett pear, giving way to rich bitter almond cake, with a finish of sour sherbet at the back of the throat. We looked for citrus but didn't find it. Instead, we found enough acidity to draw all the elements of this champagne into a cohesive balance. I loved it. It is worth mentioning that the subtlety of the bubbles might be caused by the apparent oxidation in this bottle, or it may be the unique character of this particular Champagne. The only way to know for sure is to try more 😉 Regardless, I have definitely added this Champagne to my list of favorites. In the company of friends, it provided a wonderful way to toast the good fortune of my week and the generosity of my clients.
Shoes and Champagne! Life is good! HELEN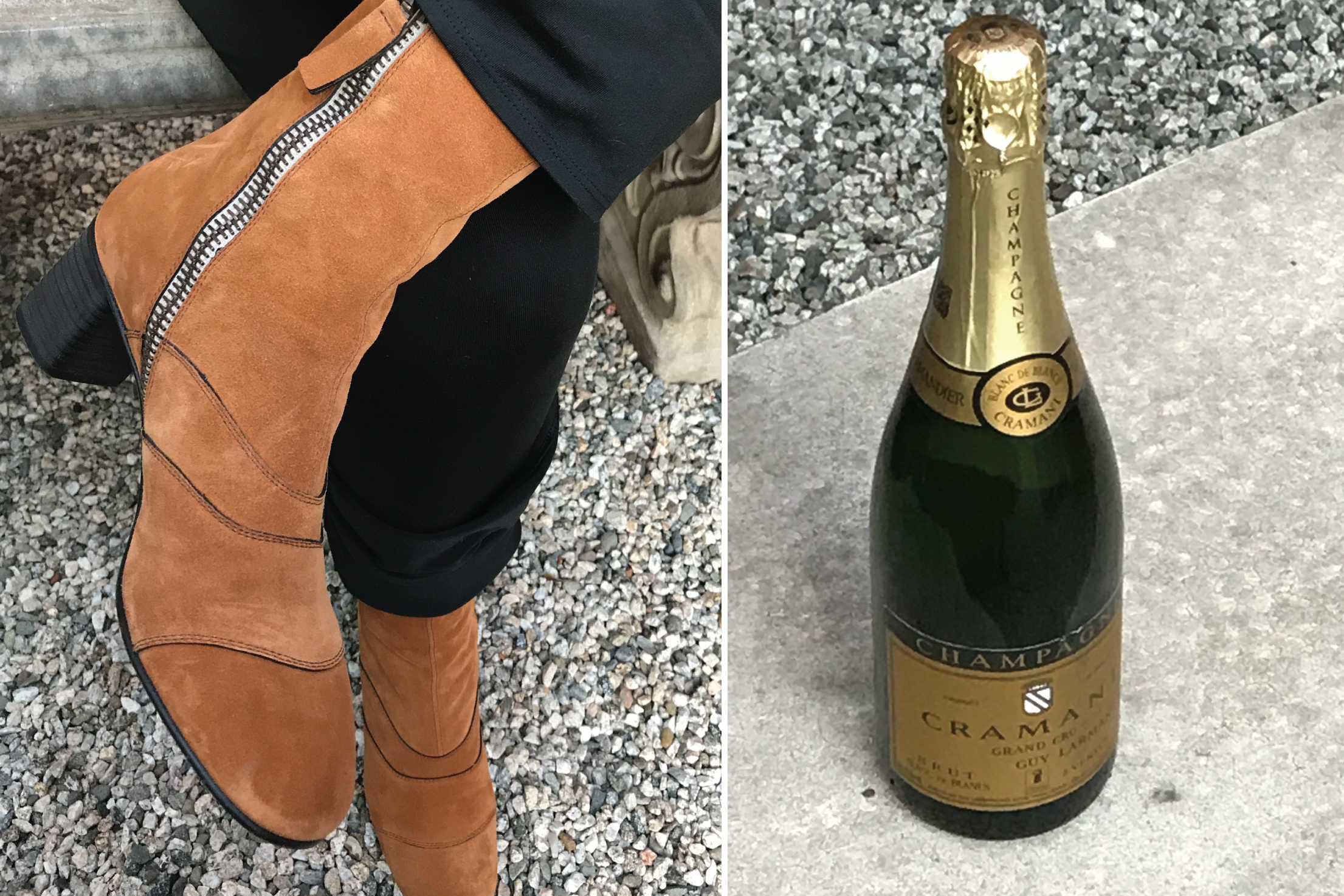 Save
Save
Save
Save
Save
Save
Save
Save