I could call this Shepherd's Pie if I wanted to. After all, it is the third savory pie in a row in this week long tribute to the genre. But I choose to call this Lamb Champvallon. And I'm not the only one.
According to the Larousse Gastronomique, this classic French dish dates from the reign of Louis XIV. It was supposedly invented by one of his mistresses. But which one? There are 14 (quatorze) officially recognized mistresses. That's a lot of ladies to give credit for this dish to.
The French seem to have a lot of these stories attached to their most traditional foods. It's hard to say how much truth there is in any one of them.
Take this recipe known to the French as Cotes D'agneau Champvallon. If it was indeed a lamb dish brought to the King's attention by a mistress, it seems to make sense that her name may have been Champvallon. But most mistresses get short shrift in the history books. I can find no references to any of Louis' lovers with that name.
So I decided it was time for me to take hold of this lore and redefine the history behind this dish to suit my own needs and my own cooking style. While I am rewriting history I think I'll do a bit of tweeking to the recipe too. Something more suited to the modern palate.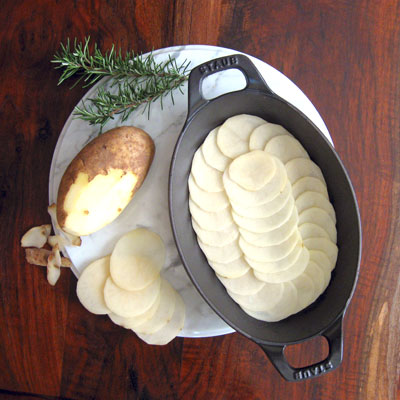 I have decided however, that the mistress part of this story is true. But she was not named Champvallon. Nope, that's a very tiny village in Bourgogne. High falutin' Parisian mistresses were not typically country girls. So in my tall tale she has the oh so sophisticated name of Rose Marie.
Because I felt it was time she come out of hiding and took credit for this centuries old recipe. So it lands on me to give the ole girl her due. After all, Loius XIV could not have been easy to live with. So my first change is in the herb. I changed it from the traditional thyme to one more suited to our heroine. I chose to flavor my dish with her namesake rosemary; and not just a little either. No this girl's been waiting a long time for recognition and I went big with the herb. It works well with the lamb and the potatoes in my opinion. Besides it's just the kind of thing a girl like Rose Marie would do.
Speaking of lamb. It would have historically been a bone-in chop, most likely a shoulder chop. Most recipes stay true to this idea. Including my inspirational recipe from Daniel Boulud. But this tough cut of meat would have required hours of cooking time. While I am sure this would be delicious, hours of cooking time does not always fit nicely into my hectic schedule. So I modernized the recipe further by choosing boneless chunks of lamb.
But I didn't stop there with the changes. After all, I believe Rose Marie deserves to see her recipe go mainstream. So I also moved some of the cooking to the stove top. That way I have a little more control over the final flavors. Plus I raised the oven temperature and decided to cook it uncovered, because I like my potatoes to get crisp around the edges. I bet Rose Marie did too.
Lamb Champvallon serves 2 with leftovers CLICK Here for a printable recipe
1 lb large onion, thinly sliced
3 clv garlic, peeled and minced
1 lb boneless lamb shoulder, cut into 1‑inch pieces
coarse salt and freshly ground pepper
2 1/2 c chicken stock
1 T rosemary leaves, minced. plus more for topping
2 T unsalted butter at room temperature
2 medium Idaho or russet potatoes, peeled and sliced into 1/8‑inch rounds
1/2 c dry white wine
4 T olive oil, divided, plus more as needed
Heat 2 tablespoons of the olive oil in a large Dutch oven set over medium-high heat. Add the onions and garlic and cook, stirring often until fragrant, softened and just beginning to color. Remove the onions and garlic from the pan and set aside.
Add an additional 2 tablespoons oil to the pan. Season the lamb generously with salt and pepper. Cook the lamb in as close to a single layer as possible, until well-brown. About 5 minutes per side. If there is too much meat to fit comfortably in the pot, work in batches, adding more oil as needed. Transfer the meat to a bowl as it cooks in that case. When all the meat is cooked return it to the pot and de-glaze the pan with the white wine, scraping up any browned bits on the bottom. Then add 2‑cups of the stock, the onion mixture and 1 tablespoon minced rosemary. Bring to a boil, reduce heat to low, and cover; stirring occasionally. Simmer until meat is tender and the liquid has reduced and thickened. About 1 hour.
Coat a 12-inch oval baking dish with some of the butter. Set the rest aside. Cover bottom of the baking dish dish with about half the potato slices. Start along the outside edge and work inwards, overlapping each potato slice as you work. Sprinkle the potatoes with a generous amount of salt and pepper.
Pour the lamb and all of its liquid over the potatoes. If necessary add the remaining 1/2 cup of stock to be assured that the liquid come up about 3/4 of the way over the lamb chunks. Top the lamb with more potato slices in a similar fashion as the bottom being sure they overlap. The goal is to seal the meat inside somewhat. Sprinkle with additional rosemary, salt and pepper and a few dollops of butter here and there.
Bake in a preheated 400 degree F oven until top is nicely browned and the edges of the potato are crisp, about 1 hour. Remove the dish from the oven and let it cool somewhat to set up before serving.
SERIOUS FUN FOOD
Greg Henry
SippitySup
Save