Salmon is not a fish typically associated with Asian flavors, especially dishes that include the bold flavors and high fat coconut milk. That's partly due to geography and it's partly due to the fact that the strong, full-mouth flavors of salmon simply don't work with rich coconut milk based sauces. But Keta is a type of wild Alaskan salmon that is lower in fat and much more mild than some of the other species. I think it's a great choice for this Asian-Alaskan Fusion recipe. Wild Alaskan Keta Salmon.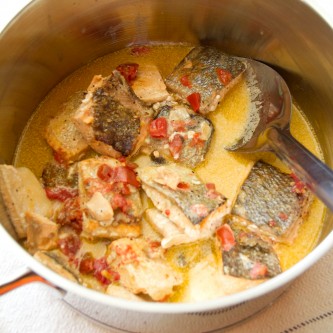 Ingredients
1 ½ pound

wild Alaskan Keta salmon fillet, with skin

1

Roma tomato

finely chopped

1 tablespoon

canola oil

1 clove

garlic

peeled and minced

1 cup

coconut milk

1 teaspoon

green curry paste

1

kaffir leaf

1 pinch

eash kosher salt and freshly cracked pepper

4 cup

warm cooked rice
---
Directions
Rinse the fish fillet and pat dry. with paper towels. Cut it into 2‑inch chunks.
Heat the oil in a Dutch oven with a lid set over medium-high heat until it shimmers and is nearly smoking. Add the fish skin side down to the pot and cook, until the skin is very crisp and releases itself from the pot. Don't be tempted to move the fish until it releases itself. Lower the heat to medium, turn the fish and cook another 2 or 3 minutes. It need not be cooked all the way through at this point. Move the fish to a paper towel lined plate to drain, skin side up. While the pan is still warm carefully wipe the excess oil from the the pot using a large enough wad of paper towels to protect your hands from burning.
Put the drained fish back in the pan, skin side up. Add garlic, chopped tomato, curry paste, coconut milk, kaffir leaf, salt and pepper. Cover and simmer 20 minutes. Serve with rice.