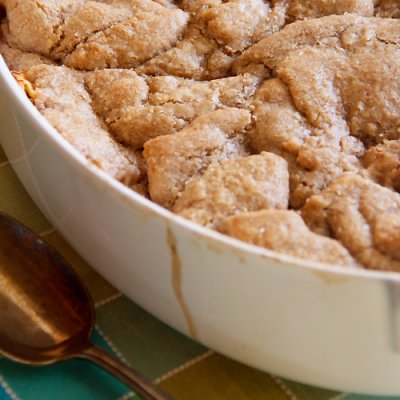 This Apple Crisp recipe come from Tartine Bakery in San Fransisco. It's full of apples with a variety of textures. It's what makes this crisp so beguiling yet familiar. But the crust is handled a bit differently than you may have seen before. It's super crisp.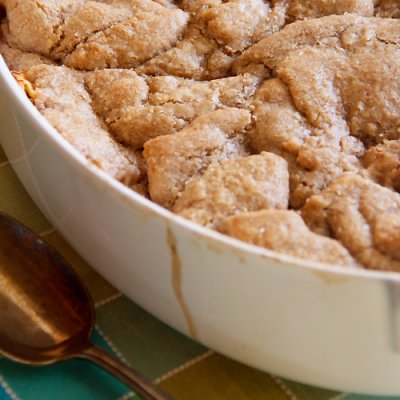 Ingredients
3 pound

assorted apples

1¼ cup

sugar

, divided

3 tablespoon

lemon juice

1

lemon

zest only

¼ teaspoon

kosher salt

divided

1 cup

unsalted butter

cold plus a bit more for the baking dish

1¼ cup

all-purpose flour

1 tablespoon

ground cinnamon

1 teaspoon

trubinado sugar

(optional)
---
Directions
Preheat the oven to 350F. Butter the bottom and sides of a 9?13-inch baking dish.
Peel (some or all, as you prefer), core and slice the apples and place them in a large mixing bowl. In a small bowl, stir together ¼ cup sugar, lemon juice and zest, and 1/8 teaspoon salt. Add to the apples and mix well with your hands. Transfer the apples to the baking dish.
Make the topping. Place the butter and remaining 1 cup sugar in a mixing bowl. Using a mixer fitted with the whisk attachment on medium speed, or using a wooden spoon, beat together until smooth. Add the flour, cinnamon and remaining 1/8 teaspoon salt and mix just until it comes together into a smooth dough.
Scoop up palm sized balls of the dough and flatten with your hands as if you are making a ¼‑inch thick tortilla, and lay on top of the apples. Cover the entire surface with the dough. If there are gaps, that is okay, as they will allow steam to escape during baking. Sprinkle top with turbinado sugar, if using.
Bake until the crisp is browned and the apples are tender, about 1 hour. If the top gets too dark, cover it with aluminum foil. Let cool on a wire rack.